Hostess gifts over the holidays are usually so kitchy. Flowers are a bit of a pain for a busy hostess, and the last thing you want to do is give more flamboyant holiday 'stuff' they have to put into storage every years. Here are a few hostess gifts that will stick.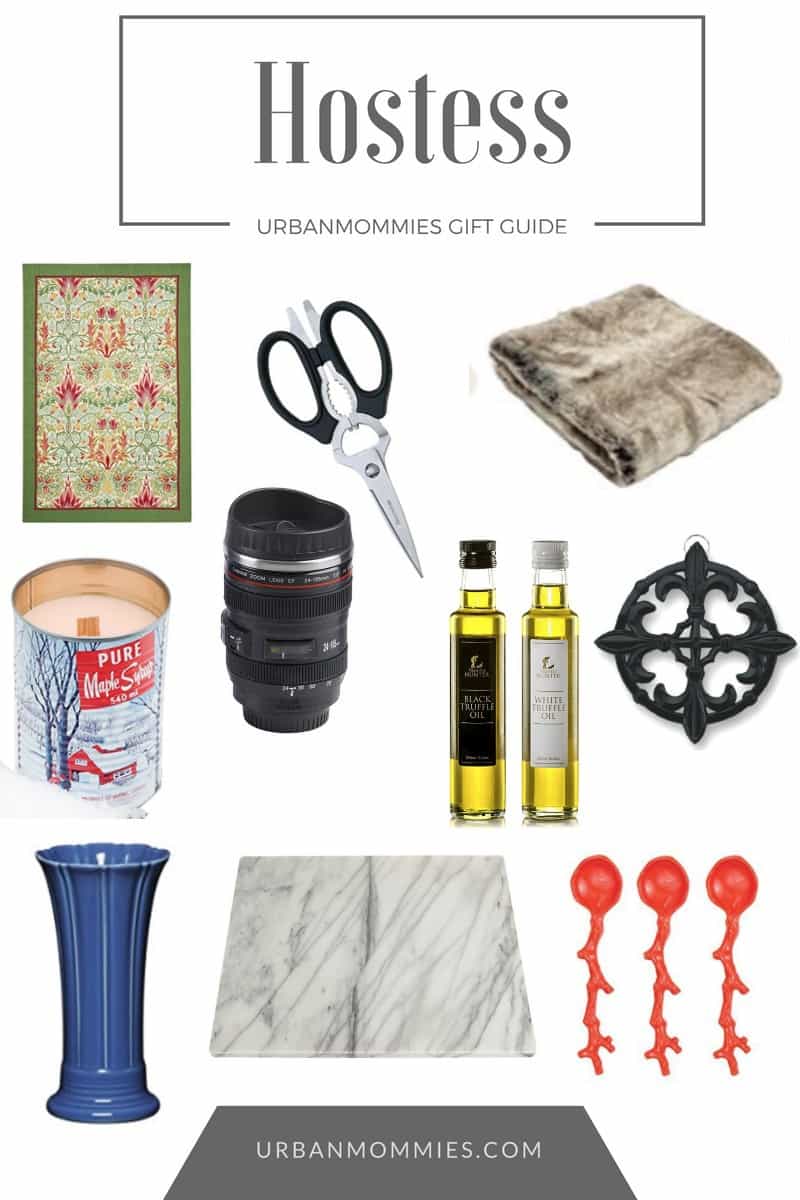 Every year, Loblaws and President's Choice release gorgeous items and this Marble Cutting Board is no exception. PC Marble Cutting Board available in store. $60.00
There's nothing like pure linen in a kitchen to absorb moisture – especially when drying dishes. This one is so pretty they may frame it instead, though. Ulster Weavers Tea towel $10.99
Madhouse Coral Mini Spoons are so pretty they will want to hold another dinner party with a seaside coral theme… $14.99
Homer Laughlin Vase in Lapis is just spectacular for anyone with blue-themed decor.
Chapters / Indigo also comes out with unique gifts at a great price point each year. This Faux Fur Throw in Grey Fox would make any hostess want to ditch the dinner plans and curl up on the sofa.
I love this so much. My Canada is showing! This Maple Syrup Candle with a Cracking Wooden Wick is the ultimate heartwarming treat. The only thing better would be syrup.. $14.99
An Old Dutch Black Fleur de Lis Trivet matches any decor, and once again, needn't be stored for the summer. $5.99
Whatever happens to scissors? They are probably out partying with the safety pins you can never find. There Messermeister Take-apart Kitchen Scissors are easy to clean and uber sharp. $14.99
If the host is also a shutterbug, here's a cool mug! Camera Lens Mug available at Best Buy or on Amazon. $11.99
You can never go wrong with truffles – the mushroom or the chocolate kind. Truffle Hunter Black and White Truffle Oil Set. $29.95
Our Full 2016 Holiday Gift Guide:
Gifts for Babies so Cool they Look like Bono is Their Uncle
Non-Dreidel Hanukkah Gifts
Gifts for Crafty Kids that are Already Selling Creations Online
Crap for Millennials who are Rocking Life in the Best Way
Gifts for Pokemon Crazed Kids and their Pokemon Crazed Parents
MIL Gifts for the Mother in Law you Don't Want to Offend
Stuff for Geeks so Geeky they Think Belt Buckle Collections are Passe
Traveler Gifts that will Make you Want to Board a Plane Now
Gifts for the Gardeners you Dig
Wheelie Toys for Kids on a Mission
Grandparent Gifts that will Make them Cry so Hard they Need to Stuff more Tissues up their Sleeves
Gifts for People you think are too Rich to Need Anything Else
Gifts for Lumbersexual Guys
Hostess Treats they Won't Regift
Stocking Stuffers that Give Back
STEM Toy Gifts
All gift ideas have been editorially chosen by our staff; there is no compensation in exchange for recommendations. UrbanMommies is an Amazon affiliate partner. Some affiliate links appear in this guide, and clicking on them to shop helps to support what we do. You don't have to…but if you do, thanks for that!