Those kids – you know the ones. No – not the ones who already know how to program a computer at age 4, but the ones who could redecorate your house with Pinterest-perfect fluency over a long weekend. If you have crafty, talented kids in your midst, you'll want to check out our gifts for crafty kids.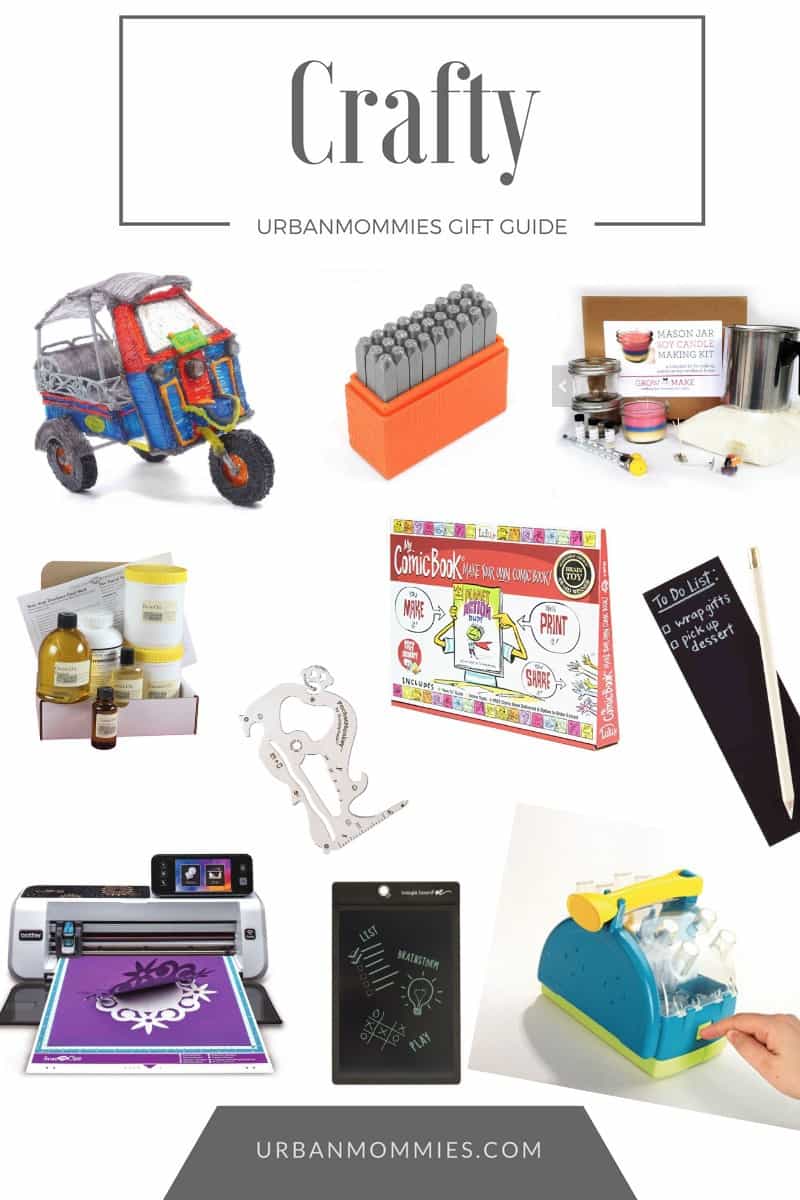 The 3 D Doodler Create Pen is the latest generation of the world's first and best-selling 3D printing pen. Compact & easy to use, the 3Doodler Create extrudes heated plastic that cools almost instantly into a solid, stable structure. For reals. $69.00
Chalkboard pencils are fun for everyone – especially once they add the chalkboard paint to your playroom. $14.95
The Pocket Monkey is a cute and uber useful tool that will fit into their wallet – even when they are 30. $14.95
With a few basic ingredients, cleanliness can be an art. Try their skill with a beginner Soapmaking kit.
Invitations and special messages that are hand stamped are truly priceless. And worth a fortune in etsy sales. Metal Stamping letters.
A Diecutting Machine will allow them to make just about anything for screening. Including an I love you motif.
With a Soy Candle Making Kit, you can ensure that you'll always have ambiance in your home – even if you're missing a few glass jars…
This Boogie Board Writing Tablet encourages creativity and writing! $28.99
With the Crayola Marker Maker they can realize how hard it is to actually make something – and then not leave the tops off the markers later. $69.99
So many kids love to draw and tell stories. Help them out with this Comic Book Making Kit! $27.93
Our Full 2016 Holiday Gift Guide:
Gifts for Babies so Cool they Look like Bono is Their Uncle
Non-Dreidel Hanukkah Gifts
Gifts for Crafty Kids that are Already Selling Creations Online
Crap for Millennials who are Rocking Life in the Best Way
Gifts for Pokemon Crazed Kids and their Pokemon Crazed Parents
MIL Gifts for the Mother in Law you Don't Want to Offend
Stuff for Geeks so Geeky they Think Belt Buckle Collections are Passe
Traveler Gifts that will Make you Want to Board a Plane Now
Gifts for the Gardeners you Dig
Wheelie Toys for Kids on a Mission
Grandparent Gifts that will Make them Cry so Hard they Need to Stuff more Tissues up their Sleeves
Gifts for People you think are too Rich to Need Anything Else
Gifts for Lumbersexual Guys
Hostess Treats they Won't Regift
Stocking Stuffers that Give Back
STEM Toy Gifts
All gift ideas have been editorially chosen by our staff; there is no compensation in exchange for recommendations. UrbanMommies is an Amazon affiliate partner. Some affiliate links appear in this guide, and clicking on them to shop helps to support what we do. You don't have to…but if you do, thanks for that!