We don't even need a gift to want to board a plane. But, well, ok. People who travel tend to know themselves and their world very well, so finding the perfect gift can be a challenge. I tend to favour minimalist packing, stylish plane attire, and good luggage. There are a few other traveler gifts on the list too…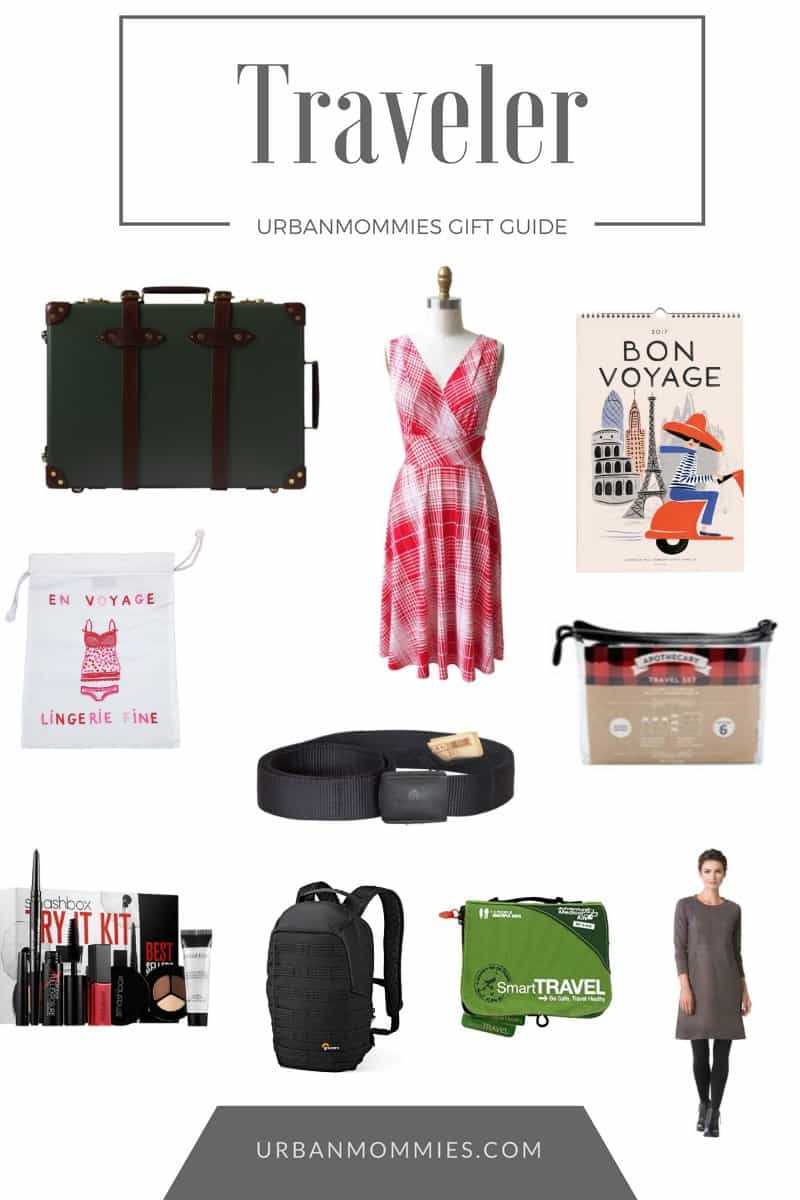 This Rifle Paper Co. Travel Calendar will help them dream of all the places they will go…
You may not fork out the cost unless this is for someone very special, but this Trolley Case should give us all palpitations.
This Travel Apothecary Set from Chapters/Indigo has the bonus touch of plaid.
Travelsmith Prana Shift Dress: because there is nothing worse that looking bad while traveling. Except being uncomfortable.
On that note… isn't this Audrey Dress from Karina Dresses spectacular?
I began collecting Fragonard Pouches when I was an exchange student in Europe, and every time I go back I treat myself to another.
There is nothing worse than dragging your huge makeup collection, well… anywhere. This bite-sized Smashbox Try it cosmetics kit should do the trick.
I am ashamed to say that on my last journey I shoved my Canon L Series lens into a suitcase stuffed with clothes. No more. My wishlist includes the Protactic backpack for your photography gear.
Travel First Aid https://www.amazon.ca/Adventure-Medical-Kits-Smart-Travel/dp/B0026MRZQM
You can never be too careful. Or stylish. This all terrain money belt has you covered. $18.95

An Extra. Because I saw it and it's AMAZING!!

Eagles Nest Outfitters DoubleNest Hammock with built-in bug spray. I know, right?!
Our Full 2016 Holiday Gift Guide:
Gifts for Babies so Cool they Look like Bono is Their Uncle
Non-Dreidel Hanukkah Gifts
Gifts for Crafty Kids that are Already Selling Creations Online
Crap for Millennials who are Rocking Life in the Best Way
Gifts for Pokemon Crazed Kids and their Pokemon Crazed Parents
MIL Gifts for the Mother in Law you Don't Want to Offend
Stuff for Geeks so Geeky they Think Belt Buckle Collections are Passe
Traveler Gifts that will Make you Want to Board a Plane Now
Gifts for the Gardeners you Dig
Wheelie Toys for Kids on a Mission
Grandparent Gifts that will Make them Cry so Hard they Need to Stuff more Tissues up their Sleeves
Gifts for People you think are too Rich to Need Anything Else
Gifts for Lumbersexual Guys
Hostess Treats they Won't Regift
Stocking Stuffers that Give Back
STEM Toy Gifts
All gift ideas have been editorially chosen by our staff; there is no compensation in exchange for recommendations. UrbanMommies is an Amazon affiliate partner. Some affiliate links appear in this guide, and clicking on them to shop helps to support what we do. You don't have to…but if you do, thanks for that!