Father's Day is a tough one.  PS – socks and ties just don't really cut it.  Here are a few curated picks that we'll be ordering.  And probably using for ourselves..  (That's when you get them for the father of your children instead of your own dad so the items are.. ahem.. nearby.. for your personal use.)
This was so awesome we actually already bought one for the office.  Sorry dad.  A new take on the retro polaroid, the shots from the Fuji Instax Mini 50s Camera come out immediately and in a mini size – about half the width of an old-fashioned polaroid.  And you don't have to wave them in the air either.  Available at Caya.
What man could possibly attempt a camping trip without his R2D2 Folding armchair? If he's into starwars you might want to check out our feature on the hand-knit R2D2 hat as well…. Available at  www.thinkgeek.com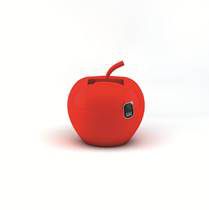 CHARGE 'N' FRUITS Designed Docking Station: The most decorative way to charge cell phones and MP3 players: definite shapes and creative styling. Simply load your charging cable through the fruit from above and place the cord in the cable channel at the bottom.  Caya.ca
Blown Away: A Year Through the Lens of The Tornado Hunter.  I was so riveted to the photos in this tome that I could feel my testosterone level rising.  Showcasing the surreal, scary, romantic electricity of tornadoes across North America, Greg Johnson's stunning book can be found at WalMart and online at chapters/indigo.  www.tornadohunter.ca (Oh – and if you comment on this post with your fav idea for dad you get an entry to win one!)
WEBER FIRESPICE® TRIAL-SIZED SMOKING KITS: Not sure what flavour dad likes to smoke? Here's an opportunity to sample different smoking woods – hickory, cherry, apple and more. Comes in assorted four and six packs.  Pair it with Weber's Smoke™ cookbook written by New York Times best-selling author and James Beard Award Nominee Jamie Purviance. It reveals the secrets to infusing rich, smoky flavours into almost any dish on any barbecue including  gas, charcoal, or smoker. www.weber.com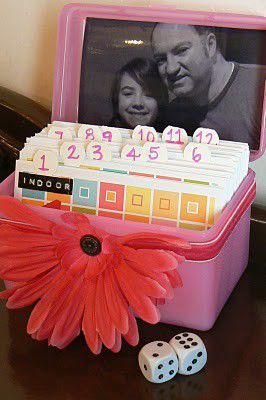 Date night with Dad. Especially wonderful for the dad who doesn't get much one-on-one time with the kids, here is an opportunity for the children to share ideas as to what a perfect date with dad would look like: Building a model airplane? Learning how to fly a kite?  fly fishing?  Yes please. 12 different ideas for activities to do with your dad for a special date.  Brilliant DIY idea by the Happy HomeMaker.
Collapsable shot glass.  You couldn't possibly go on a golf course without one of these.  Or to Europe.  Or to the office.  Just sayin'
www.thinkgeek.com
The Man Bouquet.  Attach assorted cigars, beers and Dad's favourite items to small dowels and 'plant' them in a huge pot.  (You might also want to include some lingere for yourself, which we're sure he'd also enjoy.)  Idea and photo by: Elyse Nichol