It's almost here!! Canada Day long weekend is as synonymous with outdoor grilling as Victoria Day is with the number 24. You have the grill, the apron and the tools that a certain someone received for Father's Day, but now comes the hard part: recipes and spices. My son has taken to creating special dry rubs for ribs and marinades for beef, but at the age of eight he's no match for the two celebrity chefs going head to head for a culinary Canada Day grilling dual! It's The Great Canadian Grille-Off!
Throughout the summer, eight celebrity chefs from across Canada will compete in four culinary duels to determine the best barbecue recipes using Club House products. To celebrate this Canada Day long weekend, chefs Karen Barnaby and Trevor Bird will try their hand at recipes they have created using Club House products – namely La Grille Wild Whiskey Smoked BBQ Sauce and La Grille Vintage Smokehouse with Honey BBQ Sauce. So what will it be? Karen's Easy BBQ Beans or Trevor's Whole Roasted Duck? You decide! Your vote could snag you a prepaid $500 credit card or a grilling party for yourself and 5 friends hosted by a celebrity chef, plus a $2,000 pre-paid credit card to use towards the grill of your dreams! You have one week to vote on the Club House LaGrille Facebook page. Just be sure to rinse the sauce off your fingers before you hit the keyboard.
Wild Whiskey Smoked Easy BBQ Beans by Karen Barnaby
UM: Why did you choose this dish?
KB: Baked beans are great with barbecued food. When the inspiration hits, I want beans that are quick and delicious. The recipe is fast and easy, and can be cooked outside on a BBQ burner. For the delicious part, La Grille Wild Whiskey BBQ Sauce provides that.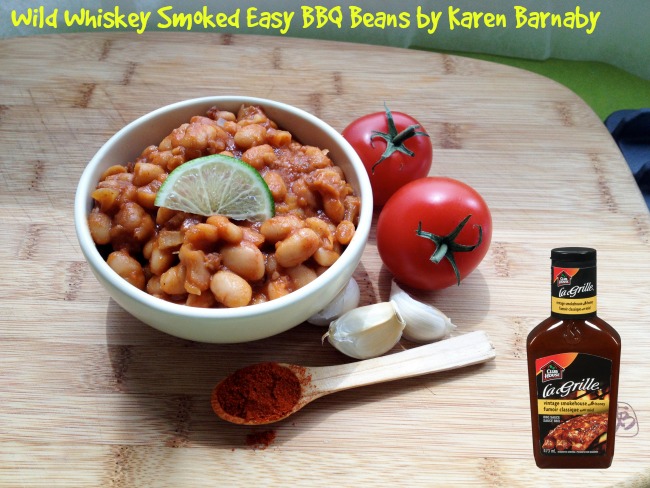 Prep Time: 20 Minutes
Cook Time: 30 Minutes
Ingredients (Serves 4)
Directions:
Drain the beans and rinse under cold water. Set aside.
In a pot, over medium high heat, cook the bacon until browned.
Add the onions and garlic and cook until soft.
Add Club House La Grille Wild Whiskey Smoked BBQ Sauce, brown sugar, tomato paste, water, Worcestershire sauce, chili powder, cumin, salt and pepper.
Bring to a boil then reduce to a simmer and add the beans.
Simmer for 30 minutes, stirring occasionally. Add a little water if the mixture looks too dry.
Check the seasoning and serve 
Chef Trevor Bird makes a delicious Whole Roasted Duck with Vintage Smokehouse with honey BBQ sauce! Try it for your next backyard BBQ party!

Whole Roasted Duck with Vintage Smokehouse Honey BBQ Sauce       
UM: What makes this dish such a popular choice  at Fable Kitchen, your restaurant in Vancouver?
TB: At Fable we do a lot of family style cooking, and our whole duck is always a hit. With the long slow roast and heavy basting of the duck, it makes for a nice sticky glaze that will impress.

Yield: 4 portions
Prep time: 10 – 15 minutes
Cook time: 6 hours in oven
Ingredients:        

1 Yarrow meadows/Brome Lake whole duck
1/2 cup (125ml) Rice or wine vinegar
Procedure:                                                                                                               
1. Preheat oven to 250F, or 225F in a convection oven
2. Take your whole duck and wash the outside well, pat dry and season with salt and pepper
3. Mix the BBQ sauce and vinegar with a brush
4. Place the duck in the oven, after 3 hours of cooking, start to brush the duck with the BBQ sauce every 30 minutes
5. Check the duck after 5 hours. The leg should pull away from the body very easily like a confit.
6. If not ready, leave in the oven 1 more hour.
7. Serve on a platter with your favourite grilled products, roasted potatoes and a side of the Vintage Smokehouse with Honey BBQ sauce                                  
The whole bird falls apart so just grab some forks and dig in!
Which will you choose? Vote now and let the (Canada Day) games begin!!
Would also love for you to share your summer grilling stories with me this weekend! Tweet @urbanmommies using the hashtag, #FlavourStory
 Disclosure: This post was sponsored by Club House. All opinions about how yummy the recipes have been are our own.