Just over ten years ago I moved from Ontario to British Columbia. In addition to the three hour time change and milder climate, I was baffled that prices could be so different in the two provinces. Fitness studios, manicures and spas are a much better value on the west coast, but life's staples are considerably more expensive. It's not just the million dollar teardown homes that blow family budgets, but gas and groceries take a huge dent out of monthly paychecks compared to what the family spent in Ontario.
Not anymore.  Safeway has made changes so that British Columbians can feed their families fresh food for less. The produce department has gotten an overhaul, and Safeway is on a mission to not only improve the quality of produce at lower prices, but also to offer an expanded selection of quality organic produce.
To celebrate Safeway's new mission, I'm sharing my favourite meal ideas, tips and tricks that help me and my family stay on track with our budget and with eating healthy in the winter.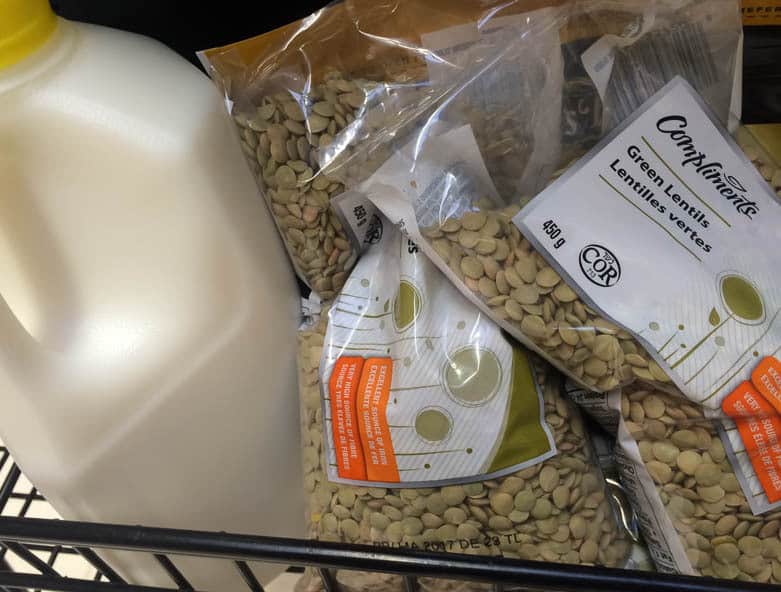 Pulses are the new kale. Dried lentils and chickpeas are inexpensive, full of protein. Red Lentil Curry recipe is amazing and packed with veggies.
Every week, Safeway experts will encourage food discovery with their weekly "produce picks", recommended by Safeway experts to encourage food discovery. Since my boys were small, I've been using the produce aisle to teach colours, counting and healthy choices. Chances are you can always find a new vegetable that you've never used in a recipe. It can be a great family bonding experience to let your kids pick a new food and then find a recipe to make together. We did this with okra and Jambalaya is now a family favourite!
Canned tomatoes are a chef's secret weapon. Canned at the peak of freshness, I buy cases when they go on sale and use them for my slow cooker bolognaise sauce and healthy vegetarian chili.
The freezer aisle is your friend in the dead of winter. Frozen fruit on hand is epic for smoothies in the morning – especially when Kale and Spinach are the Safeway picks of the week with lower than usual pricing. Our green smoothies are routine, and the boys won't drink them without kale!
Stews and hearty meals are not only comforting on cold winter days, but also budget-friendly timesavers. All of Safeway's Western Canadian Sterling Silver AAA beef is aged 21 days and sourced in Western Canada, so you'll probably want to try our boeuf bourguignon featuring fresh carrots and garlic from the revamped produce aisle.
Packed with protein, quinoa turkey meatballs are a favourite with my kids. The quinoa helps delicious ground turkey go farther, and meatballs can be made by the kids in huge batches and frozen.
We all love Jamie Oliver, and he's partnered with Safeway to offer fresh food preparation tips. With the expanded organic produce selections, your family with think you've attended the Cordon Bleu. His roasted carrots with carrot top pesto (Who would ever have thought??) are delicious.
Family pizza nights not only allow the kids to 'doctor' to their own tastes, but it's a great way to introduce new foods and take advantage of Safeway's new lower produce pricing. You don't have to mess around with dough either, as you can use a flatbread or tortilla, tomato sauce or pesto, and then arrange a ton of toppings for them to choose. Fresh arugula, local mushrooms and organic peppers add pops of colour and a ton of nutrients. Here is Jamie Oliver's no-cook prosciutto arugula pizza recipe.
Just think – now you not only live in a stunningly beautiful province but you can now save money on both your manicure AND your groceries.
Now here's your chance to win a $50 gift card care of Safeway! To enter the contest, share a picture on Twitter and/or Instagram with a short description of how you're eating healthier, more affordable meals thanks to Safeway. Make sure to include the #BetterFoodStartsHere and tag @SafewayCanada. Check out the full contest details here.
This contest is only open to residents of Alberta, British Columbia, Manitoba and Saskatchewan.
The author has received consideration from Sobeys or Sobeys' media partners in exchange for this content.  Sobeys is not responsible for the content.