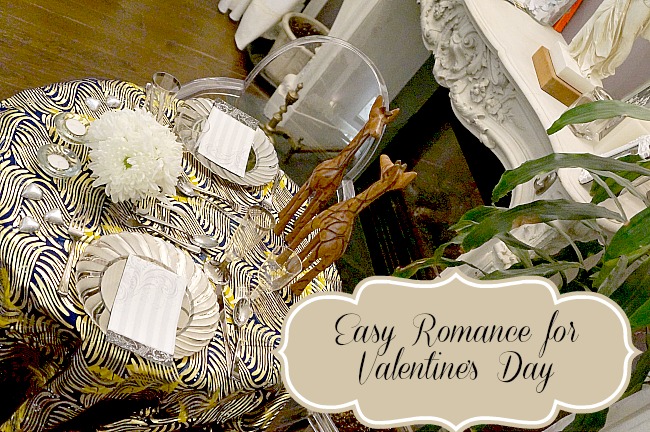 The continent of Africa has helped me fall more deeply in love this year and I couldn't possibly set up a romantic Valentine's dinner without giving a nod to its guttural beauty and spirit.  In February I worked with kids in Liberia with Right To Play Canada and then my husband raised money in August for Canada's first blood cord bank by summiting Kilimanjaro in Tanzania. Throughout the year, our kids' school fundraised to build water wells in South Sudan.
Typically I am a high-maintenance silver, china and crystal girl. Don't snicker. But after the 2 trips to Africa, kids' activities and work, I am rather exhausted.  When my Whish Romance Box arrived I had just attended the kids' first school musical all about water. The performance talked of the importance of water and Africa was a large component. The boys explained that many families in Sudan are leaving their homes and the wells the school has built because there is a war going on. Wow. Africa deserves a nod, and I am so thankful for how it has touched all of our lives this year.
Opening the Whish romance box I was thrilled. They had thought of everything – even menus and a shopping list! Turnkey. Heavy silver plates, cutlery, stunning champagne flutes and wine glasses – all in plastic for easy recycling or re-use. (Hello beach picnic). Chocolates, a pashmina, napkins, vase and tealight holders (with the candles that I always run out of!). In fact, Whish made romance so easy with the essentials that I could focus on the theme and the romance of it all.
So how do you add thoughtful romance? Incorporate bits from your life. It needn't be as exotic as Africa, but little touches – that this time-saving box of fun gives you – can be tacked on at the end. But if you don't have an iota of creative juice in your body – you are covered.  Follow the step by step directions, make the (fab) suggested meal and ask the florist for the suggested flowers. The evening will be epic – as my 6 year-old likes to say. But I'm hoping he is referring to something different.
I draped a gold and blue cloth I had been given in Liberia over the table in our bedroom. The boys' two hand carved wooden giraffes kissed at the back of our plates. White flowers and a few stones from the Kilimanjaro climb along with the heart-shaped chocolates strewn on the table finished the look. African drum music was next. We had a beautiful dinner, conversation with depth and given that this is rated G, I think I'll stop there. Wink.
** GIVEAWAY: Who wouldn't want a Valentines Day box, extra candles and a Breakfast Basket ? We know you don't want to cook on the morning after. The contest will run from January 27th to February 3rd. The product will be delivered to the winner in time for Valentines Day.
Disclosure: This is a sponsored post courtesy of Whish.ca. All ideas and opinions are our own.