For part two of my great stain challenge, we headed to the kitchen to try and remove red wine, tomato and teriyaki stains. And after the arts and crafts stain cleanup last time, mommy needed a glass of wine. Because Tide Ultra Stain Release has challenged my family to a little game, we continued the fun with foodstuffs. After donning white t-shirts, we made tomato soup, a teriyaki stir fry and mommy had a glass of wine in order to put Tide Ultra Stain Release to the test. And we were not careful at all. Doesn't this photo say a thousand words?!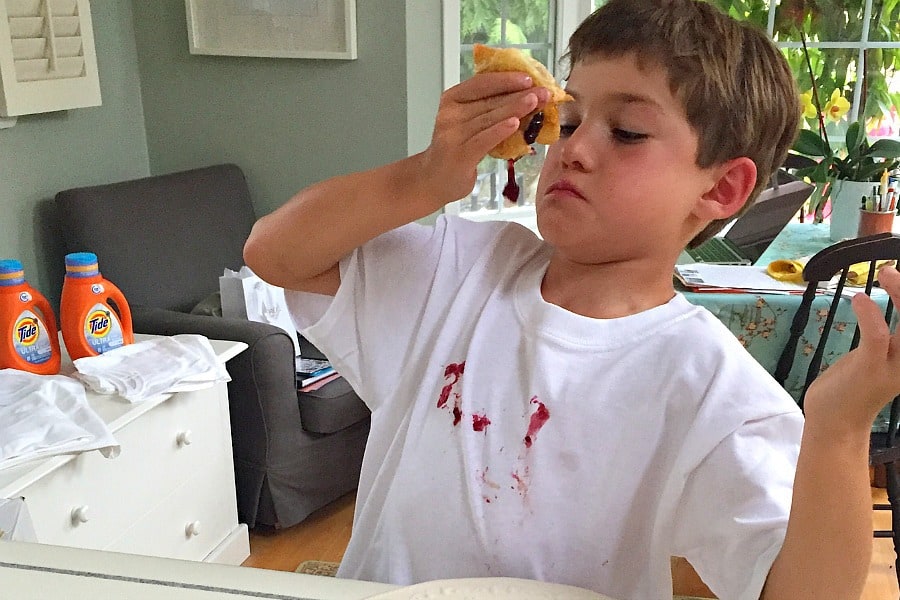 Wine on the shirt, tomato on the shirt(s) and our faces… you know how kids love a good mess. After each activity, I threw the shirts in the wash to see how great this detergent really is. What I found was that it's totally true that Tide removes over 100 stains in one wash.
Our tasks this time around are:
Tomato Soup be Gone
Tomato Stain Removal
Aaah, the acidic tomato. Whether it's ketchup, salsa (how was your Cinco de Mayo?!) or tomato soup, these stains were very simple to eradicate. We dabbed the tomato with plain water and drizzled Tide Ultra Stain Release over the tomato stain on the white t-shirt. Simply throwing it into the laundry and washing normally took full care of the stain.
2. Teriyaki Trouble
Teriyaki Stain Removal
We love our eastern cuisine, and yet always seems to cover ourselves (and the white sofas) with soy sauce, teriyaki and peanut sauces. Oops. As angst-provoking as I thought it would be, I repeated what we did for the tomatoes and the white shirt was as clean as brand new.
3. Red Red Wine
Red Wine Stain Removal
This is the *gasp* one. How many of your white dinner napkins have a yellowy-brown smudge from where you tried to bleach them? Mine pretty much all do. Even worse, the antique linens passed down from one generation to the next in my family are no longer pristine. I should only ever serve white wine, or water for that matter. Of all the challenges, this was the one I was really really dying to make work. Pouring some precious vino onto the shirt, I decided to let it soak in for 20 minutes before I even touched the stain. This is the more realistic scenario of I were in the middle of a dinner party.
I wet the wine stain with cold water, and then poured a bit of detergent on it. Removing the Zap! Cap, I used the bristles to loosen the wine, and left the detergent sitting there for about an hour before washing normally in warm water. Gone. Seriously. Gone. And I wasted all that wine too!
Here are some more stain removal tips.