Perspective as parents can be tough, and even harder for kids to gain. We continually tell our kids things can always get worse. This is some ethereal notion that makes the little ones roll their eyes and tell us we are overreacting and doing a guilt trip on them because they can't possibly send their broccoli to the kids in another country. Once I wished that the next generation could experience something so immense, it would give us all appreciation and curb feelings of entitlement. I should be careful what I wish for.
Recently, I saw some photographs courtesy of 'Respect Polish Soldiers' – Milion polubień dla Polskich żołnierzy of images from the present photo-shopped onto their exact location during world war two it gave me it took the air right out of my lungs.
When we moved to Toronto from Vancouver, we had decided to bring our Springfree Trampoline with us. When we rented our house to another family, though, the other kids' eyes sparkled when they saw the trampoline. I decided to leave it there for those children, thinking my kids wouldn't miss it too much because they were 12 and 13 at the time. WRONG. Little did I know that it would be the one thing that spiralled them into one of the worst mental states I have ever seen in my own children. They missed the camaraderie that was triggered with every bounce, the games they invented. They missed the exercise and they missed the vibrance and excitement it brought to our own yard. It's a great equalizer – kids playing together, whatever the age.
Self-Isolation During COVID-19
Fast forward to early 2020 when we are whisked home from what was meant to be a vacation in warmer climates and the cloak of COVID-19 blackened the world. All of a sudden the kids were not pining for our life in Vancouver anymore. They couldn't go to the park, see friends or shoot hoops at the local public school. Yet even not being able to socialize, they had a certain acceptance that everything had changed. Everything was different and all of the broccoli on their plate was getting eaten. Early in the fall I was asked to work with Springtree Trampoline once again and we knew that when the weather got warmer, a trampoline would be added to our small yard. It was worth taking up all of the outside space, though, because at the time I had decided this is what the kids needed to adjust to their new life.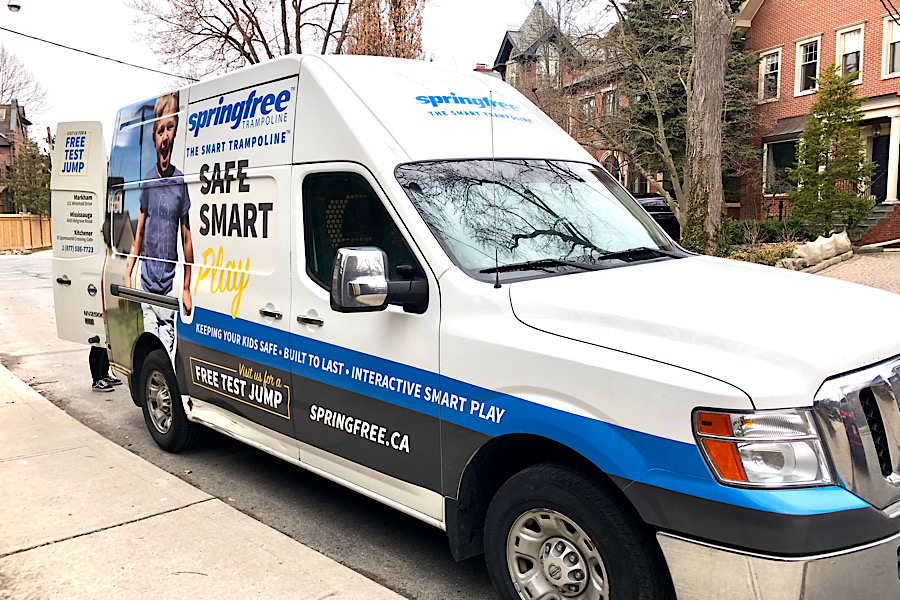 We raced back from Miami with sweaty palms worried we wouldn't be allowed back into the country or would have to be quarantined in a facility. The kids sensed the level of anxiety in us. When we returned safely and healthy, the first thing I did was email Springfree asking if we could move up the delivery date in order to get our trampoline sooner. This was the best thing that ever could have come out of this crisis. We were no longer getting a trampoline so that the kids could adjust to their new life in Toronto. We were getting the trampoline so that the kids would be gifted mental and physical health. So that we could be safe and not put others in danger by going out of our yard.
As soon as it was installed I could not get the kids off. They jumped and laughed and made up more games and then mommy and daddy got in on the fun and we also got our own exercise – much needed while we were both working from home. Sometimes just breathing fresh air and getting outside tweaks our mood. Unfortunately, this is so hard to due during self-isolation in the middle of a pandemic.
An Evolving Perspective
Perspective is everything, and caring for your mental health and physical being is something that can't be sacrificed. In wartime, women working in factories still put on the little lipstick they had left and drew black lines up the back of their calves to mimic expensive stockings with seams. We need to respect ourselves in any time of strife, and being able to care for our bodies, souls, and mental health is critical.
It feels funny and silly to talk about a trampoline as something that can do all of that, but if there's one product I have ever experienced in my entire life that has made all the difference in so many different situations, it's a Springfree Trampoline. I am forever indebted to the company, to the innovation and design of a safe trampoline and I know that it will have a proud place in our backyards for years to come. Even when my husband and I are old and the kids have left the house I know that they will want to come back so that they can bounce as brothers. And maybe see us too.
Safety on the Trampoline
Springfree was conceived by a dad. More than 20 years ago, Dr. Keith Alexander decided to build a safer trampoline for his family. As a Professor of Mechanical Engineering at the University of Canterbury, in Christchurch, New Zealand, he had the skills to create a safer trampoline option for his three kids.
There are no springs for feet to get caught in, no holes for an ankle to slip into and break. The nets around the sides protect kids (and moms) from flying off, and actually enhance the breadth of activities you can do. My kids barrel into the netting and slingshot themselves into an epic bounce in the middle.
The mat is held under tension by the rods, which flex towards the centre of the mat as you jump, then pull straight back out to give you a smooth super-big bounce.
Springfree Colours, Sizes and Shapes
We went with the large oval, with a basketball net attached. You can choose round, square or oval in different sizes depending on your space. The Springfree team can even assess your yard free of charge so you choose the exact perfect trampoline for your family.
In certain areas, you can create a custom trampoline, choosing finishes that match your family's style. We went with gunmetal grey and blue. *Note: Springfree is currently out of stock, but you can get notified here once trampolines become available.
Installing your Trampoline
While in normal times, the staff sets everything up for you, right now during the Pandemic, that isn't allowed. The great news is that you can do it yourself using this guide.
I've watched two trampolines being installed now, and the most exciting part is when the net is raised and everything comes together!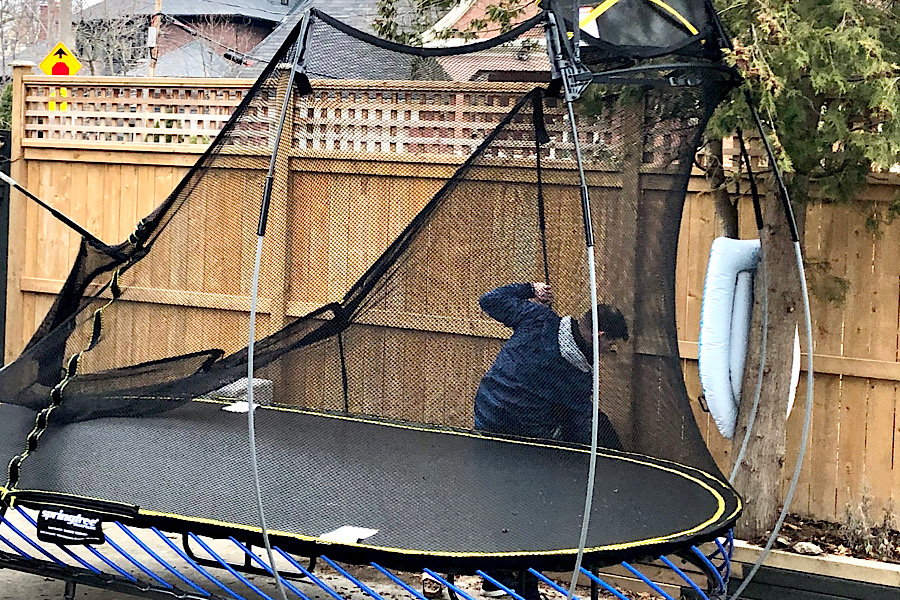 Fun and Games
The new trampolines are winter-friendly, which is perfect for Canada given that we just had snow in April! Snow forts, and jumping in clouds of flurries are so fun if the kids dress properly.
In hot summer months, we look forward to putting a sprinkler underneath the mat and jumping as cool water sprays through. In the past, we have hung a sheet on the netting and used a projector to make a backyard movie night.
As days morph together, and our self-isolation continues, I realize what a blessing it is to have an outlet for play. As much as every day seems the same, one thing is constantly evolving. Our perspective about what is critical in times of need has been shifting, and more and more, we realize the importance of our mental and physical health. The importance of family. Of play. And of growth. Our Springfree trampoline has helped facilitate these realizations, and I am so grateful for each and every bounce.
Disclosure: This post was sponsored by Springfree Trampoline. All opinions are my own, including my passion for the product.