You may read this in Liam Neeson's voice, if it suits you. Jamie Dornan, maybe, or Pierce Brosnan. Aiden Quinn or Colin Farrell. All of them are Irish. Even the Lucky Charms Leprechaun, if that's more your speed. You know who wasn't Irish? St. Patrick. He was from Wales. But that doesn't mean we can't don our green gear and down a few in St. Paddy's honor, does it? Erin Go Bragh!
If you are not a beer aficionado the rest of the year, dyeing it green doesn't make it any more appealing. Here are a few cocktails to drink instead of green beer (the traditional fare), accompanied by a few things you may not know about the holiday:
The Thin Mint Martini

This chocolaty sweet drink is bound to be a hit with those who love the popular cookie. It isn't green, but the original color associated with St. Patrick's Day wasn't green, either – it was blue – until the Irish Rebellion in 1798.
To make:
Swirl a line of chocolate syrup around the inside of a martini glass, and put it in the freezer. Crush 2-3 chocolate covered mint cookies, very fine.
After mixing the cocktail, coat the rim of the glass in chocolate syrup and press into cookie crumbs to coat.
There are many variations on this recipe, but my favorite is 3oz of Bailey's Irish Crème, 1.5oz Absolut Vanilla Vodka and 1oz white crème de menthe. Shake well and pour into martini glass.
---
Related
This Green Pistachio Cake Will Have Irish Eyes Smiling
Celebrate St. Paddy's Day with Last Minute Shamrock Crafts

---
The Jade

Not only was St. Patrick not Irish, his name wasn't St. Patrick. Born Maewyn Succate, he didn't take the famous moniker until he became a priest. "Jade" is just another name for green, and this beautiful drink is more potent than it looks.
To make:
Mix 2oz white rum, 1/4oz green crème de menthe, 1/2oz Cointreau and 1/2oz lime juice (I use Rosie's.)
Shake well with ice and strain into the glass of your choice.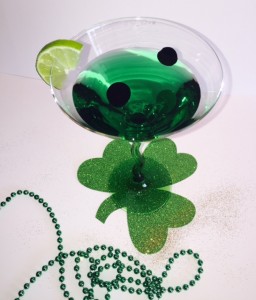 The Honeydew Martini

In spite of it's reputation for being a "drinking" holiday, up until as recently as the 1970's, pubs in Ireland were closed on St. Patrick's because of it's status as a National Religious Holiday. This martini is sweet and slightly tart, but don't let the honeydew flavor fool you – it's fully loaded.
To make:
Shake 3oz Vodka, 1oz Midori, 1/2oz Triple Sec with crushed ice, strain into a chilled martini glass.
Garnish with your choice of citrus.
---
If you are feeling particularly festive and ambitious, try these layered shots. They must be poured in the specified order, and the second and third layers are best poured over the back of a spoon angled slightly downward inside the glass, to avoid disturbing the previous layer.
The Irish Flag

Layered to represent the colors of – you guessed it – the Irish Flag, or tricolor. The white section in the middle symbolizes peace between the native people of Ireland (Green) and the British Supporters of William Orange.
To make:
Layer equal parts green crème de menthe, Bailey's Irish Cream and Grand Marnier.
The Whistling Leprechaun
Every St. Patrick's Day since 1962, the 156 mile Chicago river is dyed green. These days they use an environmentally friendly powder, the ingredients of which are secret. Inspired by The Whistling Gypsy, this is the same shot with green food coloring added to the Bailey's before layering.
To make:
Layer equal parts Kahlua, Bailey's Irish Cream and Vodka.
---
However you celebrate, "May your glass ever be full,
                                             May the luck of the Irish enfold you,
                                             May the blessings of St. Patrick behold you,
                                             May the roof over your head be always strong.
                                             And may you be in heaven half an hour before the devil knows you're dead."
~ Irish Toast