I grew up in Nova Scotia and spent years in Toronto before ending up in Vancouver. You don't see the regional differences until you move further and further west. Victorian houses morph into open-concept spaces laden with glass and metal. My sense of tradition is challenged. I learned that there was more than one way to make a tea biscuit or 'traditional' tourtiere. Also, manners in the west are more laissez-faire. People are wearing yoga pants to the theatre, and an affirmative RSVP seemed to indicate that people 'might' attend a dinner party. Regional differences aside, I really take pride in knowing how to host a beautiful dinner party. 
One day, eating my sushi and fusion-fried-chicken picnic during a hiking break, it occurred to me that both coasts offer poignant lessons. Manners and propriety are useless if they become stressful, and yet angst is also created by uncertainty if manners are completely absent. (Have you ever cooked for twelve guests and had 6 cancel last-minute?) Heritage and tradition can take many forms, and whether your beautiful china is vintage or modern – it won't be cherished by generations to come if it stays in the cabinet, preventing childhood memories from being created by using it. As well, 'traditional' menus won't be enjoyed for long if a family can't adapt them to their lifestyle and tastes.
Constructing an East-West Dinner Party
With motivation to teach my kids how to throw a spectacular party while showing them the best of their heritage from the east and the future of the west, I hosted an east-meets-west dinner party inspired by none other than fellow East-Coaster, Chef Michael Smith. I put together a beautiful, relaxed clean and easy entertaining experience that incorporated favourite elements from each Canadian coast. Just like a Nova Scotian 'kitchen party', I invited four other couples we didn't know well and started planning the menu. Including new friends – that's how to host a beautiful dinner party.
Planning the Menu
With Chef Michael Smith's new Family Meals cookbook in hand, I set off for Granville Island Market. I tweeted him some menu ideas and he got right back to me with enhanced versions. East meets west is right! I also had a secret weapon. This year I'd met a fellow foodie who also happens to be a James Beard award-winning chef and cocktail expert. A native Bostonian and founder of the Food and Wine Radio Network for NBC affiliate KVOA-TV4, Jennifer English decided to heighten the experience even further. She supplied vintage cocktail glasses and then showed up with a fellow chef (in matching aprons) to make sure the cooking and food was exquisite.
Preparing Perfect Dishware
The menu was planned, ingredients purchased and flowers arranged. Jennifer taught me that the smallest smudge on your glassware would detract from the evening, and guests should always be greeted with a tray of delicious cocktails. Though I think of myself as a bastion of old-fashioned manners, I clearly had much to learn.
Table set, champagne on ice, serving dishes labeled and ready to be filled, card tables set up in the kitchen for plating and the super-star team assembled. Two east-coasters in the kitchen using recipes inspired by Prince Edward Island's Michael Smith being prepped and styled with skilled west coast flare by Meribeth Tikkanen. I hadn't even met Meribeth when Jennifer convinced her to come and help for 8 hours. Seriously. All I knew was that she was 'the best home chef around'. And she works with CBC, a station to which I have an affinity. They each outshone their reputations and the result was spectacular.
Flowers: Peonies, Hydrangea, Freesia, Lupins, Calla Lilies 
The kids gathered salal from the garden as I practiced assembling hand-tied bouquets. Lupins and peonies are signature east coast flowers, so I coupled them with hydrangeas and fresh spring buds that thrive in the west. We greeted guests on the back deck ate on the front deck overlooking the ocean.
Cocktails: The Eagle Island Banner
East West Beer Cocktail
Champagne

When Jennifer talks, you want to jot down every word but her ideas and voice are so dazzling that you are too mesmerized to write. This phenomenon is even more prevalent when she discusses cocktails. She composed an 'East West Beer Cocktail' to suit the hors d'oeuvres and then came up with the 'Eagle Island Banner', which combines the colours of our neighbourhood flag.
Hors D'Oeuvres: Lobster Casserole in Phyllo Cups
Crab Cakes
Spicy Chicken Satay

The hors d'oeuvres were the first introduction to the flavours of the evening. I used my mom's famous lobster casserole recipe to create bite-sized phyllo treats. Mini crab cakes represented both ends of Canada and grilled chicken satay hinted of the far eastern influence felt all over the west coast.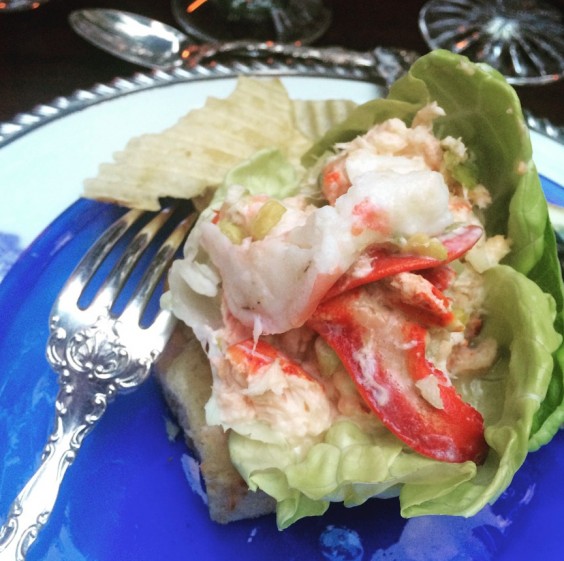 Appetizer: West Coast Lobster Rolls
We used a traditional lobster roll concept and opened it up so that it could mimics the openness and ease of the west coast. Toasted challah topped with lobster salad dropped onto a Boston lettuce leaf became our west coast lobster 'roll'. Crunchy crinkle chips complimented served on the side with champagne to bring the flavours to life finished the course.
First Course: Fish Risotto with Nova Scotia Scallops
We served the risotto on scallop shells that my husband teased me for collecting on the beach. I ran them through the dishwasher with Cascade before using them as plates and he regretted ever smirk! We topped each dollop of risotto with a seared scallop and an Atlantic fiddlehead garnish.
Main: Young Green Spring Salad with Lemon Vinaigrette, Beef Tenderloin with Chimichurri Sauce and Fiddleheads
Nothing beats Canadian beef tenderloin from Alberta. Coupled with chimichurri, pinenut-tossed fresh greens and fiddleheads we'd pretty much spanned the entire country.
Dessert: Bananas Foster with Homemade Tahitian Vanilla Ice Cream
Part of being simple is to use ingredients that are in season whenever possible. With berry season a few weeks away, we opted for bananas. Fortunately I had just traveled to Tahiti with my family and was well stocked with vanilla beans. Making homemade vanilla ice cream the evening before the dinner delighted the kids and got them very excited about the entertaining to come.
The guests laughed, ate, and ate some more! Jennifer's cocktails were modern and trend-setting. Hosting a dinner party is hard word work  but it was worth every minute. Best of all, I got to show my kids how to host a beautiful dinner party. These are going to make great memories!