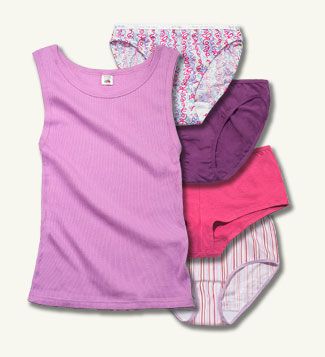 Ode to my Saggy Underwear: Gone are the days of invisible panty lines and French lace thongs. Or are they?  Becoming a mom moved matching or even coordinating panty sets pretty far down my priority list. I not only stopped caring but I also stopped fitting all of my alluring underwear. That combined with more trips to WalMart then La Senza my drawers are now filled with the 100% cotton and comfort of Fruit of the Loom instead of its previously inhabited lacy counterpart.
I didn't become aware of my weight loss by the way I could finally zip up my pre-pregnancy jeans or even how my jackets stopped pulling across my shoulders and arms. I detected my weight loss first when I spotted NOT my saggy bum, but my saggy underwear in the mirror! Yes…I was checking out my own butt in the mirror. I am not ashamed to admit it! We all should do it!
As the fat melts away I am left with a glimpse of my former self. The part of me I don't really remember; a fit, toned and confident woman. My new found confidence isn't reflected in the way I am dressed. I continue to wake in the morning and choose baggy underwear. Perhaps it is because I like the reminder that I am making progress or maybe I simply just can't find the time to shop to replace them. I am beginning to think that in order to really transform myself through this experience it is about time to address my unmentionables and possibly burn them.
This week I am committed to saying farewell to my saggy underwear and hello to a new and smooth silhouette. I will start with underwear drawer but why stop there?! Next I will tackle all the maternity shirts I somehow permit myself to still wear and all of the pants that now require suspenders to stay up!