When I received my sample of SeabuckWonders Exfoliating Facial Cleanser, I admit that I was a little jaded.
If you look in the closet in my bathroom (Please don't ever do that. Seriously.) you will see,gathering dust on the third shelf next to a triple-barrel curling iron and one of those wands that was supposed to give me spiral curls but actually wound up burning most of the whorls off my thumb and index finger: several half-used tubs of sea salt/sugar scrubs in varying sizes and scents, yellow gloves, a giant loofah, multiple bath poofs, and a plastic bin full of sample tubes from different product lines, all for the purpose of exfoliating my skin.
Some of them…many of them…smell bad. Others are gooey and unpleasant. Still others left me looking freshly peeled or caused breakouts. And one kept clogging my bathtub drain.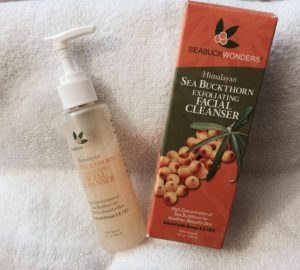 I was willing to give SeabuckWonders a try, but I also didn't know what sea buckthorn was. A little research revealed that Sea Buckthorn is an herb whose leaves, flowers and fruits  have medicinal qualities such as anti-inflammatory, prevention of infection, immunity boost, and treatment of arthritis and gout. In cosmetics, it is used in anti-aging products. It contains vitamins A, B1, B2, B6 and C. Sounds wonderful!
Seabuckwonders harvests the berries by pruning the plants in it's own organic processing facility in Tibet. Their products are cruelty free, kosher, vegan, USDA Organic and subject to rigorous safety and testing. Seabuck Wonders Exfoliating Cleanser was recently named a finalist in the 7th Eco-Excellence Awards, which recognize excellence in social and environmental sustainability for products, services and companies.
But in spite of all that, will it wind up on the third shelf of my bathroom closet?
First of all, it smells great. Naturally scented with orange essential oil, the scent is light and fresh, and there is just enough of it to make it pleasant to use without being cloying. There are enough exfoliating particles to feel, but not so many that it feels rough or unpleasant on your skin. It is infused with a blend of natural, plant-based Omega 3, 6, 9 and 7, so it makes your skin vibrant while providing a deep clean. It rinses clean away and my skin felt soft, invigorated and moisturized after one use. I used it as part of a shower routine so I used it on my décolletage as well.
It is worthy to note that this cleanser has been gaining some accolades from men as well, as a perfect gift for Father's day for "kissably soft" skin. I am married to a die-hard, lifelong customer of the "tap water and a washcloth" men's skin care line, so I had my doubts that I could talk him into trying it. Once we established that having a beard did not exempt him from skin care, he did, and we both agreed that the scent wasn't too much, as many products for men can be, and that his skin was softer afterwards. I make no promises that he will use it again, but from him, that is high praise.
I, however, certainly will – this product line also offers a facial cream, Ultimate Hair Skin & Nails and a body lotion, available directly from their website at www.seabuckwonders.com, as well as Amazon. I look forward to trying them all.
Meanwhile, does anyone need a three-barrel curling iron?
Disclosure: I received a sample of SeabuckWonders Himalayan Sea Buckthorn Exfoliating Facial Cleanser for review purposes. All opinions are my own.