On the surface, Father's Day seems like the man version of Mother's Day, but it's absolutely not. Dads aren't the opposite of moms at all, they're a totally different animal, so when their big day arrives, we have to consider them in a totally different way.
For example, dads don't dream of celebrating Father's Day in bed, marathoning Outlander with a pitcher of ice-cold sangria and a straw…do they? Probably not. On the other hand, do they really want another tie or some new socks? Maybe, but while most of the dad dudes I know love them some cool socks, these aren't really presents that pronounce, "I'm someone's awesome father!"
So, what do dads want in the context of, well, being a dad? Well, I'm guessing they want experiences with their kids. They want knick-knacks that are covered in kid-type sentiments and they want things their kids made just for them. And, because they're human, they want a little bit of pampering too.
On our second Father's Day, we got our special guy a coffee mug with a dinosaur on it and a caption that reads, "Dear Dad, thanks for being my dad. If I had a different dad, I'd eat his face off and go find you." A bit cheeky, perhaps, but the kind of sentiment my husband would really appreciate from our son who is a fierce lover of both dinosaurs and his dad. Then we made reservations for a beer tasting at a cool local brewery (whole family included) and finally, we assembled a seriously sticker-splattered, crayon-explosion, dad-loving card at playgroup—so all that was left was the pampering. No problemo.
The dad in our family is the epitome of a gentleman—in equal parts gentle and manly—so the Peaceful Warrior Men's Skin Care kit, by Saje was a perfect fit. The mix of products in the kit (deodorant, soap, toner and moisturizer) covered all the bases, and I particularly appreciated that the scent (a balanced mix of sandalwood and patchouli) didn't feel the need to scream, "I'm A Man."
Rounding up the pampered dad's grooming rituals, The Perfect Shave Kit by Anthony was just what its name promised. With a facial cleanser, pre-shave oil, shave cream, and aftershave balm, four simple products give our dad a streamlined, pleasurable shave that makes him feel super duper happy and seriously pampered.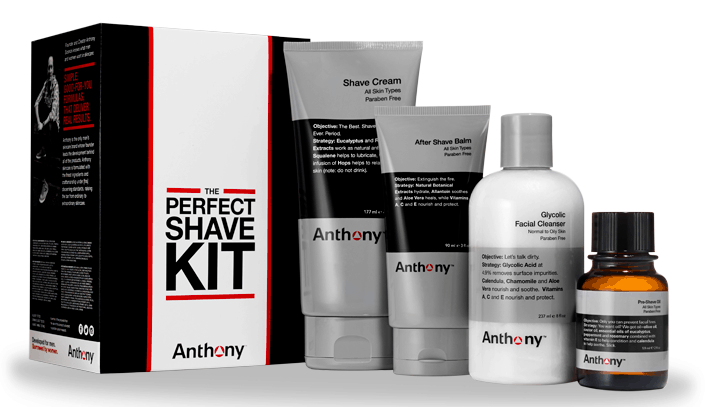 We're set for a happy day tomorrow, but we know that presents are just part of what makes fathers feel well and truly celebrated each June. The other parts are equal to what they give us the rest of the year: support, understanding, and a huge smattering of love.
Disclosure: The nice folks at Anthony and Saje provided us with sample to try to inform this roundup but these are our opinions.