Some women love flowers. Some women love shoes. This woman loves bacon. Crispy, smoky, delicious bacon makes my heart flutter romantically. "True love is sharing your bacon" – this is my life philosophy and also why Hallmark probably won't ever buy card concepts from me (but wouldn't you want to buy one that said that? It's just so relatable.)
There is nothing I love more than breakfast in bed. My friends actually used to host an annual bacon potluck where each guest would bring their own bacon related dish to share. It was so much fun (and so much bacon!)  One year we actually had 13.5 pounds of bacon on the table and in all the years it was held no recipes were repeated. I wouldn't have minded if they repeated the bacon wrapped stuffing. That was lovely. 
The key to perfect bacon is having the right tools. We recently received a 3-in-1 MultiGrill from Hamilton Beach and it turns out that it makes exceptional bacon. These are some other things that we loved about it:
removable, non-stick cooking plates that we can just toss in the dishwasher (this lady doesn't  hand wash!)
it lays flat making not one but two cooking surfaces! DOUBLE THE BACON.
even the drip tray is dishwasher safe!
there's a neat kickstand feature that tilts the grill and drains the grease (handy! no manual tilting required)
You know what they say, happy wife, happy life! All those features make my heart happy. Maybe it was the bacon talking, but I am really excited that we now have the BEST GRILL EVER. Bacon makes me enthusiastic enough to use SHOUTY CAPITALS about small kitchen appliances. If you want perfect bacon, I highly recommend the 3-in-1 MultiGrill from Hamilton Beach. Your bacon loving heart will not regret it! I have no specific guarantee to offer personally, but if you don't like your bacon, I will eat it for you. Hamilton Beach, on the other hand, offers a 5 year warranty. Their deal is probably better for you! Here are some pretty shots of the grill:
Before:
After: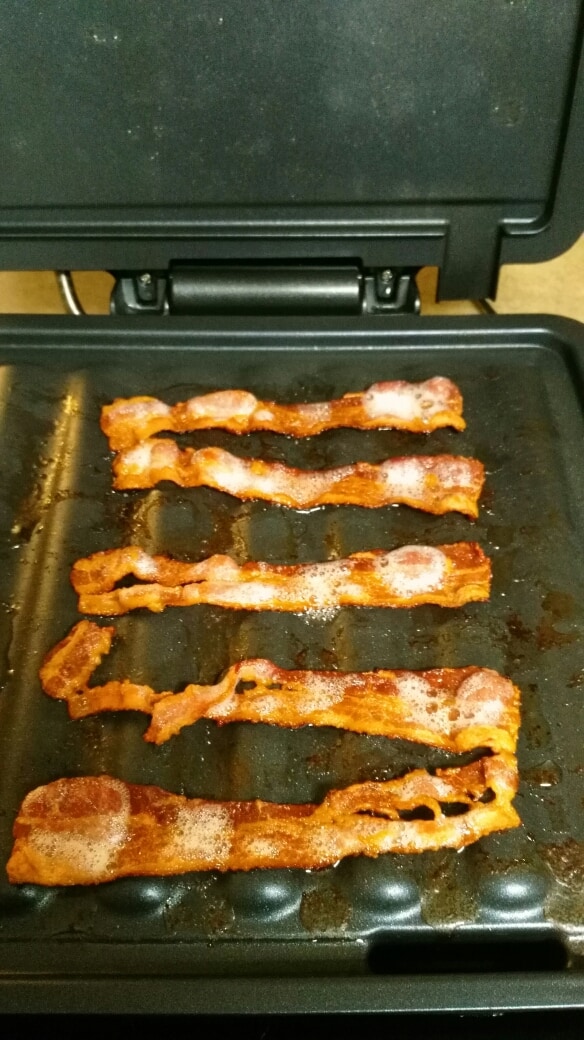 Disclosure: The nice folks at Hamilton Beach sent me the grill to try out. I bought the bacon. The opinions and bacon are mine. The grill was theirs but now it's mine also.
Alison Tedford is a Canadian freelance writer and mom. She documents her journeys in parenting, mental health and fitness on her blog Sparkly Shoes and Sweat Drops. Follow her on Twitter, Facebook and Instagram @alisontedford