We are living in one of the most exciting technological times in the modern era. Every. single. day, advances are being made that improve our lives, bring families closer together and save us time and money. My home is a beautiful sanctuary, but it could operate more efficiently and be smarter. We put 5 smart home gadgets to the test in order to enhance life.

There are always slight annoyances in a home, and in anticipation of holiday entertaining and family bonding, I want our home to look and operate with precision. Looking around there were a number of fixes that have to happen in a short period of time! Thankfully, technological upgrades are pretty fast and easy to implement, and more often than not, using wifi eliminates messy cords.
Smart Light Switches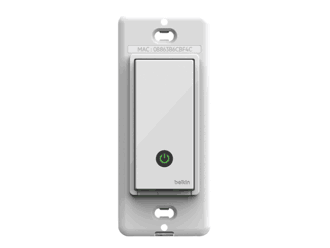 One of the most annoying things in my world is that my sons NEVER turn their bedroom lights off. I drill them about conserving energy to save the planet, about saving on the electricity bill and telling them that I will have to buy lightbulbs with funds from their piggy banks. Nothing works. Enter the Belkin WeMo Wi-Fi Light Switch. Now when I ask the boys if they have turned the lights off, they are able to control the lights from anywhere using a smartphone. I haven't told them yet, but I was also able to program a schedule for the lights so that they shut off at bedtime, on in the morning, and are magically off as soon as it is time to leave for school. A little, inexpensive fix for one of the issues I nag about most.
Smart Plugs
Next up? Plugs. Remember the timers of yore, where the dial turns and the pins make your plugged-in lamps turn on and off? We ordered two Belkin WeMo Insight Wi-Fi Smart Plugs. Similar to the light switches, you can schedule fans and lights to come on when you get home from work, shut off the TV when you think your kids have had enough. There are even notification settings to tell you when the laundry is done so that you can fold clothes right away from the dryer and skip the ironing part… See how tech improves life?!
Smart Safety with Smoke and Carbon Monoxide Alarms
We renovated our home about 6 years ago, and tech has changed dramatically since then. One thing we did do right was to wire in smoke alarms, but our and Carbon Monoxide detectors were still plugged in, bulking up walls everywhere. With one quick swap out, our old alarms were upgraded to the Nest Protect Wi-Fi Smoke & Carbon Monoxide Alarm. For something as important as fire safety, you want a smoke alarm you can trust and rely on. That's what you get with the battery-operated Nest Protect. This advanced smart device can distinguish between levels of urgency in smoke and CO levels, and sends you alerts on your smartphone immediately upon detection so you can take action right away.
Smart Lighting
A couple of months ago I needed an inexpensive, quick decor update and the Philips Hue A19 Smart LED Light Bulb Starter Kit was the solution. With your smart device as your control centre, you have a variety of lighting options at your fingertips. The lights can be adjusted to 16 million different colours to encourage specific moods or programmed to work as handy alarms and timers and the shades you can create are unbelievable. Red for a racy party or soft blue for concentration, these lights are super fun. One area of my kitchen counter was quite dark so I added the 6.5 foot Philips Hue LED Lightstrip Plus underneath the counter and all of a sudden the kitchen looked like we'd done a modernist renovation!

Smart Internet Usage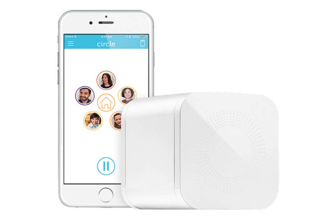 The Circle With Disney allowed our family to take back control of our family's internet usage. This device pairs with your home's Wi-Fi network and lets you personally manage each internet-connected device in your home. I did a full roundup of apps and devices to keep your kids safe that explains it in more detail. You can create profiles for each family member, set daily time limits on apps and devices, and filter out specific content that's not suitable for kids.