I've recently decided to get back in the swing of things at the gym and to pull that off, I needed a new fitness wardrobe. I deserved one. That's what I told myself as I walked into Lolë at Tsawwassen Mills. I have been sorely in need of motivation and I always feel better when I look better. I found so many things that I fell in love with in the store to get me set to sweat. 
These are a few of my favourite things:
The most magical high wasted crops. Even moms need to be tucked in sometimes! These babies tucked everything in! So amazing. I wish everything made my butt look this good. They are super comfy, they don't give you muffin top and they have amazing range of motion when you are working out.
The softest tank tops. I love the bright pink I picked out but they have them in so many different colours. These feel like you are working out while wrapped in a cloud. They have built in sun protection (UPF 50,) they dry fast and stretch like nobody's business!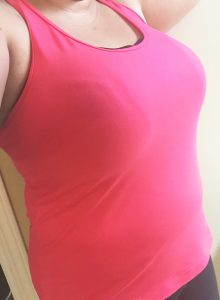 Gorgeous gauzy white pullover tops like this one. These are great for to and from, to tone down a really bright top or just add dimension and visual interest to a look. I love the texture of this one I picked up over the summer. 
The most practical bag ever. I love the LILY tote bag. The front pocket has sides that unzip for you to stash your pool towel or your yoga mat. The back section is cushioned for your laptop. The pockets are intuitive and logically placed. You can turn it into a backpack or a tote bag in seconds. It's the perfect size. It is really the only bag I need – it's my gym bag, beach bag and briefcase all in one. It's also really easy to clean. I accidentally left a peach in it which got smushed by my beach gear and it was easy peasy to clean up and have good as new. I was really worried I had ruined my favourite bag but it can definitely stand up to mom life. 
As much as I loved the clothes, I very much fell in love with the mission of the company. They are Canadian, which is awesome. Their yellow label program gets more use out of donated coats and also funds food banks. They have cool yoga events called the Lolë White Tour where everyone dresses up in white and does yoga together. They've also done fundraising for the local women's shelter and that's a cause that's close to my heart.  I liked knowing that if anything did go wrong, their clothes come with a one year manufacturer warranty
I appreciated how clever and thoughtful the design elements are, like pockets in useful places, that show they considered how the people wearing them move and live. They even make sweaters out of recycled water bottles. The service at the store was really great also.. As a curvy gal, I liked having a friendly Canadian option with a broader range of sizing than other yoga retailers I'm familiar with. And everything is so soft! I loved how it felt against my skin!
While they were kind enough to provide the outfit above to trial, I bought quite a few additional pieces that I have fallen in love with. I particularly loved this dress, as it's fast dry, stretchy and has a fun pattern. It has a removable belt and it's my favourite thing to just slip on and look put together.
I also got this tank top that has a built in bra and has a slit in the back which was handy for when I was getting warm in the summer. You can knot it in the back if you're more modest about exposing your lower back. 
If you're looking for clothes to fall back into fitness with, I definitely recommend checking out Lolë. You deserve it! We all do! Now go hit the treadmill and tell us how it goes.
Disclosure: I was provided samples for this post, but I have bought from Lolë in the past and will continue to do so in the future.
Alison Tedford is a Canadian freelance writer and mom. She documents her journeys in parenting, mental health and fitness on her blog Sparkly Shoes and Sweat Drops. Follow her on Twitter, Facebook and Instagram @alisontedford
SaveSave
SaveSave
SaveSave