Despite loving formal silverware and gourmet foods, people who know me wouldn't usually use 'stuffy' in my bio. Hailing from Nova Scotia, it was actually my grandfather's Navy background that instilled the British formality, and being a year-long exchange student in Germany that sparked the passion for travel. My business and life are more about making luxury more accessible rather than being highbrow. So when I interview Steve Carlisle about the new 2018 Chevrolet Equinox and he talks about the democratization of the technology in the vehicle – my ears perk up.
The 2018 Chevrolet Equinox is not only $2000 cheaper than the last model (it starts from $26,995), but it is packed with 'standard' features that used to only be available as extra options. Built-in 4G Wifi for up to seven devices is standard (hear the children of the world rejoice!), as is Carplay, accent stitching and more luxurious materials. Also standard, are heated front seats, a heated rear view mirror and remote starter. Because: Canadian winters. As if anyone would want them to be 'optional'. The seats offer loads of points of articulation, so whatever your back ailment, I'm willing to bet you can get comfortable.
The idea behind the Equinox is versatility. It includes AWD, yet exhibits stylish lines and intricate stitching. You can feel luxurious taking it to a classy event but it's roomy and durable enough for skiing and beach days. So a family can truly LIVE life through this one vehicle.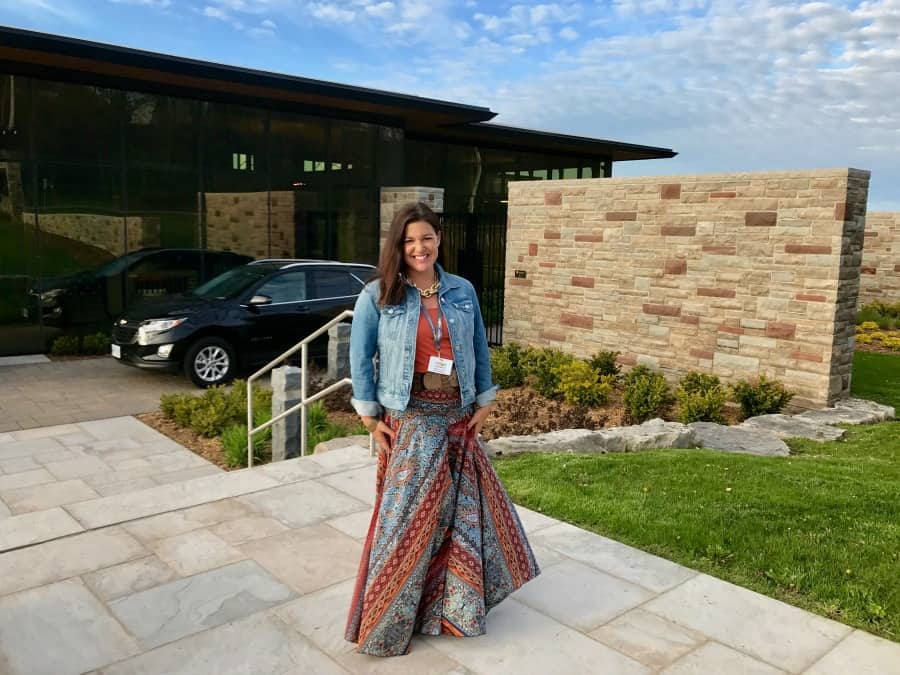 The new version is 400 pounds lighter than it's predecessor, allowing for better handling and tighter turns. They trimmed the fat, with no interior space lost and a sleeker exterior. In the video below I call this feeling 'heavy' because it is so nimble and I feel safe and secure, yet in order to accomplish this phenomenon it is just the opposite.
Lifestyle details have been brainstormed on a massive scale. Your ipad now fits in the centre console. The spare tire lays flat in the trunk to reveal more storage space. And the cup holders are bigger than ever to accommodate our triple nonfat extra-hot soy lattes. It also has the perfect spot where your iphone fits comfortably without rattling around. (Far less road rage, I'm willing to bet.) On some models, a video backup camera and bigger-than-sky sunroof are available, as well as wireless charging, rear cross traffic alert, and rear park assist. You can also opt for ventilated seats, so you don't sweat the long drives.
My favourite option is that you can now open and close the back gate with a jaunty kick of your foot underneath the bumper. It takes a few tries to perfect where the sensor is located (so it won't be set off by your cat Muffin or the neighbourhood raccoon) but when you perfect your technique it's a parent's dream.
Safety-wise, on some models, I loved how each side of the seat vibrated as part of lane departure warnings. You just have to be sure not to do it all the time in order to scratch an itch on one side or the other. As with other Chevrolet vehicles, I adore Teen Driver. It gives speed warnings, auto volume limits, radio mute when the seatbelt unfastened, and an in-vehicle report card so that teens can prove to parents how responsible they are as drivers. A new addition to the Chevrolet safety features for me was Rear Seat Reminder. It is activated when either front door is opened or closed when the vehicle is on. It triggers you to check the back seat, lest you forget an infant, pet, or a big carton of perishable ice cream.
Also available safety options include 360-degree surround-vision camera with it's epic bird's eye view from above, panoramic sunroof, ventilated front seats and intellibeam headlights.
I tested the vehicle in the Niagara region of Ontario, in the community of Ingersoll where the Equinox is manufactured. Visiting historic sites of the region, eating food farmed in the area and using the truly versatile Equinox throughout the experience game me a true terroir-like all-encompassing experience with the car. (And I said I wasn't stuffy!). The wineries in Beamsville started in 2005 – just like year Equinox launched. Don't worry. I had not a drop of wine prior to being in the driver's seat. I did, however, partake and then rode in the back seat, enabling me to truly appreciate the roomy luxury passengers get to experience.
In terms of driving, I was stunned at the responsiveness of the steering and the acceleration for a vehicle with so much interior space. On the highway, I was much more confident than usual while passing, and 120 (ish) km/hour felt more like I was going 90 in my own older-model Chevrolet. The eco-mode that kicks in every time you stop has always taken a bit of getting used to when I test vehicles, but in the Equinox, the pickup seemed far faster than most. It was almost indecipherable that I was saving gas and energy at every light.
So whatever your family looks like – if you're the champagne and stiletto people, the dogs-in-the-car hiking people, or all of these things (kudos), I'm willing to bet that the Equinox is up to the task.
Disclosure: UrbanMommies was hosted during a two-day Equinox adventure (more to come!) and opinions are our own.