My workout clothes stunk. Literally. I'd soaked them, washed them multiple times on sanitize cycle, line dried them in the sun – even left them out in a storm hoping to get the stank out. Alas, nothing helped. It was time. I needed to shop for … dah dah duuuhhhhhhh.  New clothes. I'm not a great shopper – I have the attention span of a toddler, the patience of a hungry infant, and a matching ability only slightly above that of my engineering husband (no offense, sweetheart). I'm pretty much about functionality, fit, and comfort. If it looks cute, that's a bonus, but not a focus typically for me as I not only live in my workout clothing – I sweat – copious amounts – in my workout clothing.
So I was over the moon excited to be selected to try out a bra and outfit by handful. First – the name. Seriously – isn't that the best ever name for a company? I mean, it makes clothing that includes a motto of "Flatter Not Flatten" The brochure accompanying the clothing made me as happy as the clothing. Inside the cover the definition, " hand-ful (noun) – A strong, confident, determined, active, compassionate, and/or adventurous woman. Sense of humor REQUIRED." I am completely digging what this company stands for.
Given the fact that I wear a DD bra, I run, and I like to be covered finding a sports bra that works for my life is a daunting task. Both the bra – the Handful Adjustable Bra (check out the names of the color options – they're awesome!) – and the workout shirt – the Handful Love Yourshelf Tank (again – the names are killing me – love it!) offered support, coverage, and comfort. If I'm being honest, comfort isn't something I focus on when buying a sports bra. I know – weird – but the thing is support and coverage make me mentally comfortable so sometimes I ignore the physical comfort or lack thereof.  With either of these options – the Handful Adjustable Bra and the Handful Love Yourshelf Tank – I am completely comfortable, mentally and physically. Both top options also look cute with the Handful Squeeze Play Capris I got to sample. The capri pants stay where they are supposed to – don't ride up or fall down at the waist, fit nicely on my calves, and are extremely comfortable.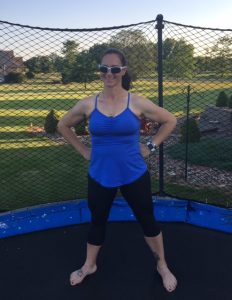 As I'm washing these items daily, they are holding up nicely. And as I'm washing these items daily, it's probably time to order more. Why not have fun and feel great while working out and making your body a healthier place to live? Check out handful.  You can find all their fabulous clothing options here and learn about the company too!
Disclosure: handful provided clothing for me to try out, but all opinions and super cool trampoline moves are mine!