If a car could tell a story about real life for a family it would be the Honda Odyssey.  Like the story of the day your baby came home from the hospital and you were so nervous you shook. And the time you accidentally drove through a red light and managed to avoid the accident that almost killed everybody in the car. That family road trip to the coast where your daughter confessed that she had fallen in love. And the morning you drove your child and her jittery friends to their graduation ceremony.
Since the vehicle is so versatile and timeless, it becomes the one constant that follows and facilitates all of those real family moments. This minivan could tell 1 million stories, because a family is going to want to keep it for a very long time.
My family and I had the opportunity to drive the 2018 Honda Odyssey in Kona, Hawaii and having the boys with me allowed us to give it a true and thorough test. One of the highlights in attending an automobile launch is the accessibility of the engineers and visionaries who create the vehicle. I was delighted to film the interview below with Chad Harrison, Chief Engineer at Honda R&D. Five years in the making, the all-new Odyssey has been reimagined and redesigned to delight passengers while instilling pure confidence in the driver. This is a vehicle designed for family life, and as such, it must be stable and quiet enough to handle an 800-mile road trip at high speeds. As well, it needs to be highly maneuverable for daily life on city roads with twists and stop lights. Stability and maneuverability are fairly easy to accomplish on their own, but driving this vehicle was the first time I had truly seen excellence in both.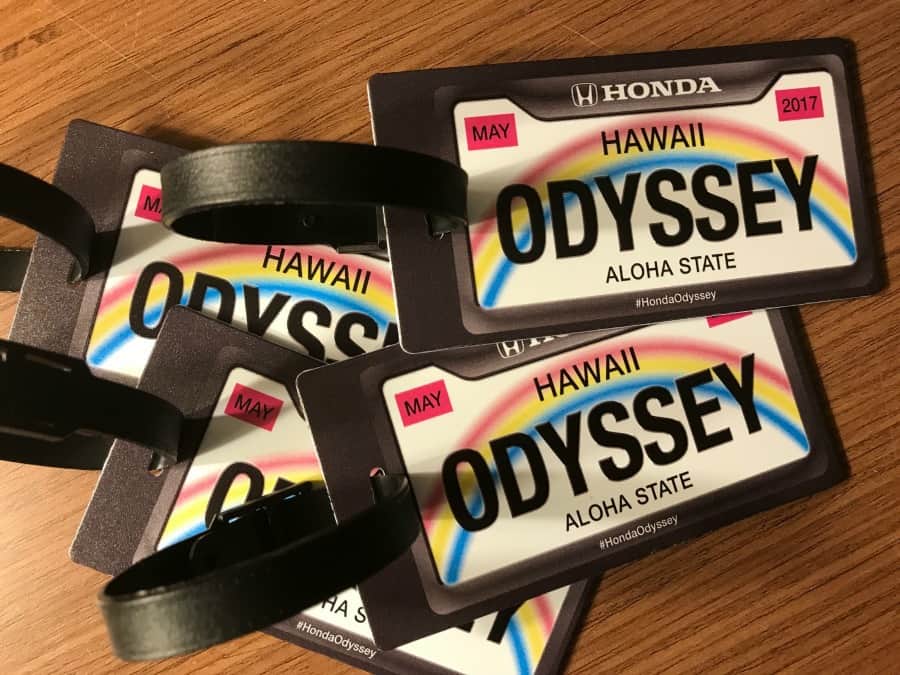 Many conversations about the vehicle were had with Peter Cardimen, Principal Engineer, who has been with Honda since 1996. (It seems to me that employees love working at the company so immensely they never leave). Amidst many chats about the vehicle itself, Pete shared much with me about his daughters and their love of dance. One story he told stopped me in my tracks. This is a man who loves to create and engineer so dramatically that during his free time, he builds robots that perform on stage alongside his daughters during their dance recitals. It's a way to connect and help his family excel. Pete is an engineer that practices his talents on the off hours to enhance his family life. This passion for excellence and understanding of a family's essence oozes out of every detail incorporated into the 2018 Honda Odyssey.
A Vehicle that Deepens Relationships
The engineers wanted a truly conversational cabin. One thing about cars that many people don't notice is the noise level in the vehicle. The idea surrounding the 2018 Honda Odyssey was to make the vehicle so quiet that a family could bond as if around a campfire. The added sound-deadening carpet, acoustic foam, thicker rear glass and acoustic windshield glass to make it less noisy. Wind drag has been so drastically reduced that you can actually hear each other talking.
Cabin talk technology helps you avoid yelling or craning your neck to communicate with passengers in the back rows. Select either speakers or headphones to use the cars built-in PA system. It was so fun to surprise the boys with my voice as they were live-streaming PBS with the wireless headphones. "Hi boys! Take a minute away from the screen to look at the cows out the window!"
The social playlist feature allows up to 8 passengers to enter songs from their smartphones that will be added to the vehicle's playlist. Instead of the antisocial tendency to listen on to your own device – this feature creates a sense of community. The songs don't need to exist on every phone in order for everyone in the car to hear them. Democracy at its finest and a great way to eliminate arguments on long road trips. Additionally, the cabin control app lets passengers individually control heating, navigation, air conditioning, and rear entertainment all from their smartphone. Even in the third row, a passenger can turn the heat down in their area without yelling to the driver.
The only issue for my family is that there is so much cool technology available, they may get too distracted to have a true conversation with me. The back rows are equipped with 2.5A USB ports as well as an HDMI slot, 110v outlet, and wired headphone jacks. It also includes 4G LTE wifi. So stream, snap and instagram away!
A Vehicle that Makes You a Better Driver
It's been proven time and time again that if you feel confident, you will be more successful. While we tend to think about dressing for success, the same principle holds true for driving. Testing the 2018 Honda Odyssey, I felt like a NASCAR racer. Super-responsive on Kona's hairpin turns, solid to the road, and agile, I felt nimble and able to easily avoid surprises on the road. The steering system has been redesigned, the body is far stiffer, and this minivan is much lighter than its predecessor.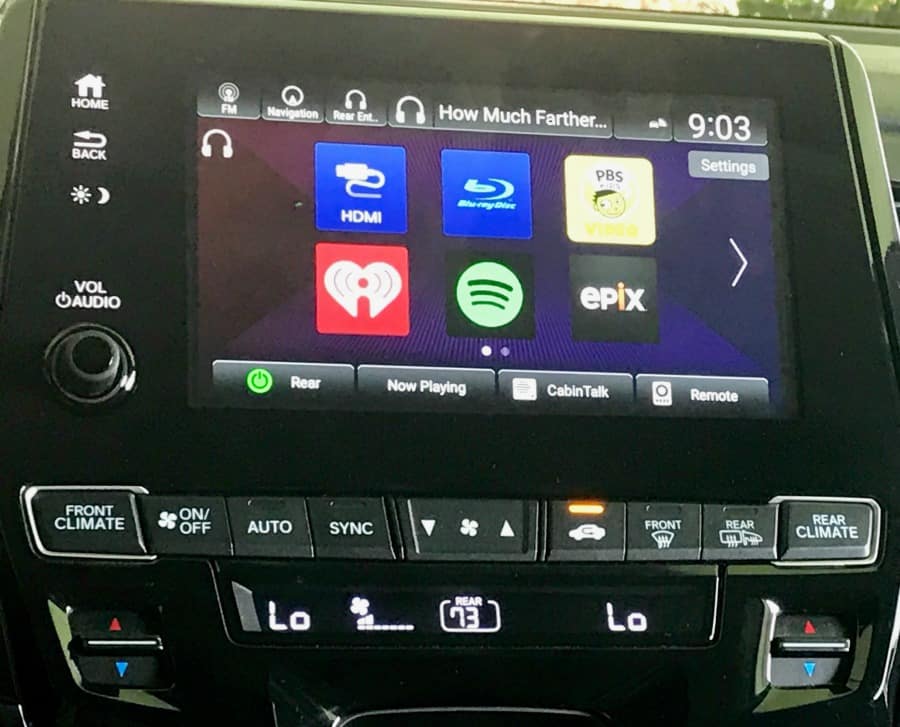 The Display Audio System on an 18-inch screen is kind of a smart phone screen acting as a nerve centre for the advanced tech included within the vehicle. It was very quick to respond, and also enabled me to choose favourite apps and music stations to place on the top navigation bar. The goal was to help the driver keep eyes and attention forward while easily manipulating the technology – and it worked.
The 2018 Honda Odyssey comes in six trim levels: LX, EX, EX-L, EX-L Nav & Res, Touring and Elite. From the EX and above, you get great safety features like blind-spot monitoring, frontal collision mitigation, and lane departure warning and intervention. Standard features on all models include collision mitigation braking system, lane keeping assist, road departure mitigation, adaptive cruise control and rear backup camera. Honda Sensing means that all vehicles feature a multi-angle rear view camera. Blind spot info and cross traffic monitoring are fed to the system for extra safety.
A Parent's Dream
As you will see in the video, the kids took very well to the built-in vacuum in the Touring and Elite versions of the Odyssey. Also included in this trim level, Honda has added the Cabin Watch System, which gives you eyes on who is sleeping (or squabbling) in the back seat, just like in the nursery. At night it works via infared so the kids' sleep isn't disturbed. You can actually zoom in on an individual child in the back to see them more closely.
One of the most miraculous feats is the agility of the new second row seats. The engineers understood that families are all unique, and different seat configurations in the second and third row were vital. They figured out a way to safely embed seat belts into the seats themselves so that the Magic Slide seats move front to back, and side to side. (Without breaking a nail). The configurations for the second row seating allows you to push one side seat inward and then slide it forward to create easy access to the third row. You can also slide the seats together and forward, making it easier for parents to reach infants. As my kids describe, they liked the widest possible seat configuration to give each other space from fighting…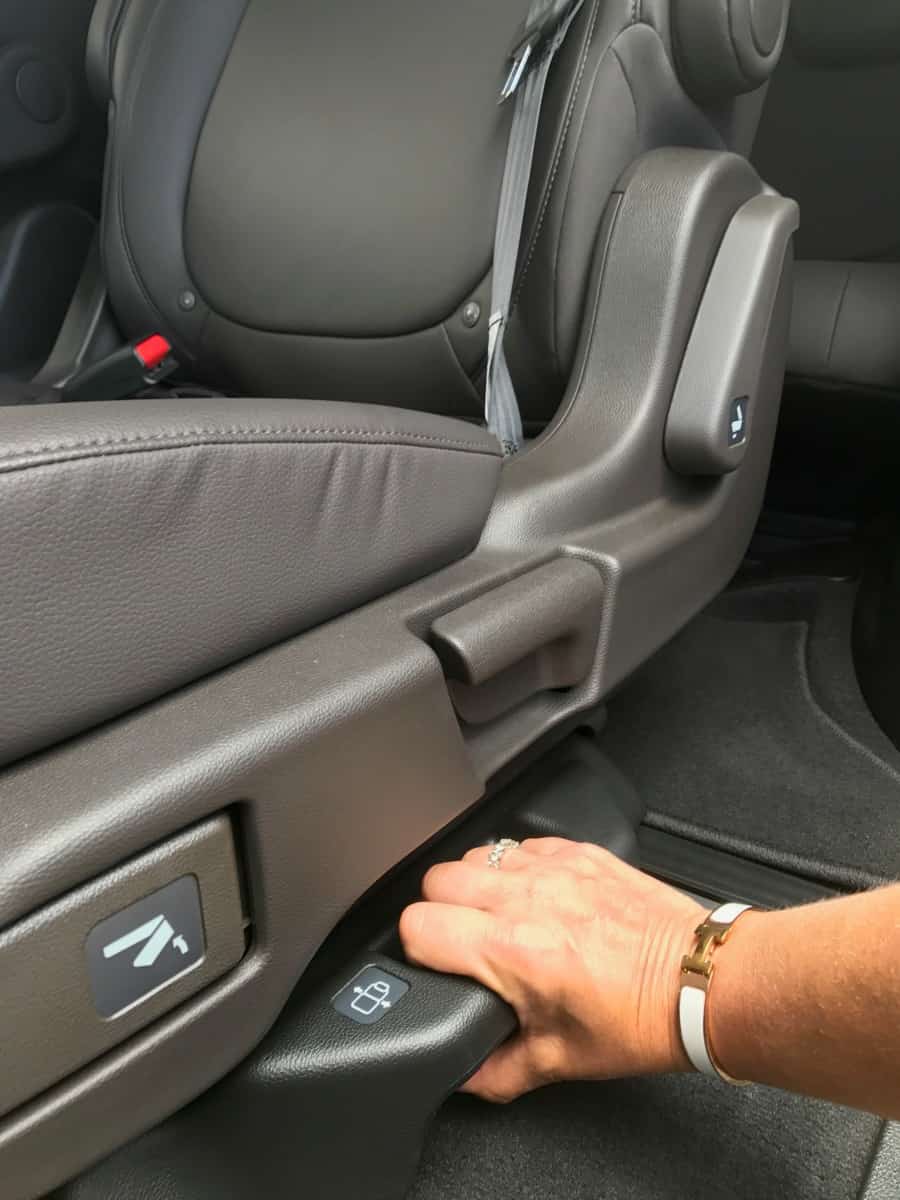 ARE WE THERE YET?! is every parent's pet peeve. As a fun new feature, the 2018 Honda Odyssey has an airplane-like video function that allows the kids to track their drive progress. With a perfect name – 'How Much Farther?'.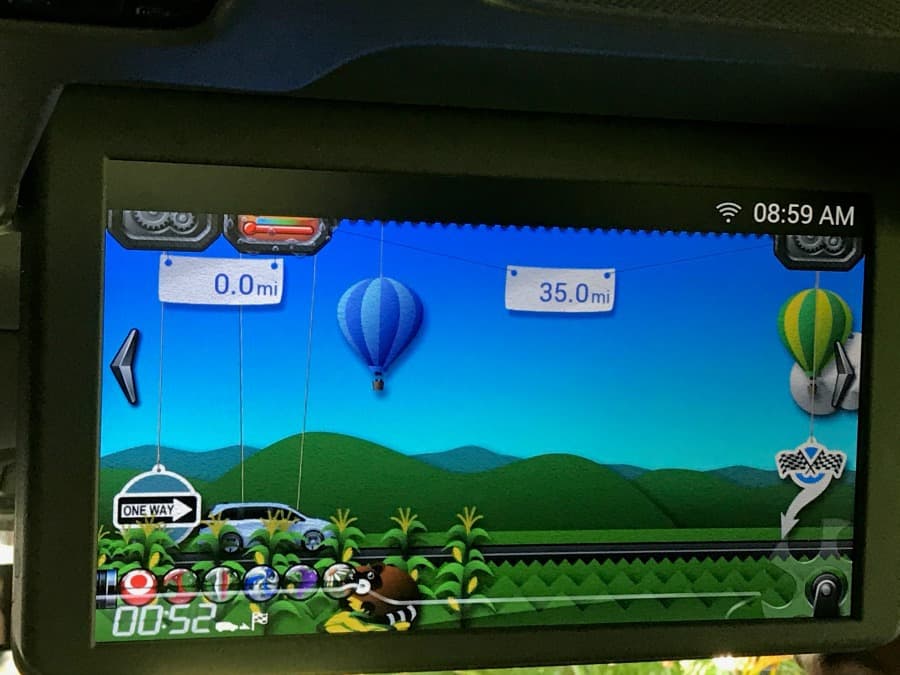 One thing I look for in ever vehicle I test is a back gate or trunk that can be opened with one hand. The number of times I have had a crying baby in my right hand, with bags of groceries hanging off the fingers of my left, and then had to open the hatch… The the new Honda Odyssey features automatic gate open and close when you kick under the bumper (with they keys in your pocket).
Here's a big bonus. My iPad fits in the console. The little things make a big difference. We also noted the purse hook in the passenger seat, and the sliding drawer in the console designed to hold DVDs. Right above this drawer is a wireless phone charging pad. (you need a special phone case to make this work with Apple products). Even better? All surfaces in the vehicle were crumb-resistant. THANK YOU.
Behind the third row there are 38.6 cubic feet of space for cargo, and behind the front row there are 158 cubic feet for cargo. The back seats also fold backwards to create bench seating.
The 2018 Honda Odyssey
The Family Odyssey Event and launch of the 2018 Honda Odyssey was a unique experience for auto journalists because it involved the entire family. At the Hilton Waikoloa Village Resort, we were able to watch and swim with dolphins, and get to know their patterns and talents. It struck me that these dolphins are incredibly protective and social. They form a village and care deeply for one another, just like the creators of the vehicle I was driving. When you have a ton of devoted parents on the R&D and design teams for a new family vehicle (including a dad who engineers gadgets to help his kids when he isn't building Hondas) – you are in excellent hands.
Disclosure: Our family attended and was hosted at the launch of the 2018 Honda Odyssey in Kona, Hawaii. All driving impressions and opinions about this excellent vehicle are my own.