Try as we might to slow down and enjoy a quiet holiday, the festive season can be chaotic as we try to squeeze every ounce of fun and joy into the month of December. We book and double-book ourselves, running from one outing to the next in a flurry of Instagrammable artisanal hot chocolate and snowflake selfies.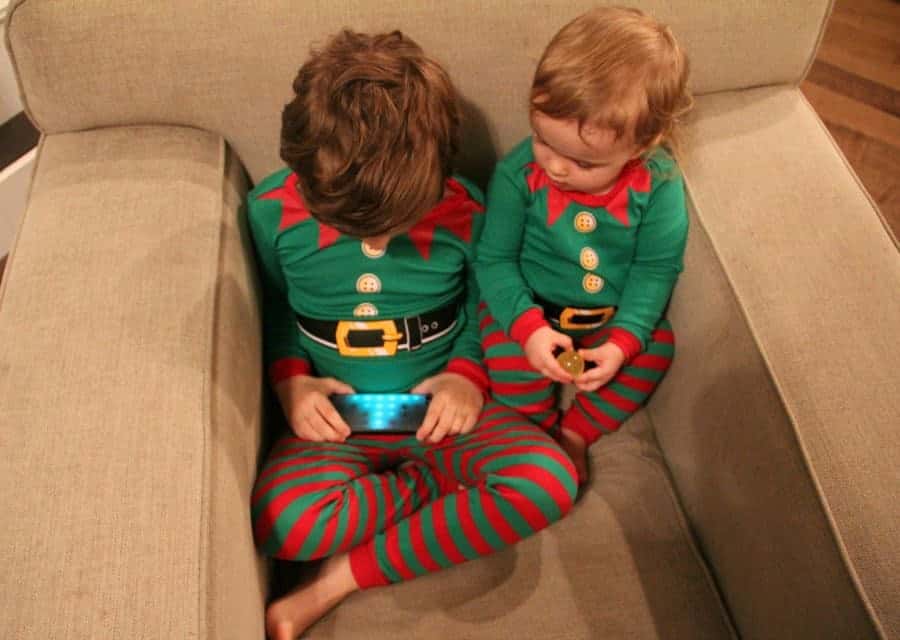 I need a phone that can keep up with my family, that doesn't just give me more functionality than my old phone, but better functionality.
At first glance, the Alcatel A50 looks like a basic smartphone with a 5.2" screen, 2 GB of RAM + 16 GB of storage, 8 megapixel rear camera, and 2 megapixel front camera. But the assorted interchangeable SNAPBAK covers are where the Alcatel A50 truly shines (both figuratively and literally, when we're talking about the LightUp SNAPBAK cover).
The Alcatel A50 offers three different SNAPBAK covers: LightUp, Sound, and Power, making this function the real star of the show. (You should just put it at the top of your tree!) It nearly doubles the original battery life, which has an impressive battery capacity of 2,800 mAh to begin with. So…when the plan was hatched to catch Santa in the act using the awesome video recorder on the phone, I had no 'we could run out of battery' excuses. With the Alcatel A50 + Power SNAPBAK, there was no reason why we couldn't set up the tripod and try to catch Santa or his sneaky elves in the act! Never mind that it's not *quite* Christmas eve, my determined six-year-old was sure we'd capture evidence of a festive visitor, or at least his dutiful but mischievous Elf on the Shelf (and I'm doing everything I can to encourage the magic as long as he believes). Hopefully we can capture some true footage.
LightUp and Sound are what take the Alcatel A50 from perfectly fine, functional smartphone, to party animal. The Power SNAPBAK cover keeps the party going long after other smartphones have called a cab and stumbled home for the night.
It doesn't matter if you've traded your dance-until-dawn party days for nights of bedtime stories and drinking hot cocoa in your jimjams; the Alcatel A50 has you covered. Think: fewer selfies and more elfies as you stuff stockings and trim the tree. But really, there's no such thing as elves, right?
The Sound SNAPBAK cover is also a removable speaker (complete with kickstand!) which made it easy to turn our tree decorating party into a decorating-slash-dance party. The kids took their DJ job seriously and jumped from traditional carols to Top 40 hits and back again in a bizarre mishmash of undulating reverence and sick beats. Even my audiophile husband was impressed by how full and rich the sound was, and the ambience we achieved using only a smartphone.
My favourite part of holiday decorating is snuggling up in front of the tree. It can be difficult to get a six-year-old and 18-month-old to hold still long enough for quality family cuddles, though. That is, until the LightUp SNAPBAK swooped in to save the day. I quickly swapped covers and the kids were mesmerized by the light show synced to the music. Whenever one of the kids got restless, I'd switch up the mode in Music Show and the fireworks would change to soothing waves or twinkling stars and I'd get my cuddle buddy back.
Alcatel's A50 provides functionality and power, but it also delivers fun. This phone is anything but basic or boring; it's customizable and unique with the tech specs to back it up, which is exactly what I'm looking for in a smartphone. Even if it can't catch Jolly Old St. Nick of his Elf in the act, it can give you just as much substance and splash as other, more expensive phones. And who knows? Maybe we will just get lucky. You never know when magic is involved.
You can get your own Alcatel A50 and SNAPBAK covers for free on a two-year term at Telus, Koodo, Virgin Mobile or Videotron stores or an outright purchase price of $240.
For more information and full product specifications on the Alcatel A50, visit: alcatelonetouch.ca
To keep up with all the latest from Alcatel follow them on Instagram, Twitter or Facebook.
Disclosure: This post has been sponsored by Alcatel. All opinions are my own.