I have a friend who got about 150% on the GMATs, is kind, a fantastic Mom and utterly stunning. She's also runs Shantz Photography and is a gourmet chef. While some of us haven't aced the GMATs, most of the women I know are fantastic Moms. Alys Shantz gave me an idea that has possessed me for a couple of years now, and this year I decided to make it happen – and it doesn't have to be perfect to be special. That was for you – awesome moms out there.
Family meals are critical to daily life in the Shantz family. Three kids and two parents sit around the table, talk and bond. And every one of their kids eats well and appreciates healthy choices. One legacy Alys is committed to giving her kids is a stunning record of the recipes they enjoyed together and made memories from though their childhood. Every year, she meticulously constructs a cookbook through Blurb called 'The Food We Love'. Blurb is an online paperback, hardcover and e-book service through which authors, photographers and the general public can produce beautiful tomes (for personal use or to sell).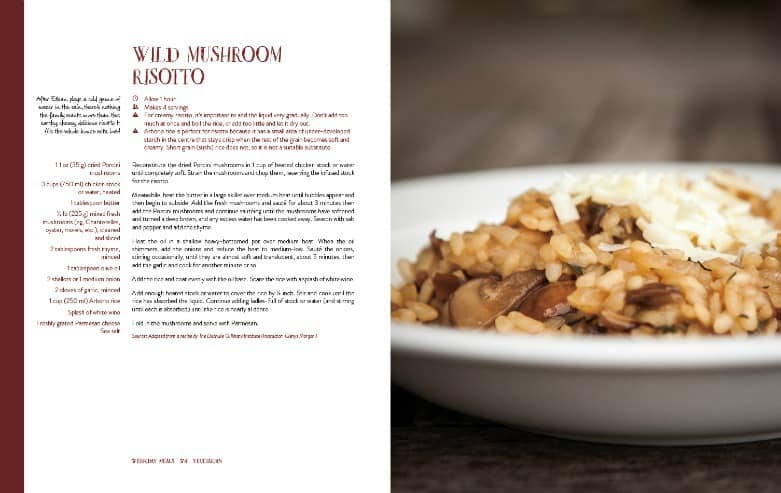 For Alys, recipes come and go as the tastes of the family change, and she practices her unbelievable photography skills to capture each recipe. When the kids move to University or start their own cooking traditions, they will each be gifted a book of the sacred family recipes, along with photographs of each meal. What a gift!
Dining at the Shantz home is such a treat – not only for the food, but to watch the process. The photos are perfection, and yet Alys always keeps a book by the stove in order to tweak, edit and finesse her recipes as she continues to make them. Alys has generously made her family cookbook available to our readers in both softcover and hardcover. In a few years, mine may be too, once I've spent the years she has perfecting everything!
This year, I have been thinking about what is truly special in life. Heirlooms, memories and moments top the list. It's true that as you get older your Christmas list becomes things you can't buy, or don't have to spend much money on. With that in mind, and not wanting to send mahogany furniture and fragile teacups to far-away family members, I partnered with Blurb to try the service in an attempt at creating my own family cookbook. As I photographed and edited recipes, I realized that food is family. I started adding more and more pages – very easy to do in Bookwright, the free book constructing service – and became inspired. Wading through family photo albums, I found images around the dinner table over generations. I know…. you all have AMAZING photos like this, right?!
Fortunately, there is also a photo of my kids baking, making lemonade for a lemonade stand (they wanted to charge $7.50 for organic lemonade) and pictures of staple dishes I always make for birthday parties. The perfect gift for my Mom, whose recipes I use to this day. I also included Murial's Brown Bread (cooked in a coffee tin), birthday pizza mix and my neighbour's 24 Hour Cheese Soufflé we devour every Easter. My cookbook became 130 pages, and my family was teasing me because I was 'slightly' obsessed with finishing it. Not only did I order a beautifully bound softcover book for my mom, but I ordered a PDF. I will be keeping my own copy next to the stove in order to tweak and mark the photos that need retaking, and then I will share it with you all. For now you can grab 'The Food We Love' (which is pretty much guaranteed to be better than mine anyway!!!)
Thank you, Alys, for a gift that will be special to my family for generations to come (and is much lighter than mahogany furniture).

Disclosure: I was given a gift code in order to try the Blurb service, and they have now created a monster. I will shortly be publishing a Children's Book, a photo album and every year from now on there will be a cookbook. My family is going to tease me forever.