Chatting with Vanessa Marcil about her new film on the Lifetime Network airing April 8th, 2017, I was struck by her prowess in psychology. She explains that being dark-haired, she often plays the villain, and yet looks for the light in these characters in order to give them depth. This Saturday on the Lifetime Network, "The Wrong Mother" will debut. When a professional mom (Marcil) of twin toddlers has a mishap, she and her pilot husband must hire help in the house in order to keep things running smoothly. Unfortunately, their hire is not ideal. Vanessa confirmed that I may need a glass of wine before watching this movie! The plot sounds completely riveting and not to be missed on Saturday.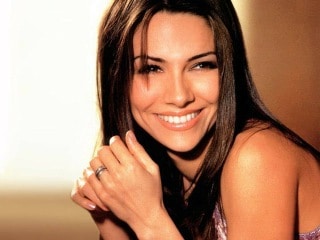 Raising a 15 year-old as a successful actress who was once named one of People Magazine's most beautiful people in the world, Marcil has a very poignant and attentive parenting style in order to instill respect for women in her son. She notes during the interview that in 2017, we are still seeing in classrooms across North America, that the 'popular' girls are all of a low body weight, and have a tendency to be mean. Like me, Vanessa checks her son's mobile phone chats so often that his friends sometimes talk to her directly!
She has risen above the nastiness and women-as-objects trend by raising a young gentleman on her farm who shies away from fancy branded labels, cherishes books and truly respects women. Self-proclaimed nerds, she and her son share many of my own passions for musical theatre, nature, psychology and anything geeky. Even more endearing to my own sensibilities, she has worked with domestic Violence Shelter "Sojourn" for over a decade.
General Hospital, The Rock and Beverly Hills 90210 are among Marcil's many credits – and though I have followed her illustrious career for many years, I was dazzled to speak with Vanessa Marcil about parenting. Being a mom, psychology and acting are all so complimentary, and it is clear from her in-depth look at each character portrayal why she has had unending success in her career. Wait until you hear about her house rules!
So grab a glass of wine, listen to our podcast, and be sure to catch"The Wrong Mother" on the Lifetime Network this Saturday, April 8th, 2017.