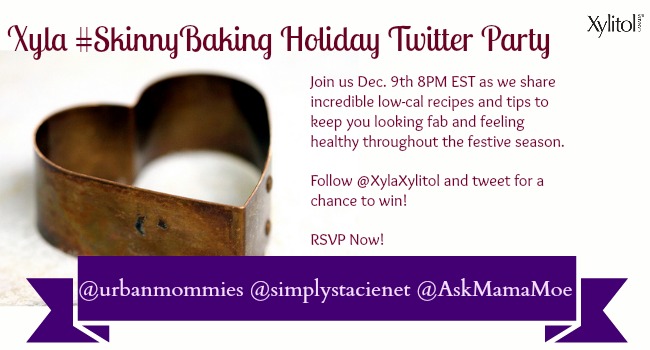 Having a panic attack about holiday cookie exchanges and holiday baking? Or are you more worried about the calories and December weight gain? Maybe we can help with both. Did you know there's a great new sugar substitute that works in baking, to sweeten coffee and is in a ton of products like gum, breath mints and candy. We're going to talk skinny baking on twitter! To help with the baking conundrums and also help you to get a head start on the holiday goodies, we've put together a fun twitter party to talk recipes, weight maintenence and kids in the kitchen.
Join us Monday, December 9th at 8pm EST – we'll be tweeting with the hashtag #SkinnyBaking Be sure to RSVP and follow @XylaXylitol, @urbanmommies, @simplystacienet and @AskMamaMOE for a chance to win one of seven prizes.  The best news? Prizes include Xyla products and yummy baking made with Xyla to save you time in the kitchen this holiday!
Xylitol is a sugar alcohol that contains fewer calories and fewer carbohydrates than other sweeteners. It's a white crystalline granule that looks and tastes like sugar but doesn't have the negative side effects associated with sugar. It's low-cal, low-carb and diabetic safe with 2.4 calories per gram and is slowly absorbed as a complex carbohydrate. In comparison, sugar has 3.75 calories per gram. Woo hoo!!! So don't forget to RSVP using the linky list below.  See you there!
Xyla brand xylitol is extracted from North American grown hardwood trees using ecologically sustainable methods. Xylitol is also naturally occurring in many fruits and vegetables. Did you know the human body makes about 15 grams of xylitol per day? Researchers also discovered xylitol's insulin-independent nature (it metabolizes in the body without using insulin). 
Xylitol made from the xylan molecule is extracted from hardwood trees through an all-natural process utilizing steam and ion exchange. Then, it's crystallized and is ready for your coffee, tea, cereal, and baking. Xylitol Canada uses 100% pure crystalline granules with no added ingredients. Our xylitol is derived from 100% North American hardwood, never corn. Xyla can be used one-to-one in any recipe requiring sugar. It is ideal for sweetening coffee, tea, cereal or using in homemade, salad dressing, sauces, and dips and any other recipe calling for sugar.  Xyla brand xylitol can be used one to one in any recipe requiring sugar. Sugar alcohols do not react with yeast so they won't help bread rise. 
Xylitol does not caramelize when baking so finished baked goods may seem dryer, but you can just add more liquid to the recipe to retain moisture.
To substitute for one cup of brown sugar, use ¼ cup molasses and ¾ xylitol.
Ok! Time to get baking!!