Halloween is my family's favorite holiday. We go crazy decorating the outside of our house with pumpkins, screaming skeletons, witches and spiders.  When we're done. we love to curl up on the couch together and watch Halloween movies.
Here's a list (by age group) of some of our favorite Halloween movies. (All of them can be ordered through amazon.com.)
Ages 3 and Older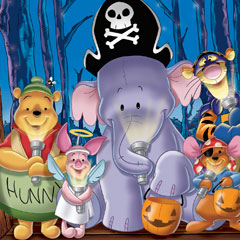 Pooh's Heffalump Halloween Movie: It's Halloween in the Hundred Acre Wood. Roo's best new pal, Lumpy, is excited to trick-or-treat for the first time … until Tigger warns them about the dreaded "Gobloon." It's a tame movie with a great message about the importance of friendship.
Tom and Jerry: Tricks and Treats : I grew up watching Tom and Jerry cartoons and after watching this DVD, I understand why these cartoons are perfect for smaller children: there is a lot of action and the scenes aren't too scary.  Even the frightening looking witch in the Flying Sorceress, who I thought would be a bit too much for younger children, didn't cause too much commotion or hiding by the littlest ones. Disclosure: I received this DVD for review purposes only. I was not compensated to write a positive or favorable review.
Casper:  Three words to describe this movie: Fun, Wholesome & Entertaining (for the whole family). The movie is based on the old "Casper" comic book series about a lonely (but friendly) ghost who lives in an old, abandoned and dilapidated house with three other, less friendly, uncles (who are also ghosts): Stretch", "Stinky" and "Fatso". When a ghost psychiatrist and his lonely daughter move in attempt to tame the "Uncles" a fun and great story of friendship unfolds.  One word of warning: This movie is rated PG.  There is some mild language and elements that could be considered questionable for young children.  That said, our family loves this movie & our list won't be complete if we did not mention it.  (Yes, even the 9 year old sits still during MOST of the 1½ hours.).
Ages 5-7
It's the Great Pumpkin, Charlie Brown:  It's a classic and suitable for the whole family.  We never get tired of watching it.  Although I do feel bad for Linus, who waits with Sally in a pumpkin patch for the great, mythical creature to arrive as well as for Charlie Brown, whose receives only rocks in his bag, the overall movie is hilarious and deemed a classic for a reason.
Halloween Town
The great Debbie Reynolds stars as Grandmother Aggie in this Disney Classic.  The premise is based on the concept that witches, ghouls and other "creatures of the night" live in a place called Halloweentown, an alternate world.  When Grandmother Aggie visits her grand-daughter, Marnie, she reveals that Marnie's mother, Gwen, has been hiding a secret: the children all possess supernatural powers. Once Marnie turns thirteen, her grandmother informs her that she must begin her training as a witch or lose her powers forever. Of course, a brewing crisis between good and evil in Halloweentown causes the entire family to be pulled through a portal and into an intense battle against ghouls, goblins and a warlock. This is good Disney Halloween fun with a wholesome message about the power of family, cooperation and perseverance.  The ghouls are creepy looking but aren't likely to cause nightmares in younger family members.
This is a fun, light hearted film about three witches that the whole family can enjoy. The setting and decoration is perfect and has that great Halloweeny feel. The film is a wonderful family treat that will delight and entertain the whole family. (Okay, one word of warning: Part of the premise is the witches need to find a "virgin" to sacrifice. I wasn't too comfortable going into a complete explanation of the word with my, then, 7 year old. I was afraid it would ruin the flow of the movie if she asked and I just wasn't up to it.)
Some other "Oldies But Goodies" that we are "dying" to watch this year include:
Finally, if your kids are like mine and in need of some new scares and thrills, these are a few of our stand-by Halloween favoirites:
Hopefully, you found a few titles that peak your curiosity. Did I miss your favorite Halloween movie?  Are there other titles that I should add to my family's collection?  We're dying to know what we missed!
Renee Keats is the US Content Editor and a writer for UrbanMommies Media. When not checking homework or carpooling to extra-curricular activities, Renee is often found scouring the internet, specifically Pinterest,  for the latest in culinary & fashion adventures.