I had a solid strategy. Focus. Spy-talk. Going dark on Twitter, Facebook and email. The camera could also wait. The Mission. Step 1: Get into the park, go straight along the Red Car Trolley route and bear left at Carthay Circle. Step 2: At the Radiator Springs sign announcing the new Cars Land at Disneyland Resort in Southern California, head straight to the back to get in line for the Radiator Springs Racers. The highly secretive 'cast members' (Disney employees) who experienced the new attractions a full week prior to the general public had glimmering eyes and sly grins when I asked about this particular ride. My plan would have been stellar had my first experience been in daylight. On this particular evening – the grand opening ceremony of the new California Adventure Park – I was so struck by the neon signs and ambiance that I froze in my tracks. There was Flo's V8 Cafe! The Cozy Cone Motel! (which serves goodies and snacks exclusively in cones.) I may need to wax poetic. Wouldn't that be a shocker. The hum of the neon. The tunes wafting from the band. The giggles of guests on Mater's Junkyard Jamboree and Luigi's Flying Tires. This would be a good night.
And it was. But not nearly as good as the next day, when my two boys joined me in the park. Despite a string of temper tantrums by the 4 year-old (witnessed by Andy Garcia), the giggles he allowed escape during Mater's Junkyard Jamboree were priceless. On this ride, you sit on a tractor and get spun around every which way as square dance music plays and Mater welcomes you to his yard. With a height minimum of only 32 inches, very young kids are able to experience the magic. We just lined up over and over again. You giggle as much in line watching others as you do on the ride.
Then there are Luigi's Flying Tires. I must admit that I was a bit dubious at this. Air blows up through holes in the floor and lifts huge tires off the ground. Hovercraft Tires. The floating monoliths are controlled as the 2 riders lean side to side, front to back, allowing the tire to skim across the floor amidst bouncing beach balls. A jaunty Italian song plays and Luigi coaxes you to have a ball. So to speak. First thought? Do not wear a full skirt as you walk across the platform with air blowing upwards. I failed this first test. Second? Another ride where the minimum is 32 inches – Disney sure knows their demographic! And finally, Totally fun. We giggled as we bumped other tires, made caches of beach balls fly into the air and watched the faces of our fellow riders. Laughed so hard I cried. How very Italian of me. Not very spy-like though, as I was clearly wearing my heart on my sleeve.
The Radiator Springs Racers turned me back into the Bond Girl I am. (ok. Think I am.) 6 People in each car go for a leisurely ride through Ornament Valley, including a drive by the valley's famous plunging waterfall, Radiator Falls.  As you prepare for the big race, Luigi gives you whitewalls, Doc Hudson supplies some racing tips, and Mater tries to coax you into joining him for a cow-tipping escapade.  Suddenly, you're off, racing fast around high-banked turns and camelback straightaways, past spectacular red-rock formations. The entire ride spans a huge space through the towering Cadillac Range mountains.  "Car aficionados will notice that the 6 mountain peaks resemble the tail fins of classic Cadillac models from 1957 to 1962."  Cool.  One more thing.  Best. Ride. Ever.
There are a few tips for when you go: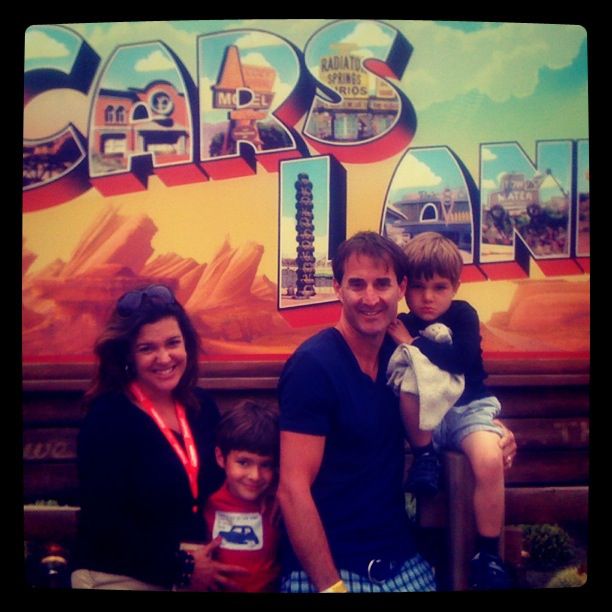 1. Check it out at night. The Neon is incredible.
2. Buy a pylon drink. You can later give it to the worst hockey player on your team.
3. Do the Radiator Springs Racers at least twice. make it your first stop and grab a Fastpass.
4. Get there early and study a map so you know the fastest beeline.
5. Watch the movies just before going. You'll be floored (oh I love my car jokes) at the level of detail that will surround you.
6. Get a photo taken in front of the Radiator Springs sign. (You've got to do it). The Photopass photographers are amazing.
Tickets are $81-$87 per day, or $119-$125 for a park-hopper pass that allows you to walk across to Disneyland in the same day. Other options are available for multi-day passes.  The Disneyland website is informative and allows you to select various packages.
Disclosure: UrbanMommies was invited to experience the opening of the revamped California Adventure Park and as always, our opinions are our own.