The International Baccelaureate program encourages kids to think independently, drive their own learning, become more culturally aware, and engage with people in an increasingly globalized, rapidly changing world. Our family is very lucky that we live in an area with public IB schools that begin at the kindergarten level.
What is IB?
At various stages throughout their education, the kids complete a huge project called 'exhibition'. "The idea is that the Exhibition draws on all the things students have learned, the attitudes and behaviors they have developed, as well as the skills students have developed over their entire schooling experience. In order for the PYP (primary years program) Exhibition to be successful, it needs to be facilitated to support parents, students, and mentors." (Quoted from www.whatisib.com)
My son in grade three just completed his exhibition, and it was comprised of an impressive array of topics that involved causes and activism. Five groups presented their research on stage in the areas of:
Peacefighting
Animal Rights
Environmentalism
Freedom
Changing the Law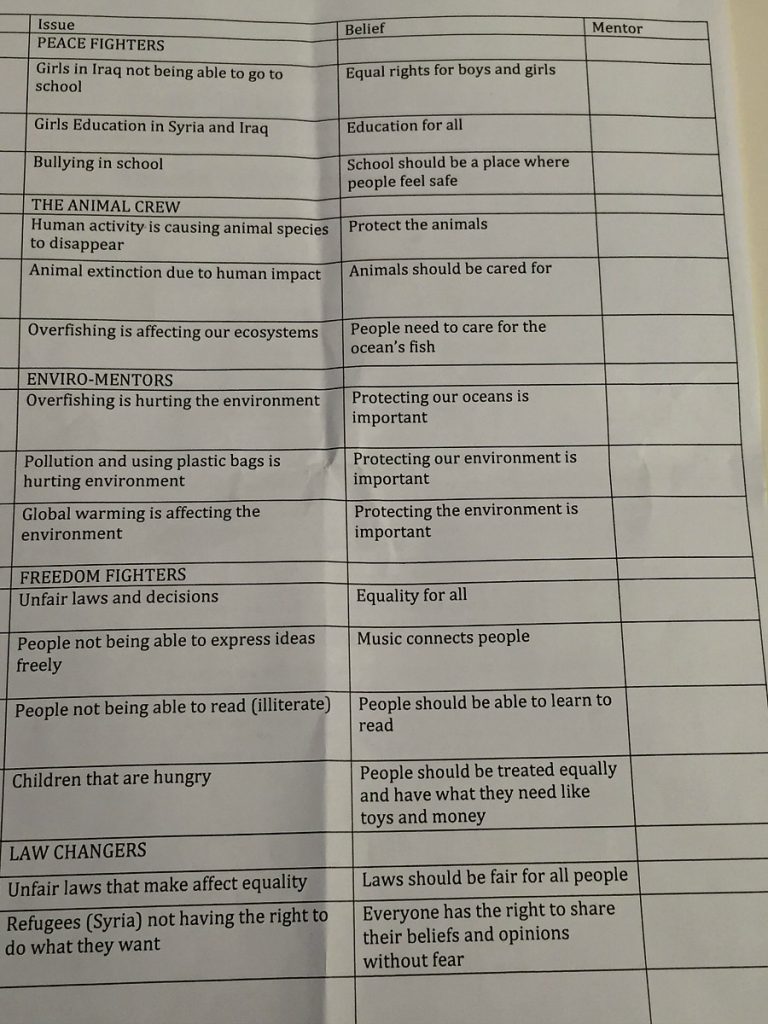 I know. Next year they'll be ready for university! Because I've been busy and not the ideal class parent this year, I volunteered to do the food for the reception following the presentations. Hudson wanted the food to thematically match the topics and it was a challenge to create a kid-friendly menu with food for little activists! We made signs for each station, and thanks to the Opposite of Far partnership with National Geographic Kids and my involvement with Nat Geo, we had a few fun decor items!
Our Food for Little Activists
Local Beef Meatballs for the Animal Rights Laws
Sustainable White Fish Sliders for the Environment
Eastern Lamb Spring Rolls for Freedom
Vegan Pakoras and veggie stick cups for the Animals
Pink Ice Cream for Anti-Bullying
Local Beef Meatballs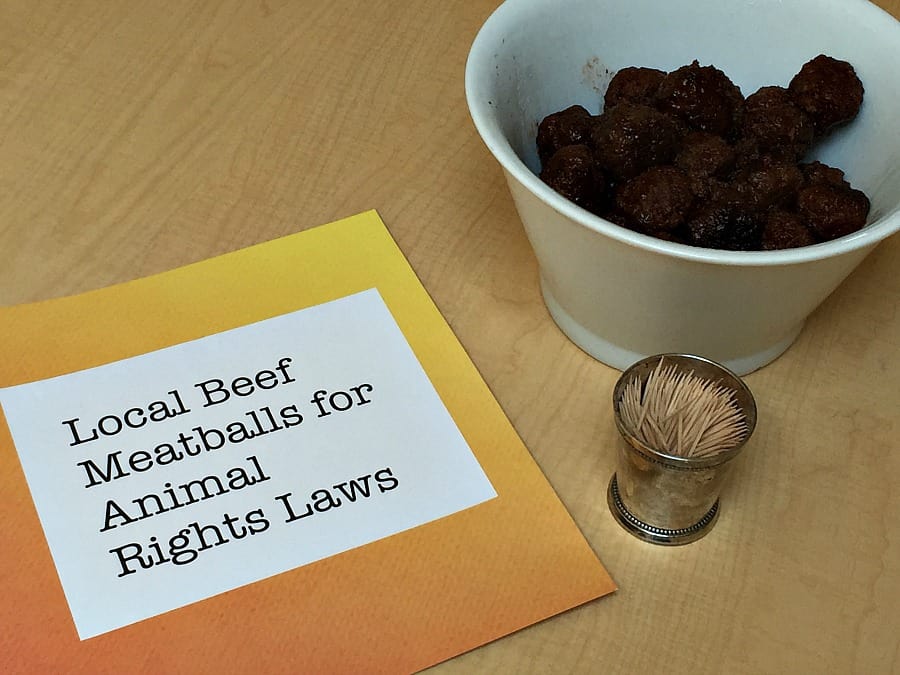 Locally-sourced beef made these meatballs tasty and a huge hit. I also used a very old cheater recipe for sauce that will make foodies cringe, but delighted all of the kids. The full recipe is here.
Eastern Lamb Spring Rolls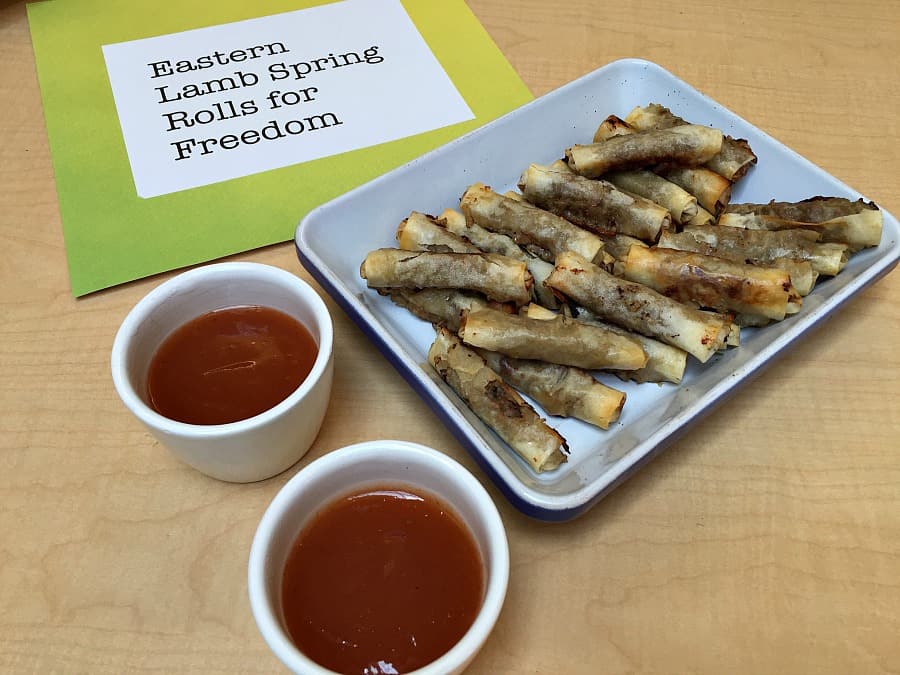 For many years we have had a caregiver from the Philippines who has delighted us with her cuisine. Pancit, adobo chicken and these lamb spring rolls have become family favourites. For the full recipe as well as a video on how to roll your own spring rolls, head over here.
Fun Veggie Dip Jars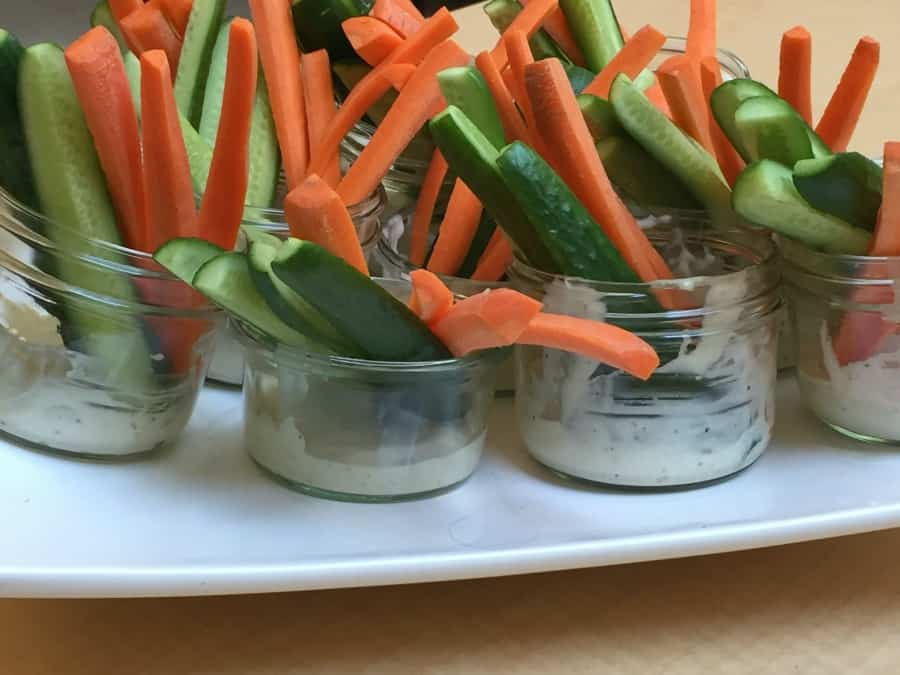 Filling the bottom of these jars with blue cheese dip and letting kids either take a cup or pull out a veggie with dip already on it was a fun way to add some nutrition.
White Fish Sliders
I totally cheated on these and at least 4 parents asked for the recipe!!! I used Jane's battered fish bites (and this post is totally not sponsored!), a few leaves of baby kale, pre-ordered slider buns from the grocery store and tarter sauce mixed with the juice of one lemon. People raved that they were light, crispy and would become a new dinner item in their households!
Vegan Pakoras
I am not a vegan and was stumped until someone suggested pakoras. Our recipe incorporates spinach so it's also a great way for kids to get extra iron.
Anti-Bullying Pink Ice Cream Cones
Finally, pink ice cream cones drizzled with sprinkles topped off the meal.
What do you serve at school events? Have you ever themed the food to the content? From now on I will consider food much more seriously in order to mix nutrition with topical lessons – and tastiness so that the kids will enjoy the offerings and appreciate an effort.