When company comes over I am a total cheater. Room spray, vinegar swished in the sinks, and a carpet rake. Seriously. It makes it look freshly vacuumed (provided there aren't a bunch of crunchy bits everywhere). Why do I do this? To impress. To make it look as if I'm put together. Perhaps I haven't had enough mom therapy over the years. But also pride. I have a beautiful home, and appearing to take care of it makes me feel like I deserve what I am blessed enough to live in. I won't change. But my faker-cheater rake just got a serious upgrade.
Having a big house, plush draperies and various flooring materials is great until you go to need to clean them all. When we moved in I was ecstatic – central vac!! It was like a 1980's dream without the waterbeds. But in reality? It's heavy, clogs all the time and the suction leaves crunchy bits. You drag the cord between floors, but get lazy and the plug end chips paint all the way down the stairs. 
Our family was recently asked to test the Dyson Cyclone V10. Great. Another chance to have the kids bail on cleaning duties and stick me with them! And then we opened the box. It was all precisely packaged yet without the molded plastic, staples and ties. As the boys unwrapped each piece – red, purple, gunmetal grey – I suspected their attention span for housework would be longer this time around.
After using the new cordless vacuum throughout the house I was stunned by its flexibility. It is truly the only unit you will ever need. Tops of paintings, drapes, spiderwebs in high corners, small kitchen spills… it was all within (easy) reach. The suction was incredible, and given that I have a black cat and white dog that are both shedding their winter coats, I was able to give the upholstery suction a very good test.
Starting out: First using your Dyson Cyclone V10
As I mentioned earlier, the components are super easy to unbox. They are all wrapped in recyclable cardboard, and a couple of bags. Charge the unit as soon as you open it. There are three lights on the side that tell you how much power it has. The components are easy to clip in and out, and you have the option of attaching them directly to the unit or to the wand.. The on/off switch has three different modes depending on what kind of suction power you need. Set the switch on the front, and then use the trigger to turn the unit on. Here's a quick video about the basics of using the Dyson Cyclone V10.
Here's a quick video about the basics of using the Dyson Cyclone V10.

How often do you have to charge the Dyson Cyclone V10?
It takes 3.5 hours to give the Dyson Cyclone V10 a full charge. When you first take it out of the box, there is a 25% charge but it is recommended to charge it fully. The vacuum lasts up to 60 minutes on a full charge. When we tested, this amount of time was reduced when the torque head was at it's highest suction setting.
Which nozzle do you use for hardwood and carpet on the Dyson Cyclone V10?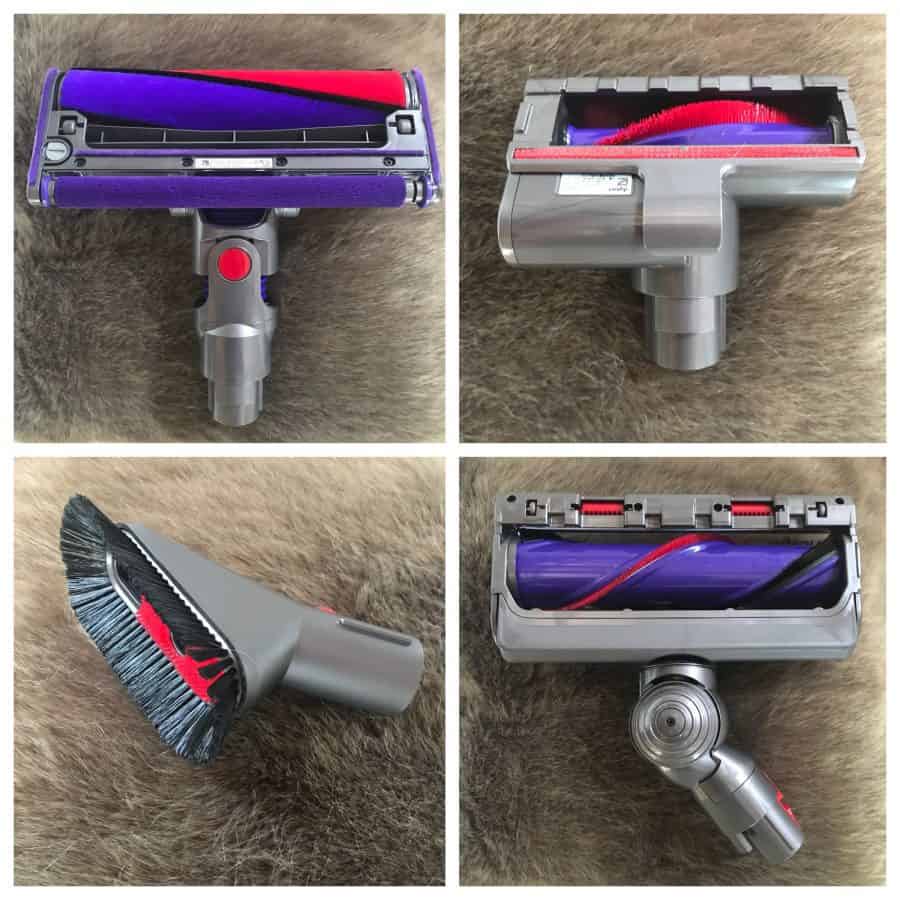 The V10 Absolute comes with some of Dyson's best tools. You get two floorheads with motorized brush bars, three detail tools, an extension tube and wall-mounted charging dock with tool storage. There is only space for two tools in this, so you may want to get a cute basket for the rest. Having never really been taught which nozzles you are supposed to use for any given surface, I have just been making it up all my life. But, given that I'm no longer a cheater, I decided to learn. The coolest nozzle was the 'Torque- Drive Cleanerhead'. It twists and bends on a 360-degree swivel and is super easy to manipulate. There is a sliding switch on the front to increase or reduce suction and proximity to the floor (so you can pick up bigger chunks when it is in the 'minus' position). It also has a rubber strip on the handle, so you can lean the unit against a wall without it falling.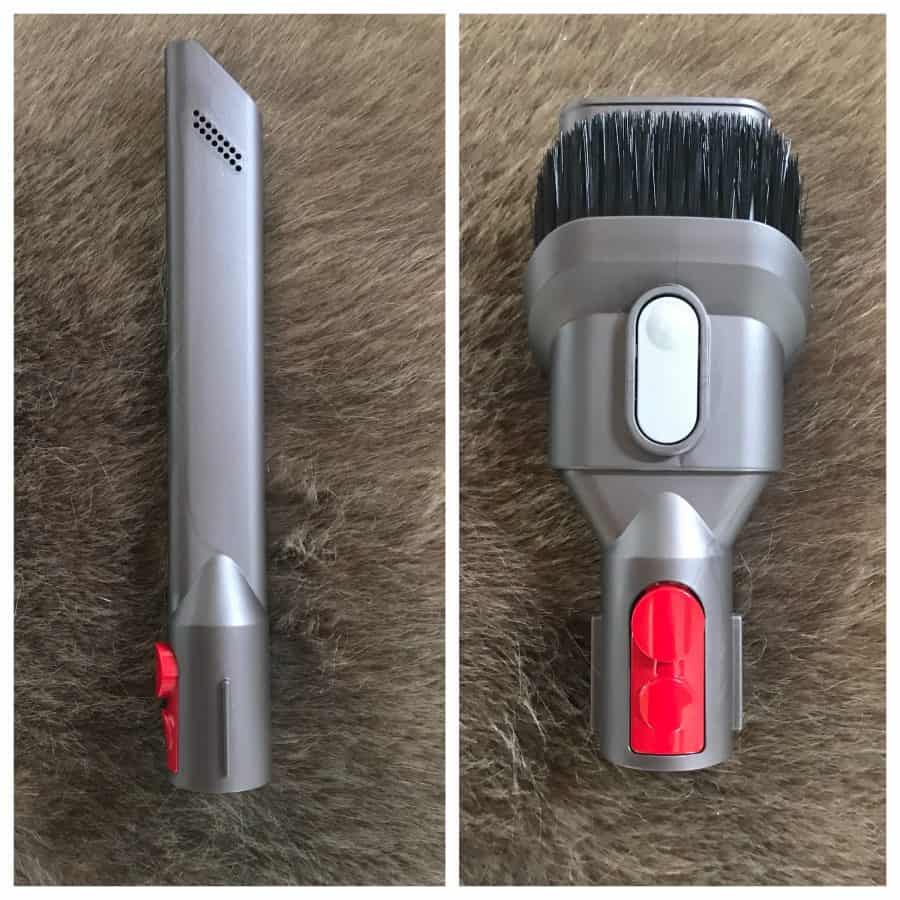 The Soft Roller cleanerhead was great on hardwood and tile, and both of these brushes cleaned right to the edge of the floors. The soft dusting brush has soft bristles to gently clean surfaces and furnishings such as lampshades, blinds and computer keyboards. The long, slim crevice nozzle is great for radiators and cracks in automobiles. The mini brush tool is great for staircases and dog beds. The stiff bristled combination brush is also great for upholstery and carpets – particularly in the car.
How often do you have to wash the filter on the Dyson Cyclone V10?
You need to wash the filter once a month in cold water. It unscrews on the top and you twist clockwise to release it. There's a little diagram inside, and cleaning is very straightforward.
How do you empty the bin on the Dyson Cyclone V10?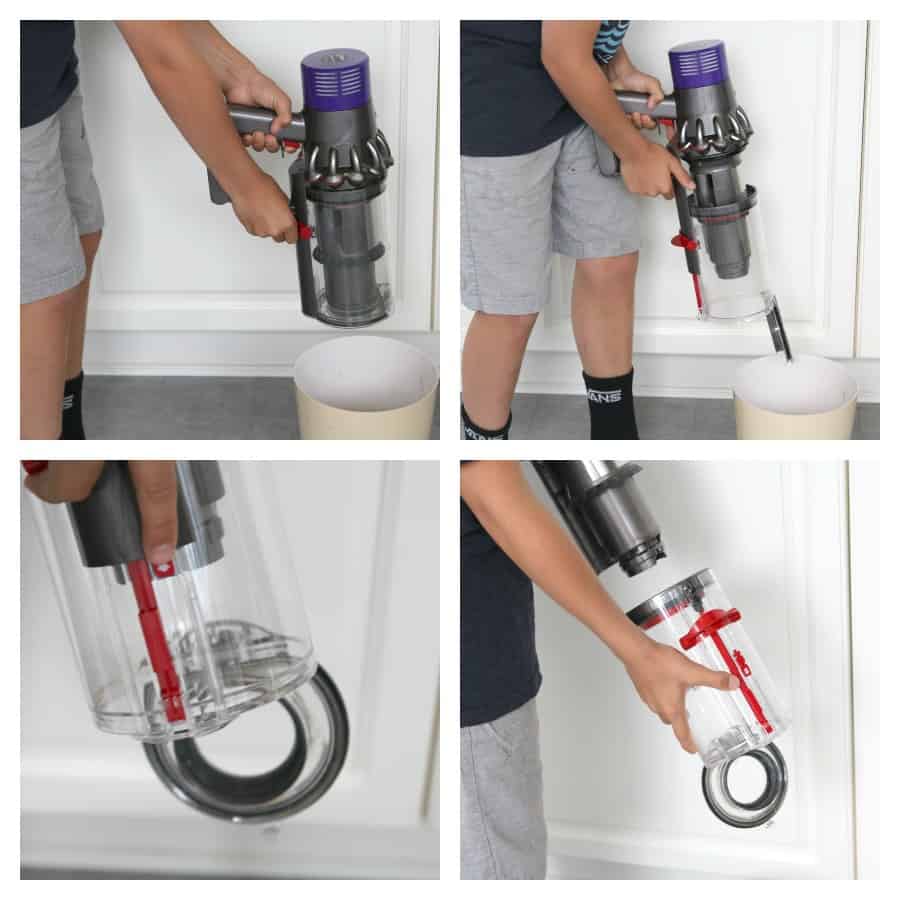 This part baffled me for quite a while. To be honest, I had to go to Dyson's YouTube channel to figure it out. The video was only about a minute, and was clear as a bell. The kids loved watching with me, and connecting cleaning duties to YouTube kept them wanting to do more. Holding the unit over a garbage can, disconnect any attachments and then push down vertically on the red blade. This releases the canister and then the door swings open, releasing the dirt. You have to push pretty hard to not only release the unit, but then also trigger the door. If you want to wash the canister, you can press on the arrow that appears once the door has opened. The whole canister will come right off. At this point you can wash the inside with water. Just make sure it, and the seals dry completely before you start using the machine again.
How easy is the Dyson Cyclone V10 to maneuver?
It weighs 1.6kg and I found it super light. With the other attachments on, such as the wand and dusting brush, it was only about 2kg, so I was easily able to hold it over my head.
Would I recommend the Dyson Cyclone V10?
Um. YES. This is the most versatile vacuum I have ever used, and has the strongest suction to boot. It would be perfect for a tiny apartment, or Windsor Castle. (They may want to buy a few though). I didn't mind the battery life being around an hour, as one shouldn't clean for longer than this anyway in one sitting. I love being able to clean as I go, and because it's light and small, I could do a ten-minute fix-up on carpets or stairs almost on a daily basis without feeling the weight of having to vacuum the entire house. It was also great for quick jobs like dusting the filter on my fridge or dealing with the time my husband dumped chili flakes on the kitchen floor. The best news? I'm no longer a cheater when company descends on my house, as it's authentically clean!
Helpful Dyson experts can be reached at 1-877-397-6622.
We have also reviewed the Dyson Ball Animal 2 and Dyson Pure Cool Link.
Disclosure: I was given a Dyson Cyclone V10 unit to review. All opinions are my own.