Most of us as parents have become pretty smart in terms of Christmas morning organization and Hanukkah gift openings. With screwdriver and batteries on hand, we watch them delightedly tear open the presents and promptly fall in love with the loudest one. After an hour, the batteries die. Wha? It's at this point we realize that it was on 'tester' mode, and the company also put in crappy batteries. Duracell and mini screwdriver to the rescue!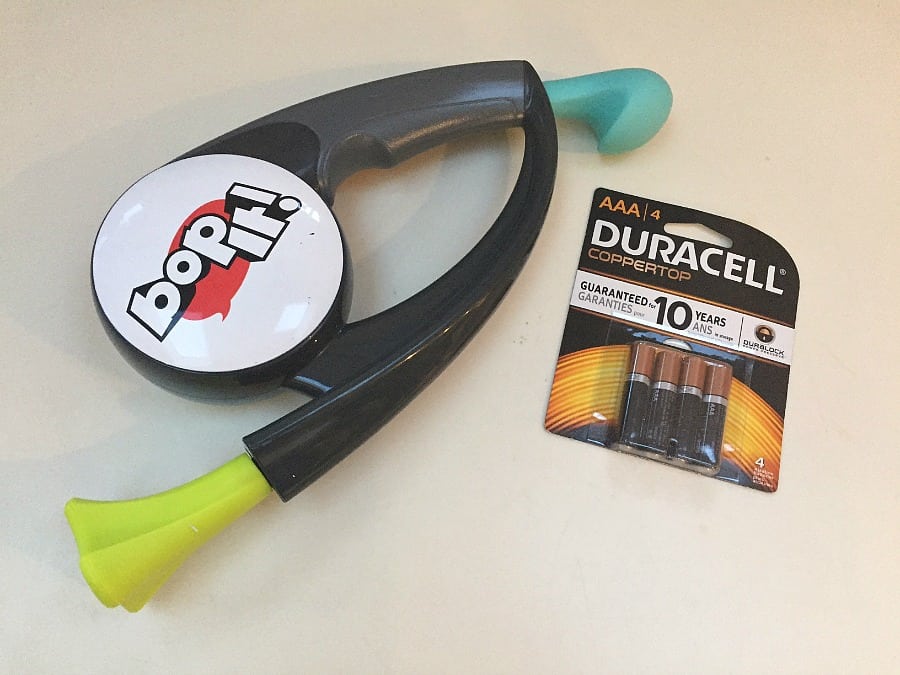 This year, Hasbro's Bop It will be one favourite toy – but in this case, you will be in the mix of the reasons the initial batteries will quickly die. SO FUN. This toy is a simple electronic game that gives you a direction, and if you don't move the Bop It in the correct way fast enough, you lose a turn. Actions include 'bopping' it, which means hitting the side, 'sawing' it, taking a virtual selfie or twisting the end. The co-ordination, listening skills and competition required to obtain a numerical score are endless.
Perhaps one of the most clever parts is the voice that tells you how to play and also commentates on how you are doing in an uber hip way. 'Twist it!. D'oh! Not that! You know, the twistable thing!' There is another action that has you mimic a golf swing and if you don't quite pass muster, the voice will say that 'there's no golf clap for you!'
I've always loved Duracell Coppertop batteries. Did you know, though, that along with their 10 year shelf life guarantee and obvious longevity, Duracell is also doing a ton of social good?
The Duracell Powering Smiles and Imagination program was implemented with Children's Miracle Network. For the FULL month of December, each Duracell battery purchase at Walmart in December will trigger a donation to the Children's Miracle Network! In addition to this, Duracell also makes an annual donation of a year supply of batteries to Children's Miracle Network. The Children's Miracle network Hospitals is a North American non-profit organization that raises funds for children's hospitals, medical research and community awareness of children's health issues. There are 170 hospitals affiliated with the charity in the United States and Canada.
So come on… head over to Walmart and truly stock up on the power that will fuel imagination and smiles for far more kids than those in your family! Ant you've got to try the BopIt and let me know your score. I'm only at 12… but I'm getting a TON of practice. Happy Holidays, friends!
Disclosure: This post was made possible by Duracell. All opinions and love of the batteries are our own.