I have been passionate about food and drink my entire life. I have been a culinary broadcaster and writer for over 20 years. Long ago, I became weary of fads and gimmicks in the food world passing as new "essentials". So when I am delighted by a new product, it usually is accompanied by an element of surprise reminding me of what I still love about food and food people. Barilla Pronto Pasta delighted and happily surprised me when I dared it to star in my traditional, Boston inspired, Fourth of July celebration.
Every July 4th, classic poached salmon with peas and dill are served both hot and cold in picnics and on board pleasure craft, all floating towards the Hatch Shell on the Esplanade for the Boston Pops concert and fireworks. Traditions in Boston die hard, and recipe adaptations are generally vetted before discerning family and friends.  The move to pan-seared or grilled salmon from the traditional poached has been known to cause generational family rifts.
It is into this intense culinary ritual that I wondered if a pasta with maple roasted salmon, fresh peas and basil would be enjoyed by my crew. Or had I wandered too far astray? The proof would be in the eating.
I have been cooking on board boats, both small and large since my teens. It is a version of camp cooking that is even trickier, given the unlikely use of actual campfire heat. So the Barilla Pronto One Pan promise—to only require one pan and ten minutes of cook time—was too appealing to resist giving it a shot.
Cooking on a boat requires the same sort of planning that campfire cuisine does. The One Pot Promise is only as good as my planning to make that one pot count. And I believe this recipe does just that. I started with the Barilla Pronto Penne.

I oven roasted 2 generous filets of salmon for 10 minutes at 400 degrees on a foil lined baking sheet. I squeezed a quarter lemon over the fish, lightly brushed each piece with Hellmans Mayonnaise, then sprinkled a generous pinch of brown sugar evenly across both. I used my microplane for freshly grating Parmigiano-Reggiano. I find that it creates the swiftest melting and incorporation into/onto any dish. My trick for this dish is to grate in a bit of fresh lemon zest after grating the cheese. This recipe loves the bits of bright lemon zest and the lemon pushes all the last little bits of cheese out of the microplane so none is wasted.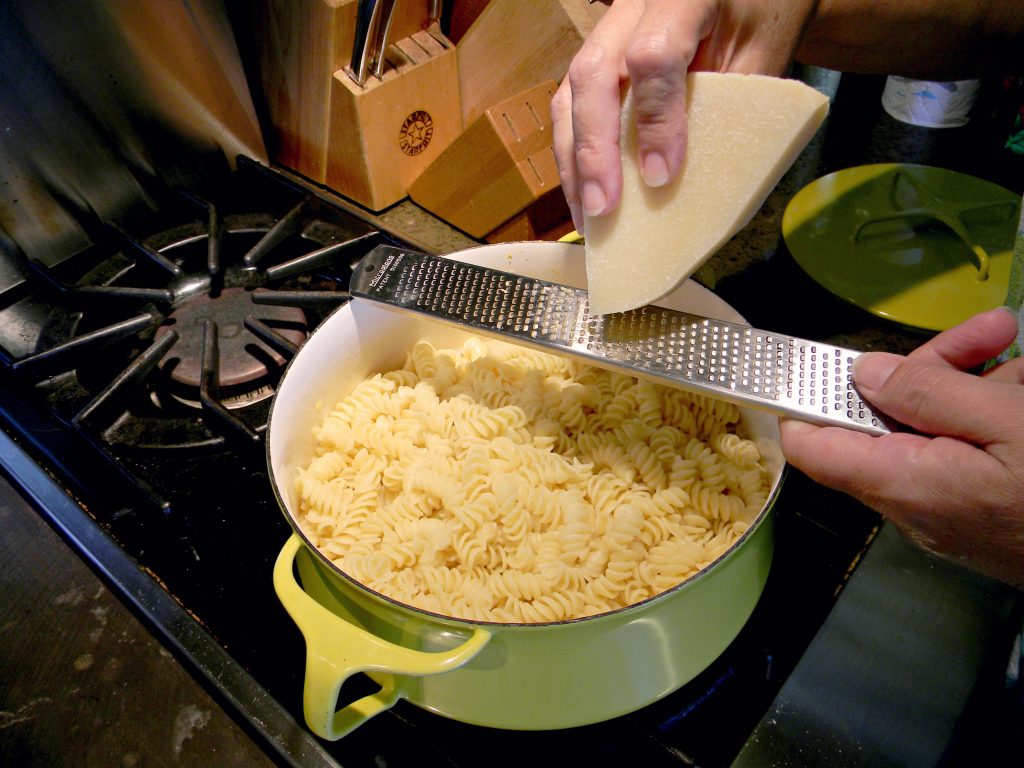 I brought along about one pound of FRESH English peas in the pod from my garden along with a hefty shank of basil leaves. I washed the basil and wrapped them in damp paper towels, and placed in a ziplock bag. I always have my good salt, pepper olive oil and Reggiano Parmigianno cheese to sprinkle over the pasta. That is it. My shopping list for this dish. All fit neatly into my well worn L.L. Bean Boat & Tote bag, along with a crisp Rose and my one pot.
I must disclose that I have a deep affection for the glorious city of Parma, Italy, whose ancient riches allowed for their impeccable culinary pedigree to become world renowned. I have visited the pristine and Wonka-esque Barilla factory personally. It is a place where pasta fantasies come to life—the place where the religion, art, and science of pasta reside. Parma makes a legitimate claim for being the global food hub; it is the spiritual and actual home of much that is good in the world of food. Parma is also the home of Academia Barilla, as well as the prestigious University of Parma Food Science and Technology program. Want to disagree? I've got two words. Parmigiano Reggiano (mike drop.)
We tested this recipe using two different versions of the Barilla Pronto Pasta, the Penne and the Fusilli. Both were equally delicious. The kids preferred the fun fusilli corkscrew pasta shapes, which proved the more photogenic of the two batches.
I followed the directions for the Barilla Pronto Penne. It was nearly foolproof and my results reflected that. I found the direction to cover the pasta with water most helpful as it appeared to disagree with the 3 cup quantity given the size and dimension of my pot. It was the one thing my years of cooking warned me might not be quite right. 3 cups of water failed to cover my pasta and an additional amount was added to achieve the "water covers the pasta" direction, which proved most important. The directions did not call for adding any salt to the water. The original Barilla Penne package specifies "add salt to taste" and the Pronto did not. I trust future versions of the Pronto directions will remedy this oversight.
I loved not having to drain the pasta. I watched the dry pasta come to life like a little kid watching their first pan of Jiffy Pop. It was a miracle, Some wooden spoon stirs were, for me, gestures of reality checking disbelief as much as cooking technique. Right on time the pasta was done and delicious. I flaked the cooked salmon into the pot along with a slug of good olive oil, the hulled fresh peas and chiffonade of basil, salt and pepper, followed by a cup of finely and freshly grated Reggiano. The resulting dish was wonderful, a sentiment that was echoed by every one of my dining companions. It was a bright, fresh light version of the old cold poached salmon and peas; a lovely new version of a trusted family tradition. It was also very easy to do, which is important for any on-location cooking, whether over a campfire or on board a boat.
Following the success of the Pronto Penne with Salmon & Peas, I studied the packaging for clues about why it was so "different" In fact it really is not very different at all from the classic Barilla Penne No. 72. Every one of the hundreds of different Barilla pasta shapes has a number. The Pronto Penne box does not indicate No. 72.
The ingredients for each box reads the same as do most of the Nutritional labeling. The calories, proteins, sodium are all the same.
I cannot explain how the wizards in Parma developed this product. However, I can imagine the zealous passionate Parmiganni food scientists pondering how they could make perfect Barilla Penne better. I am here and happy to report that they did it. They improved upon perfection. To them I say Grazie Mille.
Disclosure: This is a sponsored post. All opinions are our own!