Anyone else familiar with that corner of your life soundtrack that doesn't instill immense pride or happiness? In case you aren't quite recognizing it, I refer to the monotony of existence that sounds like: "I can't mom! I have math homework. Not now, dear. Mommy has to finish making dinner. I'd love to, but the car needs a wash. I don't even have time for a shower, let alone a baseball game."
Well, on one side there is tedium that can define 'living', but somewhere, there is also an alternate pulse that we often forget to harness. I'm sure you know the one I mean – the butterflies in your stomach in seeing your first 'crush', the ethereal morning light hours after you've given birth to a child. The tiny hand that reaches for yours after being startled by a noise… The magic times. The happiness. The entertainment that explains what it is truly like to be alive.
Lives are busy. Chaotic and stressful. But to truly live is the name of the game. Despite obligations and guilt, we do have the option of choice, and busy parents can get so caught up in crossing things off a list, that we can forget to do what really makes us happy.
Last night my kids and I dropped everything and took the time for something we love doing – being entertained. We had a dance party in the kitchen. Told jokes. And ended the evening watching a movie. Life is far too short to skip entertainment, and when I think back over the past few years, my memories are the entertaining times all strung together. Filing my taxes, cleaning the car or getting groceries don't tend to stick out within the memoir in my head.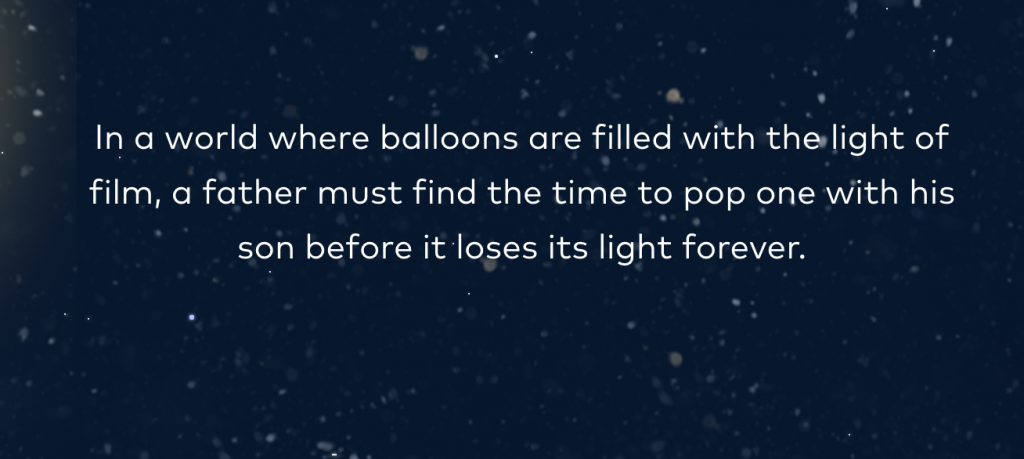 Following on the heels of last year's wildly successful 'Lily & The Snowman' feature, Cineplex just announced the launch of a new short film entitled 'A Balloon for Ben', that invites Canadians to once again 'See The Big Picture' and rediscover the importance of entertainment. The lesson? Make time for what you love. (You've got to love a lesson reinforcing love!)
A Balloon for Ben was launched just yesterday, and will be shown at Cineplex's 165 theatres across Canada as part of the December and January Pre-Shows! (So now would be the time when you want to see all of those films on your list!)
"When we launched our new 'See The Big Picture' brand platform last year with Lily & The Snowman, we knew it was a memorable story that would capture the hearts of Canadians during the holiday season. It ended-up going viral and capturing the hearts of millions around the world," says Pat Marshall, Vice President, Communications and Investor Relations, Cineplex. "We created A Balloon for Ben in the same spirit and we hope that it encourages viewers to once again make time for what's really important in their lives."
A Balloon for Ben is set in a world where balloons are filled with the light of film. Ben and his father purchase a balloon with the intention of watching it together, but things do not go as planned when the demands of his father's job get in the way. (Sound familiar?) What follows is a heartwarming tale of how Ben's father ultimately shares the joy of making time for what he loves, with his son. The film features a unique rendition of 'Everywhere' by Fleetwood Mac, which is performed by Toronto-native Em Patrick singing the English version and Star Académie winner, Stephanie Lapointe beautifully singing in French.
So that you can have your own kitchen dance party, Cineplex will be making the full-length version of the song 'Everywhere,' available for purchase in mid-December on Spotify, iTunes and Google Play Music. Proceeds will benefit WE, Cineplex's national charity partner.
Click here to watch a behind-the-scenes video about the making of A Balloon for Ben.
So what makes up the soundtrack of your life? I bet you can remember all of the films you've seen this year and all of the books you have read. Please tweet us using the hashtag #ABalloonforBen or #SeeTheBigPicture to share how you are staying entertained this holiday season! For me – I will be prioritizing the dance parties, heading to the theatre, and cherishing every second of this wonderful thing called life.
Disclosure: This post was made possible by Cineplex Odeon. All passion about life, eagerness to devour entertainment and memory-making are my own.