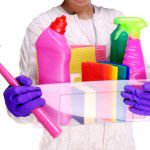 As a mother, you have to accept the inevitable, unwelcome, fact that kids are…well, really messy. At least mine are: they can enter a perfectly clean room and have it looking like a bomb went off in there in ten minutes, flat. Maybe less. As they get older the messes are getting smaller and easier to contain, but I well remember those years of grubby, sticky little fingers turning every surface into a smudgy mess. Although I used to attack everything with bleach, those days are long gone, because cleaning products have really turned the page in their effectiveness. Some are genuinely amazing in their space-agey ability to remove substances that you resigned yourself to being a permanent part of the decorating scheme. Here are some of the top new (and semi-new) cleaning products that will make your household sparkly in no time! (We love homemade and natural cleaners too, and have links to recipes and natural picks at the bottom).
Mr. Clean Magic Eraser with Febreze. Now, if you're like me, you are a Febreze junkie, spraying it on any and every possible surface, and you have to resist spraying down your kids and the dog, too. Of course, many of you also know about the Magic Eraser, which takes out some stains you never imagined could be removed. Add these two products together and what do you get? Pure amazingness.  (Remember that there are chemicals inside though.  Don't send your kids off on a mission to clean the house with one).
Scrubbing Bubbles One-Step Toilet Bowl Cleaner.  We were given a sample of this on at BlogHER and though we usually prefer natural products, we decided to try it.  Wow.  The hose clips to the side of the toilet and you step on a pedal on a floor canister to initiate the spray.  Note.  This only works if your boys can actually aim inside the bowl.
Goo Gone Spray Gel. My kids, like most children, absolutely love stickers, and they put them in every imaginable place they SHOULDN'T have. When they were sent to remove said stickers, what was the result? A gummy, sticky mess that seemed impossible to remove without potentially damaging the object's surface or finish. But never fear, Goo Gone is here! This stuff manages to get sticker residue and other pesky substances like gum, tar, wax, whatever, without staining or scratching the surface the sticky stuff is on, all with a nice citrusy scent. Of course, test a small area first before slathering it on.
Pledge Fabric Sweeper for Pet Hair. In my house, there are four two-legged children, but there are also numerous four-legged ones that tend to leave a little memento of their presence behind every time they get up on the couch: hair. I am asthmatic, and I am also a little neurotic about that whole pet-hair-on-the-couch thing, so when I found this nifty little thing, I was SO happy. This little gem works like a dream, picking up hair and lint like I've never been able to accomplish with any other product. It lasts a while before having to be replaced, and I've always got one stashed somewhere now!
Clorox Bleach Wipes. These are a Godsend: just wipe the surface with them, and voila! The area is clean, disinfected, and smells nice. They have a portable version, too, which is perfect for dropping into your purse or diaper bag. Just make sure you don't get them confused with the baby wipes by accident during a rushed diaper change at the mall!
Looking for more natural products?  Here are our favourites, soapnuts, as well as a bunch of great homemade recipes.