I know. We are all renovating and beautifying our spaces right now. Because we will be at home FOREVER it feels like. And ever, and ever. Sorry – 'Hamilton the Musical' reference, because isn't everyone watching it twice a day on Disney Plus? I digress. After my Mom passed away, I inherited a 1780's farmhouse in Nova Scotia. I got married there, daring Torontonians and Floridians to shell their own lobster dressed in wedding finery whilst looking out at the 365 islands of Mahone Bay. As a charming two-bedroom cottage filled with asbestos, mice and rot, however, it needed some work.
Building a House During a Pandemic
After interviewing builders last summer, I chose Jonathan Davidson, a young and highly competent man who owns JND Construction. We decided to add 2 bedrooms, one bath, and an open kitchen. On a quick trip there on March 3, 2020, permits had been acquired and work had already begun! Just 10 days later, the world changed. School kids were sent home. Travellers were called back to Canada, and a shroud of fear fell upon the globe like a weighted blanket.
Quarantine and the Atlantic Bubble
Fast forward to July 3, and the Atlantic bubble came into effect, forcing anyone traveling to the four provinces to quarantine for 14 days. My Nova Scotia AirBNB host abruptly cancelled our stay due to fear of Ontario covid germs and a lack of grocery delivery options. Unfortunately, our own property was a shell of framing (thankfully we got the wood before it became scarce!).
Some hotels also made it clear that outsiders were unwelcome. Even the lovely White Point Beach Lodge cancelled all reservations for those coming in from the Atlantic Bubble. Though I checked several times a day to see if circumstances had changed, we decided to remain in Ontario. The kids could see cousins within our family bubble, do socially distanced activities safely and have a happy summer. Time in Nova Scotia would have been fun for them after the two week quarantine, but remaining in Ontario provided richer experiences without being shut inside and isolated for two weeks.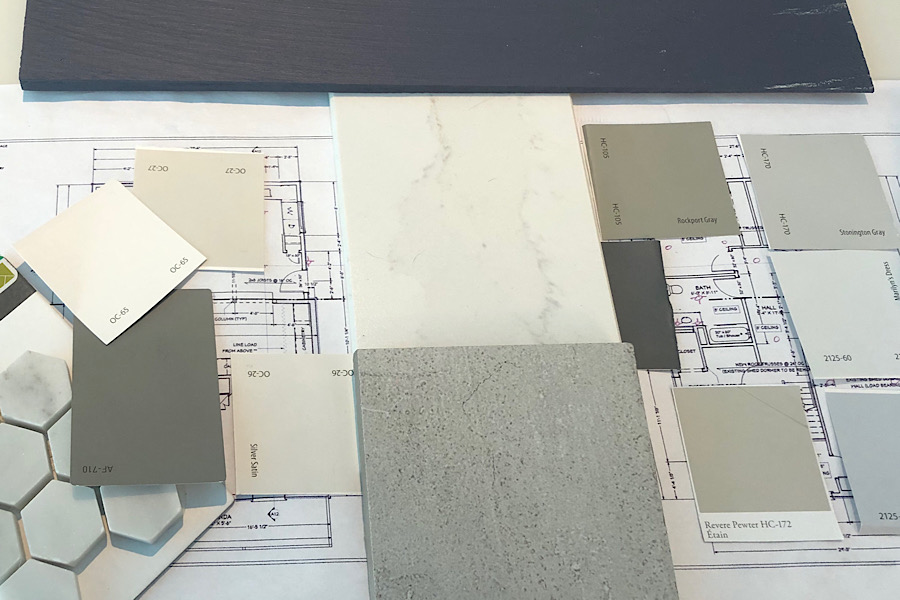 Building Virtually, or Virtually Building
Though it has seemed unfair to be forced to make so many expensive decisions from afar, had no choice but to continue with the build, design and finishes as best we can. I thought I'd write down some tips and tricks for building a home from afar should you ever find yourself in this insane predicament!
How to Build a House from Afar
Try and source as much as possible that you can see with your own eyes. Living in Ontario, we were able to see and touch countertops, tiles and taps at the distributor's warehouses and showrooms. Luckily I had taken photos in the showroom at Castle Building Supply in Nova Scotia in March. I wish I'd taken more!! Making appointments during a pandemic, masks on, was a bit more of a challenge, but seeing large-scale counters and tiles changed several decisions that we would have regretted. Maybe. We still haven't seen the finished product!
Big national stores like Home Depot, Best Buy, Canadian Tire and Ikea were also good resources. I could order online for delivery in Nova Scotia. Pandemic Tip! Several times we got far along in the ordering process only to find out Ikea was no longer shipping, or there was a two month delay in delivery for a faucet. It's a great idea to choose and proceed to checkout before getting your hopes up that it will arrive when the original listing says it will. The reviews on sites like Wayfair and Overstock were useful. Some smaller, local stores don't have many reviews. I was quick to discover that during a pandemic, many stores wouldn't take away old appliances, and others refused to deliver altogether so shop around.
For some products like sinks and lighting, I didn't order quickly enough and items in my shopping cart were no longer available. This taught me a valuable lesson. I would search the name and brand on Google and almost every time was able to find the exact item (usually cheaper!) in another store. This allowed me to try and choose local, Canadian shops wherever possible. Lighting Originals worked with me each time I found an item that was a bit cheaper elsewhere, and was quick to discount, plus ship right away free of charge.
It's still ok to be creative. Searching Kijiji in Halifax, I found an antique window that the builder agreed to insert into the dining room wall. In Toronto there is a great shop that supplies film sets and architectural enthusiasts called McWilliams Design. Halifax's Renovator's Resource has reasonably-priced finds, and via email from afar they are helpful!
Don't sweat the delays. (Or not too much.) I drove myself crazy at the beginning, trying to get dates set in stone. During Covid, everything that could be delayed was – and far longer than even the builder expected. Glenwood Kitchens in New Brunswick has been producing our cabinetry, but due to shut downs, and then a shortage of plywood in Atlantic Canada (everyone is building decks and renovating during Covid), our cabinets are taking 18 weeks instead of the normal 6. This alone meant that even if we traveled east, we'd still have no kitchen for the 14-day quarantine if we made the trek east. Similarly, our appliances were delayed an extra 4 weeks, even though the date on the website reflected earlier delivery.
Think nimbly. When we found out that the roof had been burned to a crisp in a 1960's fire, we used it as an opportunity to get a bit more roof height!
Using Technology in a Home Renovation
It is really unhelpful to check Twitter 14 times a day to see if quarantine has been lifted!
Request daily photos from the builder, neighbours and friends. We saw a wall that desperately needed a window before too much construction had progressed. We also noticed that there had been a mistake with the ordering of one style of doors. Being close by would be better, but photos are the next best thing. I put all photos of the before and during, as well as design ideas into a folder in my iPhone for quick reference. The number of times I've needed to check what the dining room used to look like from years past has been incredible!
Use all of the apps and websites at your disposal. Many paint companies allow you to virtually view colours in a room. Magicplan, Home Design 3D, and Pinterest were great downloads on my phone that helped visualize and budget. I even used Google Earth to determine the north-facing rooms when choosing paint colours!
Invest in the best tech you can find that will seamlessly integrate. Because I use an iPhone, MacBook Pro and iPad, I am able to Airdrop photos to each device, and share notes, contacts and emails. When you pay a builder by the hour, you don't want any holdups, and I am able to source my information on iCloud at any time. An Apple pencil would have been a great bet to gift the builder for his markups, as well as my scribbles on photos and websites.
Rely on the experts. So many times I have had to defer to the builder for decisions, but there are a plethora of skilled helpers out there. After discovering the expertise of one Benjamin Moore paint salesperson at Colourwave in Toronto, I phoned and spoke to him several times about colour choices, warm and cool greys and the perfect shades of white. There's also a great free iOS app called Paint Tester. Houzz also offers an app called 'My Room in 3D' where you can test out furniture and design elements.
Get specific. Photos and marked-up plans can eliminate lots of confusion.
Have the builder draw on, or mark-up photos. Jonathan saved this project, and when we couldn't visualize what he was describing, he'd draw on photos and send them along so we could make decisions more easily.
The story will continue, and at some point I will get there to see! You can follow the progress on Instagram stories, and see the magical transformation when I do!
Pin it!!