It is the season for giving back and if you're wondering how to do that in the city of Vancouver, these are some great ways to give back to the community. I was on CTV to talk about all the ways you can still get involved. Check out the clip and some handy links to help you make it happen:
27,000 people access the services of the Food Banks of Greater Vancouver on a weekly basis. They have 13 direct locations and 80 partner agencies. You can volunteer to sort food and you can get your kids to help choose nutritious, non-perishable foods – not cookies, but canned fish, meats, nut butters, beans to donate. You can serve food at partner agencies, like the Downtown East Side Neighbourhood House. They are still looking for volunteers to prepare food as well.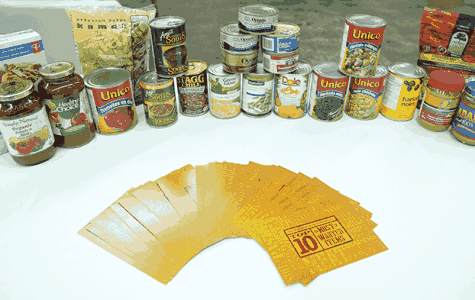 Token Program with Save on Meats 
Have you heard of the token program at Save on Meats? You can buy a token for $5 and it can be used for a sandwich meal or for 1 pound of clothing at The Rag Machine that can be selected by the recipient depending on needs and styles. They get to choose their clothing.  You can buy in person or online and the Vancouver Police Dept, Vancouver Women's Health or Rainier Women's Collective will distribute them for you to those in need. Save On Meats is at 43 West Hastings St. and they take a very dignified approach to making a difference in the lives of their clients.
3. Ronald MacDonald House Vancouver
Ronald MacDonald House Vancouver cares for the families of kids whose health needs take them from their homes in order to undergo treatment in Vancouver. It has 73 bedrooms and 2000 families stay each year. You can sign up with your family to provide and cook a dinner at the house for families staying there.
This year, the house has two special initiatives taking place throughout the holiday season:
RMHBC is welcoming donations of new, unwrapped toys and gifts to help fill their Santa' s Workshop to help families celebrate the holiday season. If you go to www. rmhbc.ca/holiday – house/, you will be able to click on the "Wish List" tab to see the list of items that you can give to help make the holidays bright for seriously ill children and their families. These items include suggestions for all who stay at the house, whether they be infants, children, teenagers or parents. They will be used to help make the Ronald McDonald House a warm and festive place throughout this Holiday Season.
For the Gift a Moment campaign, RMHBC is running a GO Fund Me page where you are able to gift moments to children staying at the local Ronald McDonald House. This means that when you visit the page, you are able to see how small but impactful donations are able to provide meaningful experiences to the children and families staying in the house. You are also able to read and learn more about the heart touching stories of the families residing at Ronald McDonald House BC & Yukon. A donation as small as $35 can make a significant difference in a family's life.
BE SANTA TO A SENIOR
Home Instead Senior Care partners with local non-profit and community organizations to identify seniors who might not otherwise receive gifts this holiday season. The company then works with local businesses and retail stores to help facilitate the purchase and distribution of gifts by placing trees and ornaments within their various locations. Each senior's gift requests are written on a Be a Santa to a Senior bulb.
It's not just about gifts, but providing a visit and sense of companionship to combat lonliness, isolation. Locations for trees are on the website and volunteers wrap the gifts at a wrapping party. Care homes provide names and wishes of the seniors. If you go to the website, punch in your postal code and the closest trees to you are listed. This idea can be used at any senior home. My kids and I are going to pop by our local senior home on Xmas eve this year, to say hi and share some baking!
Skwachàys Lodge and Residence
Skwachàys (pronounced skwatch-eyes) Lodge and Residence at 31 West Pender Street in Vancouver houses a fair trade gallery, boutique hotel and an urban Aboriginal artist residence. Go check out the art for last-minute gifts, and if you want a staycation you can stay in one of 18 boutique hotel suites!
At street level, the Urban Aboriginal Fair Trade Gallery showcases Aboriginal artistic and cultural work. Other distinguishing features of the building include a rooftop sweat lodge and smudge room used for spiritual cleansing, studio/workshop production space, and a commercial kitchen. The facility provides 24 shelter rate apartments for Aboriginal people at risk of homelessness, and two social enterprises that support the Society's mission and financial sustainability.
BC Children's Hospital Foundation
It's not *quite* a snow day, but the BCCHF has launched BC's biggest digital snowball fight for the kids at BC Children's Hospital. Every donation earns a snowball to "throw" at as many Facebook friends as you'd like. Their goal is to raise $100,000 by January 15th 2018.
SaveSave
SaveSaveSaveSave
SaveSaveSaveSave