Teething pain is something I expected to encounter with my babies, and I felt confident I could provide pain relief and comfort. As a new mom, I was inundated with tips and tricks to help my teething babies. I gave them chew toys, cool washcloths, breastmilk popsicles, and more.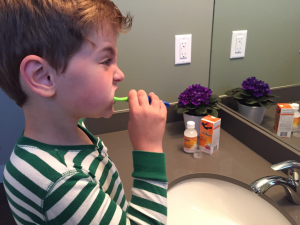 But teething pain doesn't stop with babies. My kindergartner has started experiencing pain and discomfort as his six-year molars started to erupt. The process has been slow and his gums have been raw and irritated, leading to sleep disruptions. The interrupted sleep and pain started causing distracted behaviour and emotional outbursts at school. I needed to help my little guy get through teething once again.
Children's MOTRIN® Ibuprofen reduces fever for up to eight hours and provides fast, effective relief of pain due to:
Fever*
Cold and cough
Sore throat
Earache
Headache
Muscle aches
Toothache / teething
When my son's mouth is aching and he can't settle down, one dose of Children's MOTRIN® Ibuprofen is enough to ease the pain that keeps him awake. When we remove pain from the equation, the bedtime routine goes more smoothly. He doesn't need to battle through aching gums and tooth pain. Because he's not in pain, he's able to fall asleep, and stay asleep. I'm able to sleep better knowing that my child isn't hurting.
It's easy to figure out how much my son needs with Children's MOTRIN® Ibuprofen's dosing chart. The information is clear and his dose is based on body weight (which is much more accurate than dosing based on age alone). If needed, a single dose can be repeated every 6-8 hours, up to four times in a single day, unless directed otherwise by a doctor.
If your child is struggling with pain or fever, consider using Children's MOTRIN® Ibuprofen to help ease their discomfort. It can be found at national retailers and most local pharmacies, and comes in an enticing grape flavour or dye-free berry flavour. With this coupon, you can save $2.50 on any one Children's MOTRIN® Ibuprofen product.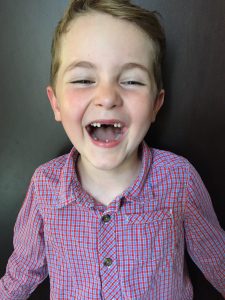 To be sure this product is right for you and your child, always read and follow the label, and consult with your doctor if you have any questions.
*Reduces fever up to 8 hours
This post has been generously sponsored by the makers of Children's MOTRIN® but the opinions expressed are my own.
Hillary Moran is a thirty-something, mama of two, lover of lists, somewhat crunchy, kitchen dance party phenom, introvert, navigating life after cancer. You can find her on her blog, Facebook, Twitter and Instagram.