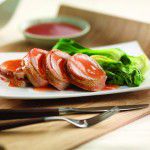 Looking for an easy, tasty recipe for a romantic dinner? This super simple meal has a fancy feel without the "fancy" work. Enjoy bacon-wrapped pork with bok choi at home on a blustery night when the kids are at the grandparents.   You can find some great ingredients using Meijer coupon codes.
Ingredients:
1 lb pork tenderloin
1 tbsp vegetable oil
8-10 slices of bacon
8 cups of baby bok choy, sliced in half length wise and washed
1 bottle of VH Sweet and Sour Sauce
Heat oven to 400F (200C), slice tenderloin into 2 pieces. Heat oil in a large sauté pan over medium-high, brown the pork about 7 minutes. Layer 4-5 bacon slices by side on a cutting board, allow edges to only slightly overlap. Place one piece of pork across the bottom ends of the bacon strips, roll the bacon around the tenderloin and place the wrapped pork seam side down in a baking dish. Repeat with second piece and remaining bacon. Place baking dish in oven and cook until bacon is browned and pork is cooked through, about 30 minutes (pork should be cooked to an internal temperature of 160F (70C)). Pour out leftover oil from sauté pan, add baby bok choy and 2 tbsp (30 mL) water, cover and cook on medium heat for 8 minutes, add bottle of VH Sweet and Sour Sauce and heat through, lower heat to simmer and keep warm. When pork is ready, slice and serve with bok choy and VH Sweet and Sour Sauce.