I remember them all. Mrs. Connelly taught me cursive and made me want to use it to write great stories one day. Mr. Grant praised me in front of the whole gym class for finishing a race with my leg bleeding even though I came last. Miss Tanner found math riddles in her spare time, and that year I crossed the arithmetic threshold and became fascinated with Fibonacci, perfect squares and golden rectangles.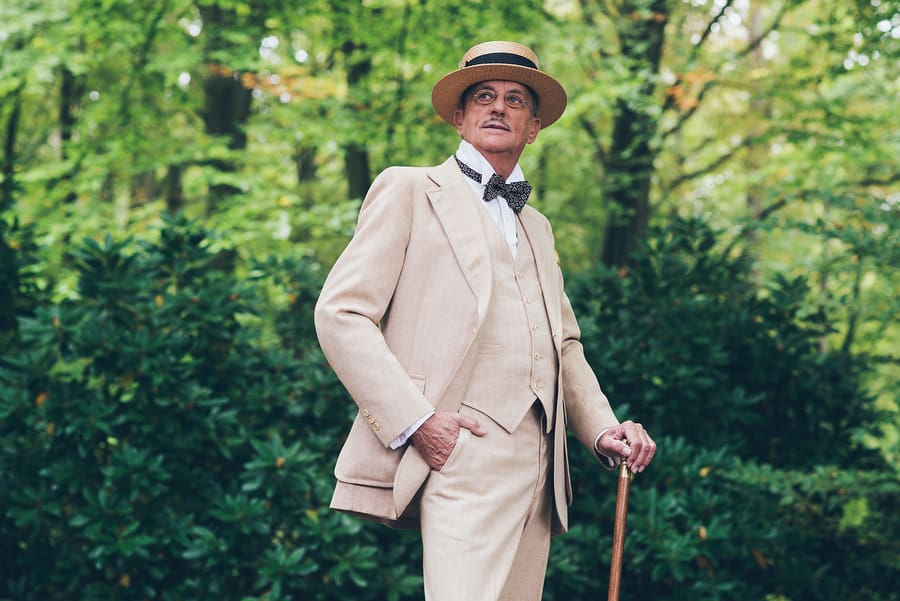 Note: This isn't the real Mr. Abbott but the shot reminds me of him. Wish we'd had smartphones in 1993!
But then, in high school, I experienced the tutelage of Mr. Abbott in an honours political science class. Later I'd find out that he was teaching us at a university level, placing desks around the outside of the room to stimulate discussion. Meticulously handwritten notes photocopied on legal paper were portioned out every few classes so we didn't get ahead of ourselves reading about Hobbes before we fully understood Aristotle. He was a delightfully crochety British white-haired man whose suit and tie hung off his small frame as if it were on a garment rack. I never knew what was wrong with his leg, but he twirled his antique cane around his head, and once chucked it straight out the third floor window of the high school in order to demonstrate a political theory. Who was it now? Machiavelli? Marx?
Well, guess what? I can look it up. Along with a few letters from my grandmother and some childhood mementos, 'Abbott's Notes' have traveled with me to dorms, apartments and houses. They have lived in cabinets in Nova Scotia, Ontario and British Columbia and are still one of my most cherished possessions.
While a lesson, or even a year of schooling, is just one moment or memory of life, it can impact a child forever. Teachers shape us, excite us and are the spark that makes us want to learn more and discover how to improve our world. Some teachers (grade 10) see a flaw in the system and stay in late to give us extra time on a test because we were performing in a play until midnight and couldn't study. Others (grade 2) give us a few minutes away from class with a stuffed toy when our cousin is taken to the hospital. Another (right now) may even offer to work with our child on Saturdays because they learn more math concepts while running around on a soccer field than sitting stationary at a desk.
We all know an educator that deserves to be recognized for their hard work and dedication in the classroom, and in celebration of World Teachers' Day (October 5th), Microsoft Canada has launched the #BecauseYouTeach campaign. This campaign contest gives students and parents a chance to nominate those special teachers who bring joy or motivate their students to do better every day. And there are awards to honour these brilliant teachers!
Even better…. each teacher nominated will receive a note of congratulations to let them know just how much their hard work in the classroom is remembered through the summer, next semester or years later.
Nominating a teacher isn't hard and takes WAY less time than cramming for a test! Simply fill out the form here and share one or a combination of the following: How your teacher improves learning, inspires students' interests or career aspirations, fosters an inclusive learning environment, or how they help students' realize and act upon their strengths.
The awards can benefit not only teachers, but their students as well. Here they are!
#BecauseYouTeach Awards
Top Award
15 x Probook x360 11 G1 student devices
1 x Probook x360 440 G1 educator device
Staff luncheon
Surprise gift bag
Celebration banner
Professional development provided by a Learning Development Specialist
4 Secondary Awards
1 x Probook x360 440 G1 educator device
Staff luncheon
Surprise gift bag
Celebration banner
Professional development provided by a Learning Development Specialist
10 Tertiary Awards
Staff luncheon
Surprise gift bag
Professional development provided by a Learning Development Specialist
As I dusted off and re-read Abbott's notes recently, I googled him. Though he passed away several years back, the group of students who shared his class have a lifetime bond not only with the knowledge he imparted, but that we were blessed to have studied together with one of the greatest teachers we have ever known. I wish I could have nominated him – because he taught more than I had ever recognized at the time.
Disclosure: This is a sponsored post in partnership with Microsoft. All opinions are my own.