A few months ago, I met a midwife named Jennica from BC. She was training doctors and midwives in a rural health centre, so they could improve outcomes for moms and babies through quality maternal care.
Pregnant moms were anxiously pacing around Labour & Delivery. Expectant grandparents were wringing in their hands. In those ways, it was very much like the hospital where I had my babies.
The Pawe Regional Health Centre in Ethiopia, where Jennica is a volunteer with Cuso International, has little else in common with the hospitals here – except a caring staff that is eager to learn, and give their patients the best possible maternal care to ensure that moms and babies deliver safely.
You're probably wondering what I was doing in a small community in Ethiopia. I was there with a film crew to interview Jennica and create a video about how Cuso International volunteers like her impact the communities they work in. I don't usually write about my "day job" outside of work, but when a trip for work has profound impact, you can't help but share.
When I heard I was going to rural Ethiopia for work, the first two thoughts that popped into my head were "This is going to be life changing" and "This is going to break my heart." I was right.
Heartbreaking and Life Changing
At one point during the filming, Jennica introduced me to a baby that had just been delivered – prematurely – and was just a tiny little thing. In fact, the baby was almost exactly the size that my second was when she was born.
When I was pregnant with little A, things weren't going well. There were no clear reasons why – just that this pregnancy wasn't like my first. Test were showing the baby was small. I wasn't growing either. It was scary and isolating and I felt very alone.
On the day my girl was born, I was told at 7 am she was in peril. I remember every moment like it was yesterday. There was an emergency C-section. Countless people milled around in the room, standing by to receive the baby. I had been told they would resuscitate if necessary, and whisk her off to the state-of-the-art NICU in our hospital. She was 3lbs, 11oz.
Mothers in other parts of the world aren't so lucky
In the Pawe delivery room where Jennica stood holding the baby, I didn't meet the mom. But this little baby and her family face all of the preemie challenges that we went through. My baby had a climate controlled isolette, constant monitoring, and a room full of medical equipment – but most importantly, she had the care of skilled Canadian doctors, nurses and midwives watching her 24/7. In once instance, they realized she wasn't absorbing food, changed her feeding method and ensured she didn't starve to death. Without the expertise of her caregivers, she would have perished.
I looked at this tiny baby, being carefully cradled by Jennica, and realized that my baby and I were very fortunate. She was born in a place where we had access to the care we did. I also realized that this baby was very fortunate to have Jennica.  This brave midwife volunteered to come to the other side of the world to share her skills and knowledge with the medical staff in this region.
Trained volunteers like Jennica save lives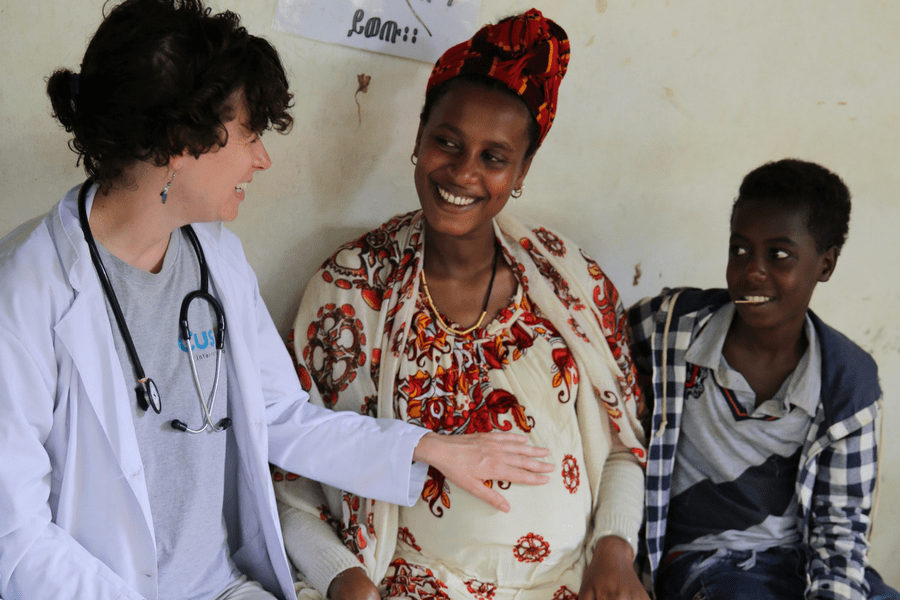 As a Cuso International volunteer, Jennica teaches doctors and midwives how to monitor labour more effectively, use equipment to identify potential issues and support mothers and their families through delivery and recovery.
In Pawe, the risk of infection and lack knowledge and access to equipment means complications for pregnant moms and babies can quickly become life threatening. If I had delivered there and not here, there is a good chance neither of us would be here today.
You can help provide maternal care too
 Cuso International is a charity that has been sending volunteers around the world to help communities thrive and grow. The Maternal Health program helps save the lives of moms and little ones, to ensure they can share the holidays with their families.
This time of year, moms like me are particularly grateful.  Children bring so much joy to the holiday season. While you're sharing this time with your family, you can help ensure that mothers around the world can do the same. The Cuso CAN Fund was established to give you the chance to support Cuso International's high priority maternal and child health projects in Ethiopia, Benin, Tanzania, Nigeria and the Democratic Republic of Congo. In all these places, pregnant and labouring moms need the kind of trained, compassionate care we had when we delivered our children.
Join me in helping to send Canadian medical volunteers into communities to save the lives of moms and babies.
Oh, and here's a look at the video shot on the trip.
Disclosure: Cuso International is one of many clients I work on at my job. The observations that informed this post were made on a business trip. I did not receive any additional compensation for this post. All opinions reflected here are personal and my own. 
SaveSave
SaveSave
SaveSaveSaveSave