After an absolutely insane year of change and strife, I vowed not to get involved in tons of new projects. The plan was to step back, regroup and heal. But I can't, because every amazing initiative by the Sandals Foundation stops me in my tracks. Even browsing the website grounds me, seeing ways the Foundation helps so many other people, animals and our environment.
A Focus on the Environment
Currently celebrating their 10th anniversary, they 'Face the Caribbean' – a sea filled with life that is on the brink of catastrophe. They have set out to tackle one of the foremost issues on the planet. Coral is being destroyed by microplastics, Lionfish are feasting on reefs and global warming warms the waters. Our coral and vegetation are dying, and marine life follows quickly. Let's all help, even in tiny ways that make a huge difference.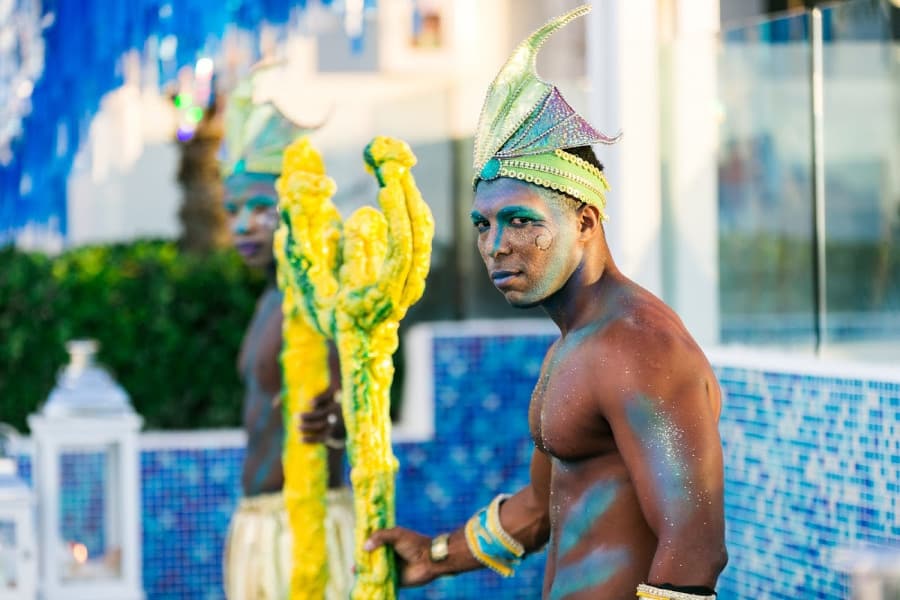 The Broad Impact of the Sandals Foundation
The 2019 Social Media on the Sand conference opened with a sea-themed extravaganza making a nod to the current thrust of the Foundation. The event was supported by Snuba (this activity is amazing for kids!!), School Specialty and artist Marco Santini. Programs throughout the Carribean have impacted 140,000 students, over 209,000 in need of health initiatives and have empowered women to become farmers. Over 2,000 youths have been given the ability to engage in organized sports and over 55,000 pounds of hurricane relief supplies have helped communities rebuild after Matthew, Irma and Maria.
Now, as the Sandals Foundation turns 10, there is a pull to save the planet, as, without the sea life and benefits of the ocean, residents of the Caribbean will all be affected. We all need to 'Sea the Future'. Between 8-12 million metric tonnes of plastic end up in the ocean every year. That's like a garbage truckload every minute. The average person consumes the equivalent of a credit card per week in microplastics. These are found in beer, water and even the air we breathe. If current practices continue, the plastic input into the ocean will double by 2025. Here are 11 ways you can help save our oceans with the Sandals Foundation.
How You Can Help Save Our Oceans
Stop leaving your reusable grocery bags in the car. Really. Put a sticky note on your rearview mirror.
Eat a more plant-based diet. Even going veggie once a week helps.
Litterless lunches for all. Beeswax wraps are adorable, drink containers look like space shuttle carryon, and funky reusable straws come in silicone, stainless, glass, bamboo and paper. I chatted about these along with other ways to reduce single-use plastics here on CTV Morning Live.
Please turn off the lights, air conditioning and heat. I'm talking to my kids specifically about the lights.
Give up gum, or have a plastic-free alternative. With the exception of a couple of 'natural' brands still made from chicle, all of the chewing gum on sale is made from butadiene-based synthetic rubber, a polymer, a plastic product made from oil, a bit like the stuff we use to make car tires. I had NO idea. Ewwwww.
Refill adorable containers in the kitchen and bathroom with bulk products.
Use marine-degradable glitter. This one was new to me too. Most plastic glitters go directly to the ocean or soil and due to their size, they do not get filtered. Plastic glitter not only contaminates water streams but also the marine species since plastic glitters do not decompose or degrade.  Marine species eat them and, therefore, we end up consuming our own waste when we eat seafood.
Please.. please!!! Use reef-safe sunscreen to help prevent coral bleaching. I fell in love with the Coola brand at Beaches Resorts. The SPF 30 makeup setting mist was a game-changer, as was the Mineral Liplux Organic Tinted Lip Balm. Both of my sons sail on the ocean or lake all summer long, so need lots of zink on their faces. We also fell in love with Bare Republic neon sunscreen sticks that are also fully reef-safe.
Go to more farmer's markets, as well as vintage and second-hand stores. As if we needed an excuse.
Use cloth towels instead of paper towels in the kitchen.
Skip the balloons and glow sticks. Really, nothing good can come from tossing these in the trash after one use.
Many of these initiatives are so easy. Another great idea is to participate in mangrove planting when you visit a Sandals or Beaches Resort. Attendees of the conference also brought stacks of environmentally-themed books and reusable shopping bags to donate to local schools. Both resorts have replaced plastic straws with paper, and have an aggressive plan to fully eliminate single-use plastics.
The Sandals Foundation is a non-profit organization launched in March 2009 to help Sandals Resorts International continue to make a difference in the Caribbean. All costs associated with administration and management are supported by Sandals International so that 100% of every dollar donated goes directly towards funding impactful and meaningful initiatives within the key areas of Education, Community and Environment.
Photos: Jill Amery (final 3 shots) and Catie McDade Photography.
Disclosure: I was offered an invitation to attend the 2019 Beaches Social Media on the Sand Conference at a discounted rate. All opinions and experiences are my own.