Every mom knows the importance of a perfect LBD. It's the one thing in your closet you can count on to make you feel comfortable and pretty at once, transforming you from the frazzled mom who just spent the morning scrubbing poo off of a pink stuffed elephant, into an elegant, got-it-together emblem of supreme womanhood. And if you have a little black dress that goes from the playground to date night—even better.
Yes, we know we can't live without the dress, but what the hell kind of shoes do we wear? In the summer, I'm in a constant shoe spiral. I wear a large size (10.5) and I love designer shoes to look at in my closet, but they never fit comfortably enough to grab and go with ease. On the other hand, I like to be put together when I leave the house with my stylish toddler, and frankly, flip-flops are starting to make me look bad.
So, I tried pairing a nicer ballet shoe with some chic mama gear, but after a few times through the splash pad it was all over. I couldn't believe this was all there was for us. Aren't mothers a huge buying force? Why wasn't there something way way better out there for us? Where is our little black shoe?
My mom used to wear slides all the time in the 70s. A massively stylish woman who went to loads of fashion shows, she was the patron of great emerging designers and even launched a successful jewellery line (from which I still pilfer pieces to wear at big events.) Of course, she wore her share of heels, but she definitely knew how to sport a great slide. Slides always stuck with me as being a good-looking, convenient shoe that goes everywhere and with everything, so I couldn't believe I hadn't considered getting a pair before—particularly as they're totally on trend.
Hitting the interwebs, I found my first pair of Soaks.
These slides are so easy. They slip on in one second (without bending over), cradle your foot in soft cozy love, and make your flip-flops look like something that should never be worn outside of a public shower.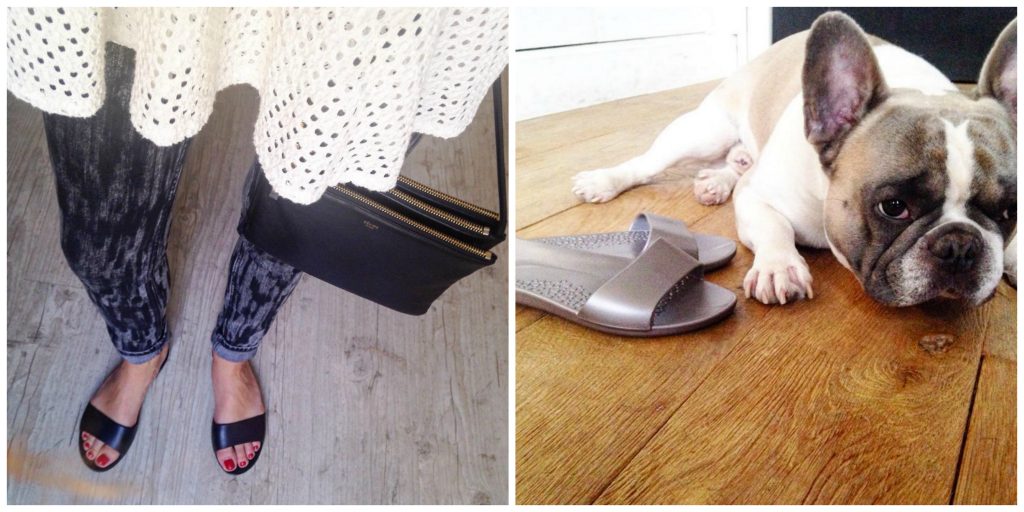 There's a little learning curve involved in this style of shoe—you have to sort of push forward and grip with your toes as you walk—but it quickly becomes natural and once you've mastered it, you've opened up a whole new world of footwear joy. And my new Soak slides are one step better than other awesome slides because they're waterproof, so bring on the waterparks little ones!
Here it is mamas, your new LBS. Not only are my feet rejoicing, but I can finally get as excited about slides as my toddler.
Disclosure: We were sent a sample to try – all opinions are our own.