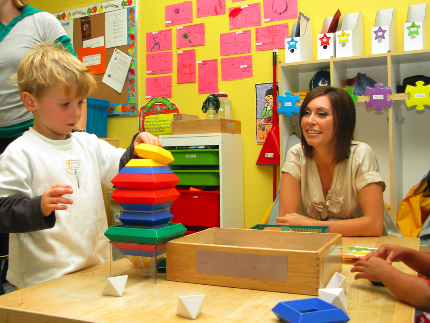 At Park Royal in West Vancouver the other day, I offered to hold the elevator door for a group of the most lovely, well-behaved children I had seen in ages.  Their three teachers graciously declined my assistance, saying that their safety protocol was to hold the door themselves.  Very impressive.  Hmmm.  Polite uniformed children, good behaviour and professional adults.  They had to be..  Yes..  When I asked – all was confirmed.  They were from CEFA.
Core Education and Fine Arts is Canada's first Junior Kindergarten School.  It was begun by Natacha Beim, a vibrant and brilliant teacher who saw a need to prepare children more thoroughly for kindergarten.  Internationally (in France, England, China, Japan and many other countries), pre-kindergarten programs are standardized and children are given essential tools that set them in good stead for future education.  The CEFA program is unique in Canada because it follows the international standard for pre-kindergarten learning.  Parents have the choice of enrolling their preschoolers from 2-5 days per week, and classes run from 7:30 – 6pm.  It is highly recognized for its leading academic program, as well as its excellent curriculum in the fine arts and athletics, designed to develop and challenge young children intellectually and physically.  The well-rounded and flexible offerings enable a child to acquire knowledge in many different ways, as no child learns in exactly the same way as another.
"The decision to participate is the child's, which emphasizes one of CEFA's  goals: to give the child autonomy and responsibility over his or her education ( I learn because I like to learn ). Creating a passion for learning in life is an essential step in your child's learning path."
UrbanMommies toured one facility (there are currently 9 in BC) and we were super-impressed.  Arts are explored, languages are learned, and children are taught at their own pace but within a beautiful structure that apparently results in the exceptional behaviour I witnessed in the elevator.
Drama, Yoga, French. Culture Immersion (who wouldn't want to try on clothes from all over the world?)..  The school also includes a a gym painted to resemble a circus, a cinema, art room and library.  A resident chef prepares breakfast and lunch for teachers and students, and a fitness trainer is also on hand.  Despite the uniforms, chef and excellence, the place is not in the least bit snooty – just in case you're wondering.
"Each child has a schedule, drawn to reflect his or her unique abilities and made up by CEFA in consultation with parents. The schedule is broken up by play times, family time, project time, relaxation, naps and movies as well as breakfast and lunch. Every week, the children can also look forward to field trips."
One of the great things about CEFA is that because it is an educational program, working parents are able to deduct tuition expenses to a maximum of $7000 per year, per child. This amount is directly deducted from the earnings of the lower income-earner in the household when filing your taxes.
Creating Renaissance-kids, exposure to fitness, languages, arts, an international learning standard, a chef and naptime too.  Heaven.  If only every child throughout Canada could have the opportunity to develop in such a special environment!  We'll cross our fingers for more expansion and keep you posted.  In the meantime, I'm off to yoga.  Must not be eclipsed by my preschooler.
Photo features Ms. Natacha Beim and was provided by CEFA.
For other approaches on schooling, check our Waldorf and Montessori articles.