As far as I'm concerned, a trip to California without visiting San Francisco is a missed opportunity. Accordingly, I'm going to share how to have the most epic California road trip with a 10-day-itinerary. You can take out some of the activities as needed to align with the length of time you have for your trip but starting or ending in San Francisco is a must.
For this trip we decided to fly into San Francisco and fly out of Los Angeles but you can also switch this around and do the trip the other way.
Day 1:
Try to arrive mid-morning so that you can enjoy the afternoon and evening and not completely waste the day just travelling.  For the San Francisco part of the trip don't even bother with a rental car because it is effortless to get around on public transportation, called Muni, and you'll want to have an authentic cable car experience. San Francisco is a foodie paradise, many travellers go there for the food! Drop your luggage at your hotel, an excellent base in San Francisco is the Union Square Hilton.
After checking into your hotel, get over to a Pier – any pier – there is something to do, see, or eat at all of them.  I'd suggest Pier 39 for your first evening as you can have dinner at Pier Market Restaurant after exploring all the activities, taking a ride on the carousel, or watching the seals who have taken over some areas of the wharf and made it their home.
Day 2:
Hop on Muni Transportation and make your way over to Pier 33 where you can buy your tickets for the Alcatraz tour. I recommend going in the morning before it gets too busy or too hot. The first tour is at 9:30AM, and you'll take the ferry to get there. With kids, the tour will take 2-3 hours. You'll be surprised by the beauty of the gardens, and be sure to check out the water birds. There is a lot to see here, and we would have missed a lot of things if not for the scavenger hunt activity that the kids participating in. If you have kids be sure to grab an activity book and they can get sworn in as Junior ranger at the end.
Tip: Purchase your tickets online to confirm your spot and avoid the long lines
After a busy morning, a good option is lunch at Fisherman's Wharf which is a very touristy place but has amazing street food! Grab some delicious sandwiches and snacks for lunch, walk around the area and take in the energy.
With kids, it is great to pair a busy morning with a calm afternoon and the Aquarium of the Bay is a perfect calm afternoon activity that's great for the whole family.   You can walk or hop on the Muni Transportation which is included for three days with your CityPass.
The one mistake a lot of parents make on family trips is only doing things that are kid-oriented. Throw that idea out the window, especially when it comes to food. A great stop for dinner is Palm House. This restaurant has a fun, casual feel and the food is divine! There are so many things to try here but the Chicken Roulade jumps to the top of the list.
Day 3:
San Francisco is a large city and quite diverse in offerings from one area of the city to the next.  A great base for a few days that gives an entirely different and a bit luxurious feel is the Presidio of San Francisco. The Presidio is where San Francisco began. Today it is a National Park site and a National Historic Landmark district located at the the centre of the Golden Gate National Recreation area. A fantastic choice for accommodation is the Inn at the Presidio.  A little bit of luxury in a National Park. They go all out to make your stay a unique experience, from 5-7PM daily they offer wine, cheese, and crackers.  This is a great way to either spend some time alone with your partner while the kids watch TV in the room or for the whole family to relax on the patio by the fire-pit while meeting other travellers.
There is a lot to do in the Presidio from the Walt Disney Museum, to visiting the home of George Lucas (Creator of Star Wars). The kids will love geocaching or exploring with the explorer backpack. There is a convenient shuttle to take you around he Presidio if you didn't drive.
You will want to visit the California Academy of Sciences, and you can just commit to spending the whole day in this area because There are quite a few things within walking distance including the San Francisco Botanical Gardens. Most of the activities at the California Academy of Sciences can be explored at your leisure, but some like the movies in the planetarium will need separate tickets.
An easy and delicious option for lunch that is in walking distance from the Science centre is Pacific Catch. There is something for everyone in the family. The poke is delicious and they offer lots of healthy options for their kids meals. After lunch, you can make your way back to the Science Centre if you didn't finish exploring. Note that there is an amazing playground outside and a carousel where the rides are just $1.  Once you are done there, make your way to  San Francisco Botanical Gardens for a nice leisurely and stroll. You have to get in before closing but once in your can explore on your own and exit whenever you want.
Here is a tip to make family vacations really fun and create some moments that will stay with you even after the trip is over. Pack at least one dress up outfit and spend one night at a fancy restaurant.  A  good option in San Francisco is The Dorian. They have two areas, ask for The Drawing Room at the back with the gorgeous chandelier. This is your family vacation so take some downtime to relax and enjoy a nice dinner and be fancy for a little.  The great thing about the Dorian is while it looks fancy and luxurious the prices are still reasonable.
Day 4:
When you think San Francisco you think Golden Gate Bridge and the Presidio offers some fantastic views.  A great hike right off the property will take you to the Inspiration Point lookout. Next, make your way over to Chrissy Field for some amazing views of the bridge. Finally, head over to the Golden Gate Welcome Center for the perfect Instagram photo and also the entrance to to walk across the bridge.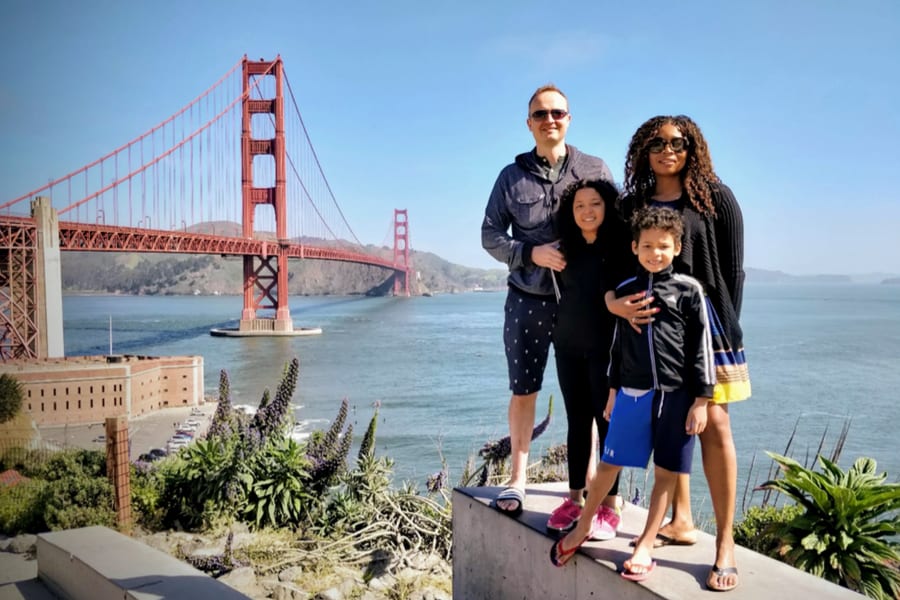 A great stop for lunch is Gott's Roadside a casual style restaurant where you can order a variety of things from their menu and then grab a seat and enjoy your lunch. If you like beer, they have some pretty good IPAs on tap.
There are so many other things to explore in San Francisco, and you can really spend a whole week here exploring the various communities.  If you are up for it, a fun thing to do is quickly go through the rest of the things on your City Pass like the Exploratorium, hop on a cruise with Blue & Gold Fleet Bay Cruise, or head over to the San Francisco Museum of Modern Art · SFMOMA
Day 5:
If you didn't do it already, now, it's time to pick up a rental car and settle in for one of the most beautiful drives and some stunning lookouts along the way. Taking Highway 1, the next stop on your adventure is Monterey, an absolutely gorgeous picturesque town that you will fall in love with immediately upon arriving.  Walk the path along the water, relax at the beach, or grab lunch at one of the local restaurants.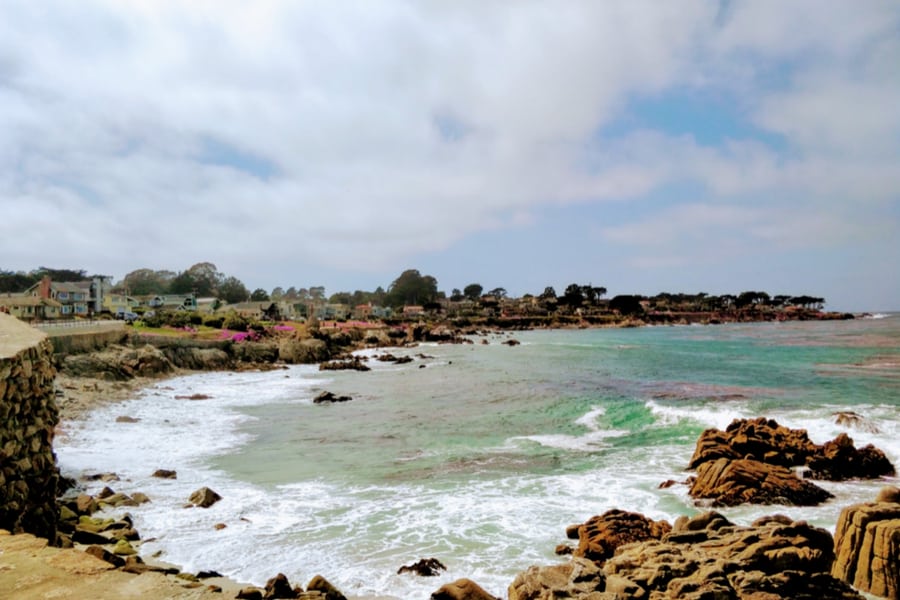 Once you've had your fill, drive towards Carmel by the Sea and spend the rest of the day and make sure to stop over for the night. The only way to describe Carmel is that someone in love painted their most romantic and beautiful images and then magic brought it to life.  I felt like someone picked me up and put me into a romantic fairy tale that had come alive. Everywhere you look it's beauty all around, from the flowers along the street to the design of the homes and stores to the smell of the bakeries and restaurants.  Carmel by the Sea is pure relaxation and bliss.  The kids will love all the little alleyways to explore. This would be an ideal stop for a couples getaway.
Day 6:
You can do the full scenic drive all the way to Los Angeles, but if you want to speed things up, you can take the fastest route from Carmel and head directly to LA.
A great base in Los Angeles in the Langham Pasadena. I loved loved loved Pasadena which is a stark contrast from downtown Los Angeles. If this is your first trip to LA let me warn you ahead of time that downtown LA might be different from what you are expecting and the Walk Of Fame is not what you are imagining in your head. The area is a bit dirty, and if you have kids, you definitely want to go during the daytime preferably mid-morning and not in the evening or night.  You will also want to hold onto their hands and keep a close eye on where they are walking.
Could you skip a visit to the Walk of Fame? Yes, but you'll probably wish you didn't because it's such an iconic part of Hollywood.
After you've done the Walk of Fame, another cool place to go is the Hollywood Bowl where you can see and get some good shots of the Hollywood Sign and see the city from a great vantage point.
Day 7
You'll think you are doing this for the kids but let's be honest you love it just as much as they do. Universal Studios Hollywood did not disappoint from the Harry Potter rides to the photos with your favourite characters; this will be a day that's great for everyone in your family. I highly, highly recommend the Universal Express. Last time we went Universal Studios Orlando, we didn't get the express pass and regretted it because you are spending a lot of time in line. With little ones, this makes a big difference, and we were able to do all the rides we wanted and then explored the shops.  The highlight, of course, is The Wizarding World of Harry Potter for any Potter heads in your house.  If you have costumes of your favourite characters at home, bring one with you and have the kids wear it. It will elevate the experience for them.  It's also a great way to make use of those expensive Hallowe'en costumes.
Day 8
Make use of the many free things to do with the kids in LA as well including exploring a local park and playground or relaxing at the famous Venice Beach.
After a day of relaxation, a great spot for dinner is Lemonade.  The mashed potatoes, grilled cheese sandwich, and the macaroni & cheese were a huge hit with the kids. I loved the jerk chicken.
Day 9
Chances are your kids are LEGO obsessed. If like me you are from Toronto and have only been to the LEGOLAND Discovery Centre, just tell your kids you are going to LEGOLAND without describing what it is and then watch their faces light up when you get there.
It was about a 2-hour drive from Pasedena to LEGOLAND California, though it took less time on the way back and it was worth the drive. Get the multi-park pass because it offers better value and gives your kids access to the main waterpark (which they'll see and want to go to anyway).  The waterpark is huge and the themed splash pads were a big hit with the kids.  The SEA LIFE Aquarium is included in the multi-park pass and it's a great way to wind down after a busy day in the sun and before heading back in the car for the long drive.  Of course you can avoid the drive back by staying overnight in one of their hotels including the newly opened Castle Hotel.
Day 10:
For your last day you'll want to relax a bit before heading home. This is a busy itinerary and you'll have lots of fun doing it but you want to make sure that you come home feeling rested especially if it's back to routine the next day. I suggest relaxing at the pool, spend some downtime cuddling and watching TV in between packing. If you can manage it have arrange babysitting and go on an adult only lunch or dinner or spend some time alone at the spa as a treat for yourself.
Bio:
Claire Kerr-Zlobin is a mom of 2 who loves exploring our world with her family. She is the founder of www.lifewithababy.com a peer suppprt program for new moms. You can read more her travel adventures with her family at www.dropofgoldensun.ca