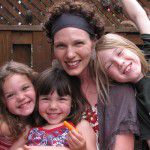 My first Mother's Day was not an idyllic family scene.   All I wanted was to escape the house and my newborn son's incessant crying!  Over the next few years, and two daughters born soon after each other, Mother's Day was all about a very messy breakfast-in-bed – and my husband trying to keep them quiet so I could nap!
And then our world turned upside down.  I was diagnosed with breast cancer at the age of 37 when our kids were 2, 3 and 6.  For a year I had to let go of almost everything I had ever thought a 'mom' was about.  I was too sick to make meals, our house was a mess and I was gone to appointments all the time.  I also had to learn to ask for help.
Mother's Day during treatment was a blur of emotion – mostly fear – for myself and for my children.
Luckily, I found Rethink Breast Cancer, a charity that works with younger women affected by breast cancer.  Through their workshops and support groups, I found other women dealing with similar emotions.  We were all trying to find our way through the fog of having breast cancer at such a young age as well as figure out how to help our kids cope.
Recently, with the help of a grant from Rethink Breast Cancer, I wrote a book for families dealing with a breast cancer diagnosis.  The Kids' Guide to Mommy's Breast Cancer helps explain the different treatments mom might face and the changes it brings to a family.   Hopefully it can take some of the unknowns out of the lives of other families facing this disease.
My Mother's Day this year?  I'm sure a messy breakfast-in-bed will be involved.  But I hope I can sneak in a moment to reflect and be thankful for another Mother's Day.  I also hope I can find it in me to let go of the 'To Do' list for a while and really spend time with my children – to marvel at their optimism, resilience, and enthusiasm for life.
And with any luck, a little bit will rub off on me too.
Karyn, Toronto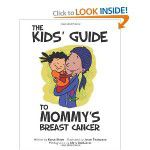 *A limited number of free copies of "The Kids' Guide to Mommy's Breast Cancer" are available for young women in treatment through Rethink Breast Cancer (www.rethinkbreastcancer.com).  Additional copies are available through major on-line book sellers.*