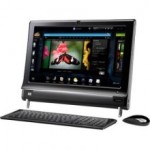 So I got this amazing all-in-one computer dropped to my door for a test.  And usually?  Tests are kind of hard.  Sure – it's great to see the new technology, but it's real work to do a good review of something, and we don't usually get compensated for tests.
I told the kids that it was 'theirs' for the summer at my office, and I was hoping to get work done as they played… Cha-ching.  The nanny money saved was so worth the test!!  And the kids learned!  Starfall.com and the touchable-apps built into the HP technology were lifesavers, and by September my oldest knew his alphabet. Cold.  The youngest doesn't quite get the 'mouse' concept, and when he realized he could simply touch the screen and select, move and slide?  He was so proud, and learned so much faster.
I needed to participate in a webcast discussion for a client, but was with the kids.  Expecting to use my iPad, I sat down for lunch and used colouring books to occupy the monkeys.  In the end?  I couldn't get flash on the iPad, so I ran to the office and did everything on the HP Touchsmart.  Impressive.  The screen is huge and the picture was perfect.  We spent many a day watching movies on the screen as I worked as well.  The cd rom drive (upgradable to Blu Ray) is built right into the unit, and the speakers were amazing.
The screen is so huge!  My husband (an English Soccer/football fan) came to the office and watched Sir Alex Ferguson speak on his upcoming match against Chelsea.  We clicked the full screen version and my hubby (who has a 50 inch at home) .. (TV) was very impressed with the resolution.  The base is even removable in case you want to use it on a wall mount.  The other great part?  The screen tilts from 5 degrees forward to 50 degrees back.  Amazing for a low kids' table, or a home office.
In the end?  They learned.  They played.  I got work done, and.. I was able to do stuff on this machine that I couldn't on my existing technology.  Nice.

www.hp.com