Typically, I am a positive, optimistic person. Glass half full. Seize the day. But after a very long, cold winter and an even wetter spring it's been tough to harness a consistently cheery outlook. The world political climate has been terrifying, the state of our planet is like a horror film, and it's near impossible to get away from negative news – fake or otherwise. Pause. An intervention is required, as I despise being negative. I am making some necessary changes, including turning off the news, becoming more of an environmental activist, and focusing on joy and pleasure for the entire summer.
While I've been fortunate enough to get away into the sun a few times, many Canadians have not had that luxury. There is also something special about being able to enjoy my own home and country when the weather is warm. Though I usually despise the thought of a 'bucket list' – it seems that we all desperately need to squeeze every iota of pleasure and fun out of this summer season. Particularly given that it's the 150th birthday of our glorious country.
Shoppers Drug Mart has always been a favourite place for me. From beauty products to food, medicines to health products, it's a one-stop shop. To celebrate the onset of summer, Shoppers Drug Mart has tasked me with creating a plan for how to truly enjoy each minute of the summer. To help my creativity in getting my SUMMER ON, they sent a sampling of products available in store. As I brainstormed with the family I was shocked at how much we rely on everyday drugstore items to facilitate and enhance our experiences. As I write, tweet, Instagram and snapchat throughout the summer I need you to make sure I stick to this list! Hold me accountable – and please remind me not to forget the sunscreens!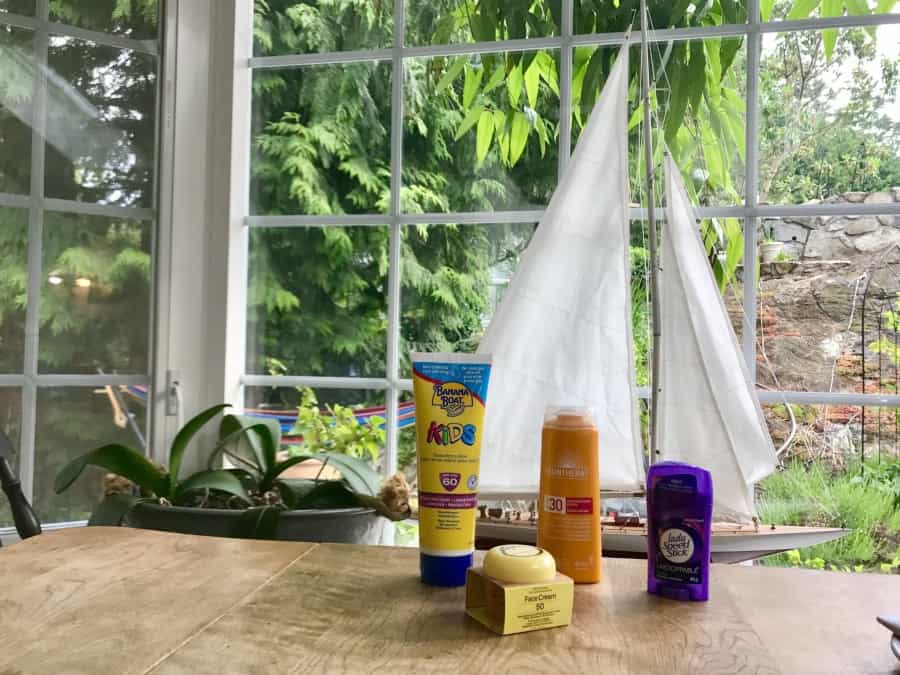 Goal 1:
As you know, I've been learning to sail on a 31-foot boat named Sociable (named for a Nova Scotian toast). This year, while I get more comfortable being her skipper, I plan to take longer jaunts, and do some fishing as we sail. Trolling off the stern of the boat (don't I sound like I know what I'm doing?!) is fun, and learning how to actually cook the fish or create sushi and rolls tickles my culinary fascination.
What We'll Need to Achieve our Goal: Definitely, I will be needing Sun Bum face cream, SPF 50, and Sunthera 3 Sun Protection Lotion, SPF 30 as I reel in all of the huge salmon I plan to catch. For the boys – Banana Boat Kids, Water-Resistent SPF 60 Sunscreen is part of the plan. It doesn't sting when it gets in their eyes. Once I make my kids take the fish off the line and I freak out at every wiggle, the Lady Speed Stick antiperspirant will need re-applying. Funny – the scent is 'Unstoppable' – unless there is a writhing fish on the boat!
Goal 2:
We live near a beautiful beach, and the plan is to swim and relax there at least once a week. The kids get so embarrassed, because when the tide is low, we often gather seaweed to add to our compost. Invariably, broken shells will cut our hands as we grad the nutrient-rich plants. It's totally worth it, though, when the gardens flourish! Additionally, fort-building using driftwood is on the horizon.
What We'll Need to Achieve our Goal: I need to keep my Life Brand fabric bandages in multiple places. The car, my purse, kitchen, and in the kids' backpacks. Additionally, after swimming in the salty ocean all day, the St. Ives Oatmeal and Shea Butter Body Lotion is critical for our dry skin. After the sand and salt water batters my hair, Extra Strength damage remedy + coconut oil miracle shampoo will rescue my tresses. There is an outdoor shower at the beach, and the Dial Coconut Milk Moisturizing Body Wash allows us all to head home clean and fresh. And craving a pina colada.
Goal 3:
During the snowy or rainy winter, date nights seem more like a chore than a pleasure. Sometimes I find that I haven't put on makeup or dressed well in days. This will change! I vow to try new restaurants with my husband as well as the kids. I will visit art galleries and outdoor theatre – maybe attend a festival and have fun at some fireworks too!
What We'll Need to Achieve our Goal: Though I wish my face were hairless, it's not. Shhh. Nair Crème Face hair remover helps hide my little secret. And on that hairless face, Olay Total Effects anti-aging moisturizer works wonders for my 42 year-old skin.
Goal 4:
I want to focus on health and fitness more in general, and summer is a fabulous time to ensure that habits become engrained. With fresh fruit growing in the garden and opportunities to swim and run, I plan to truly forge a healthier lifestyle. Perhaps when the kids are at the skate park, I can try to work out alongside them!
What We'll Need to Achieve our Goal: Number one will be band aids again!! But then there is food as well… I love being able to purchase foodstuffs at Shoppers Drug Mart, and the Kraft Raspberry Vinaigrette to throw on some kale is a favourite. The Highliner boned Tilapia Filets are super-healthy, and using the Danone Activia fat-free yogurts with probiotics are the perfect base for morning smoothies. Any leftover smoothie makes for great popsicles so you don't waste an ounce!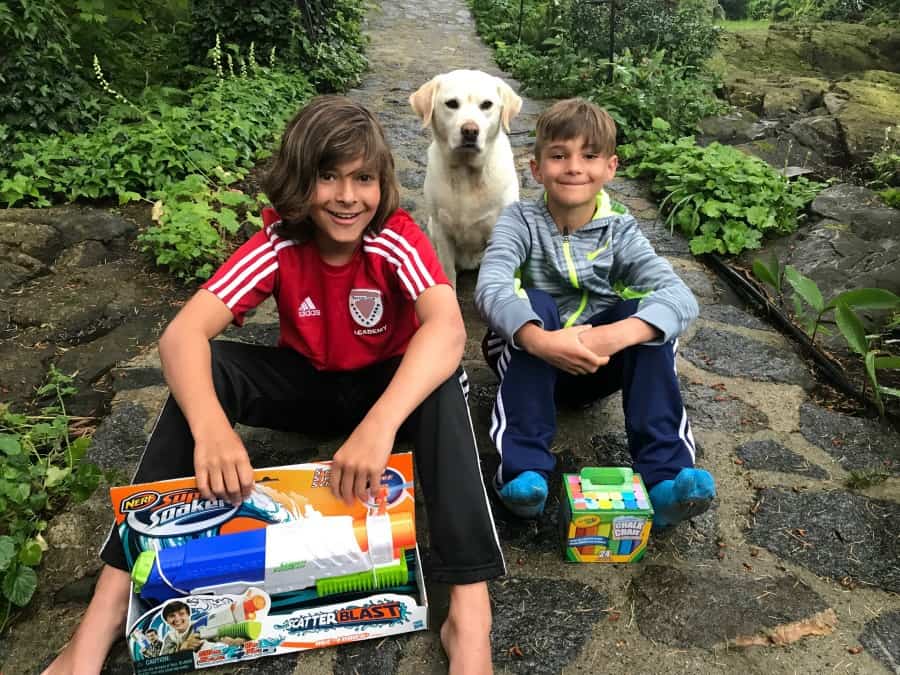 Goal 5:
I want to spend more authentic playtime with the boys. Sometimes when you allow conversation to ramble, the real bonding happens. With boys especially, the best moments come while they are moving. (Parenting expert Gordan Neufeld recommends that whenever you want to have a serious discussion with your boys, do it while walking or playing).
What We'll Need to Achieve our Goal: The Nerf Super Soaker Scatter Blaster and Crayola sidewalk chalk that is available at Shoppers Drug Mart is a great start to accomplishing this item – I just hope I can also get a few towels in order to dry off after the boys soak me with water!
To help YOU get your Summer On, Shoppers Drug Mart is giving away lots of prizes this month. There are chances to win prizes in store and find out how you can win 1 of 5 prizes of 1 million Optimum points by visiting shoppersdrugmart.ca/summeron.
And here's another chance to win! We're giving away a $100 Shoppers Drug Mart gift card so that you can choose a myriad of these great products for yourself! (Ends June 23, 12:00am. Canada Only excl. Quebec.) Good Luck!
Disclosure: This post was sponsored by Shoppers Drug Mart. That I have been a lover of the store all my life, and believe in their great products is just an aside. All opinions are my own.